Sales Have Ended
Ticket sales have ended
Follow Facebook Event page for event updates https://www.facebook.com/events/2141703372780609/
Sales Have Ended
Ticket sales have ended
Follow Facebook Event page for event updates https://www.facebook.com/events/2141703372780609/
Description
Health Baby Begins At Birth Based On Scientific Research.
The journey of motherhood begins from the preparation for a Joyful, Safe and Healthy birth of a child. It is a discovery of the power of woman and a bonding session for the family as we embrace a new perspective of birth by using the latest scientific discovery.
Topics that will be covered:-
Microbirth:

Award winning

documentary that investigates the latest scientific research on the microscopic events

Art of Birthing: HypnoBirthing Method for Gentle Beginnings

What you need to know about giving birth in Singapore

Is giving birth painful-where does pain come from?

Husband's role

Types of Birth-What's your options?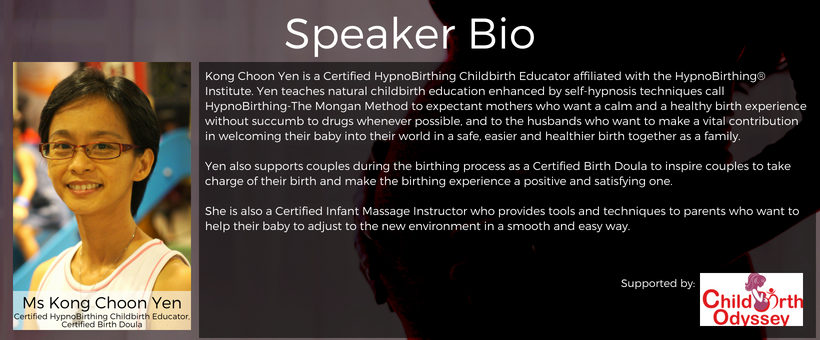 About the Speaker – Ms Kong Choon Yen:
Kong Choon Yen is a Certified HypnoBirthing Childbirth Educator affiliated with the HypnoBirthing® Institute. Yen teaches natural childbirth education enhanced by self-hypnosis techniques call HypnoBirthing-The Mongan Method to expectant mothers who want a calm and a healthy birth experience without succumb to drugs whenever possible, and to the husbands who want to make a vital contribution in welcoming their baby into their world in a safe, easier and healthier birth together as a family.
Yen also supports couples during the birthing process as a Certified Birth Doula to inspire couples to take charge of their birth and make the birthing experience a positive and satisfying one.
She is also a Certified Infant Massage Instructor who provides tools and techniques to parents who want to help their baby to adjust to the new environment in a smooth and easy way.