Sales Have Ended
Registrations are closed
The registration for this session has closed. You may wish to register for ther other available sessions.
Sales Have Ended
Registrations are closed
The registration for this session has closed. You may wish to register for ther other available sessions.
Join us in a variety of exciting physical activities and health workshops – all online and complimentary!
About this event
Overview
SNEF, HPB and landlords in the Downtown Business District have been partnering to make workplace health programmes easily accessible to workers. The collaboration aims to establish Healthy Workplace Ecosystems to make healthy living a default.
In view of the current situation, complimentary health programmes are now available online!
Mode
Sessions will be conducted via Zoom. Registered participants will receive the link to the Zoom session via email.
Do note that slots are limited and available on a first-come-first-serve basis. Only those registered will be admitted.
Note: Registration for on-ground sessions will continue to be via the Healthy 365 app.
Duration
1 hour
Upcoming Sessions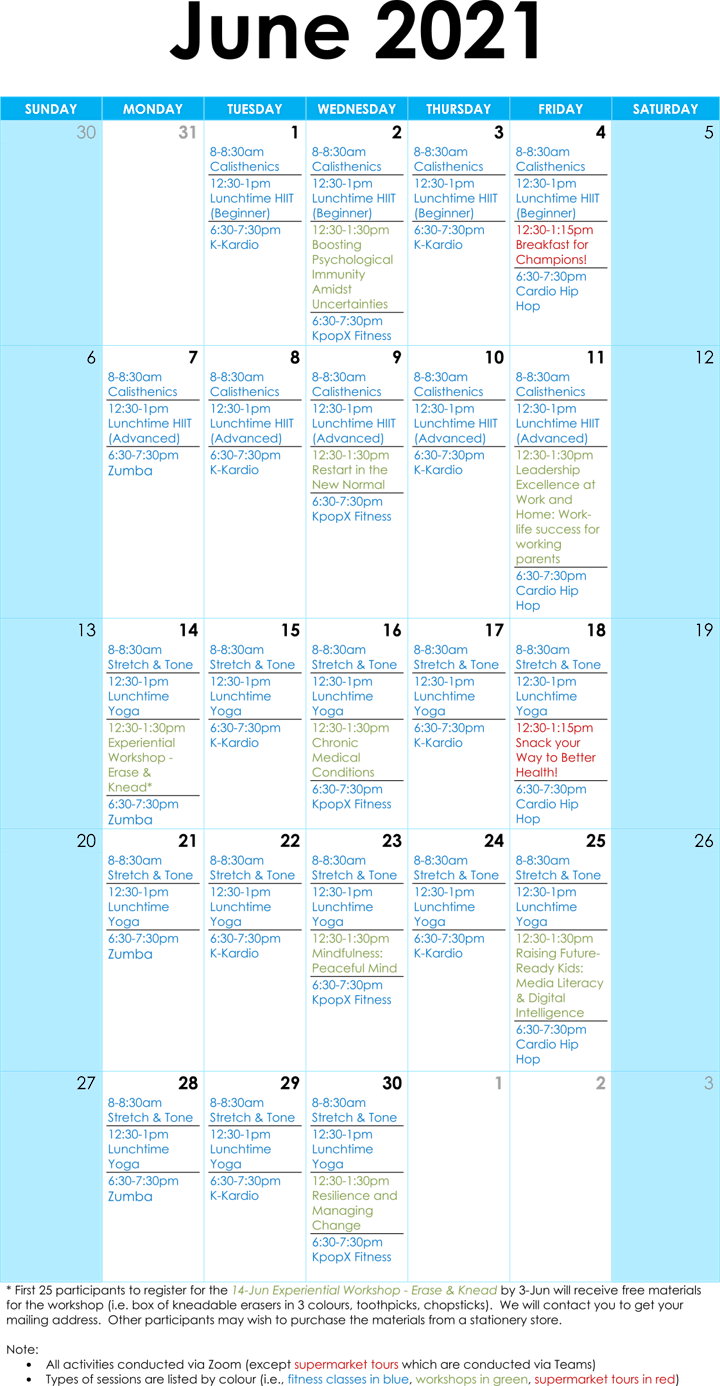 Note:
Schedule and registration for July 2021 virtual sessions will be updated in June 2021. Stay tuned!
Remember to practise safe distancing measures to avoid close contact with others and wear a mask if you need to go out. Maintain good personal hygiene by washing your hands frequently.
Session Synopses
Workshop/Talk/Kitchen/Supermarket Tour
Boosting Psychological Immunity Amidst Uncertainties - In our day-to-day lives, we often encounter unfamiliar and uncertain situations, and it is inevitable that we may react with anxiety to some of them. However, it is important to differentiate ordinary anxiety from anxiety disorders. During the recent COVID-19 outbreak, we have observed social phenomena such as hoarding, distancing, and even discrimination against each other.
Breakfast for Champions! - Having a well-balanced breakfast in the morning can make a difference in health and academic performance. Studies have shown that children who eat breakfast do better in school, have better concentration, perform better in test, have fewer behaviour problems, and feel more energetic. Children who eat breakfast are also more likely to maintain a healthy weight. Join us in this virtual supermarket tour to find out more about how and what you can include in a well-balanced breakfast for your child.
Chronic Medical Conditions - Learn what chronic diseases are, common types of chronic diseases, overview of Diabetes Mellitus, Hypertension and High Blood Cholesterol. The talk will cover what the disease is, its causes, symptoms, risk factors, complications, treatment, and suggested lifestyle modifications.
Experiential Workshop - Erase & Knead - Erase & Knead is a therapeutic activity as it helps to relief tension and improves the corporeal memory. Creating a tiny size sculpture requires concentration, focus and enhances attention to detail. Get creative and learn the foundation of making, kneading, and moulding clay into different shapes and how we can learn to improve attention to details, train your concentration level and how to be able to manage your time well through this workshop.
Leadership Excellence at Work and Home: Work-life success for working parents - Excellent practices at the workplace will positively impact the home, and vice versa. How can we navigate life at work and outside of work, when boundaries between the office and home get blurred? Identify your work-life needs and styles, and acquire structures for work-life excellence.
Resilience and Managing Change - We live in a fast-paced and demanding society. Surmounting pressures from work demands can leave many people with stress-related problems. While it is impossible not to experience stress, early intervention and building resilience can significantly reduce stress and mental health issues. Join our workshop to find out more about resilience and acquire strategies in coping better with stress and difficult situations.
Mindfulness: Peaceful Mind - Do ideas and thoughts seem to flood your mind sometimes? Are you feeling stressed at work? While we cannot avoid stress, there are strategies to help us cope better. Relaxation is a key to maintain physical, mental, and emotional wellness. This talk explores mental relaxation techniques that can help put your mind and body at rest. Come learn about the sources of stress and techniques such as deep breathing, visualization, and mindfulness that can strengthen your coping skills.
Raising Future-Ready Kids: Media Literacy & Digital Intelligence - New technology and social media have exposed our children to information and interactions never imagined possible. While exciting, it can also pose dangers unknown. Plug into the cyberworld to help your child develop digital savvy in media discernment, online safety, data privacy and digital etiquette.
Restart in the New Normal - The COVID-19 health pandemic has resulted in numerous disruptions to our lives and the way we work. While governments and health agencies are learning how to cope and manage effectively, companies are eager to restart to ensure survivability of their respective businesses. How can we prepare ourselves psychologically and emotionally as we grapple with the new realities amidst the nagging feelings of anxiety which can affect employee well-being and job performance? Join us to find out more about how you can prepare and equip yourself with the essential skills needed to not just survive but thrive in the new normal.
Snack your Way to Better Health! - We cannot deny that in the recent years, the selection of convenience foods has increased. From the chicken nuggets in the frozen section to sweet potato chips at the snack section, we are spoilt for choices and as busy parents, convenience foods may often be the go-to choice for most when we want a quick fix for our child. However, sad to say although convenience foods has completely help change most of our lives in some way, they have receive a bad reputation for being undesirable for health. So, the dying question we have all been asking - Are they REALLY unhealthy?
Fitness
Calisthenics - Calisthenics is a form of physical training focused on teaching you to master your own bodyweight using minimal equipment. It is a form of exercise designed to improve muscular strength, increase agility, and promote physical well-being. Join us to discover interesting ways of exercising!
Cardio Hip Hop - Switch up your fitness routine with exciting Cardio Hiphop workouts that will keep your heart-rate up.
K-Kardio - A fitness party to K-Pop music hits that incorporates cardio elements for an intense yet fun workout! Suitable for everybody with or without dance background, as long as you love moving to Kpop hits!
KpopX Fitness - A cardio dance workout that combines your love for KPOP music and its signature moves, with aerobic/body toning exercises to increase your stamina, coordination and flexibility.
Lunchtime HIIT (Beginner) - HIIT beginner is an awesome program to help burn fat without stressing out your joints and gradually building the intensity at a doable pace. The workouts are short calorie blaster and perfect for beginners who wants to improve their fitness and overall health.
Lunchtime HIIT (Advanced) - Take your fitness to another level with H.I.I.T. This intermediate/advanced class has a multitude of power moves that increase endurance and strength. It helps to improve cardiovascular fitness, increase speed and maximize calorie burn. This workout uses a variety of body weight exercises and provides the challenge and intensity you need to get results fast. Expect to do a variety of full body cardio and strength exercises for short amounts of time, with rest time between moves. An intense cardio-strength combo class using intervals, calisthenics, weight training, plyometric, and team drills. Multi-Level options will still be available during the session.
Lunchtime Yoga - Classic yoga postures (asanas) that move with your breath to help you reduce stress and increase strength and flexibility. These classes are approximately 50% stretching poses and 50% strengthening and toning poses, all combined with proper breathing and grounding techniques. A flexible body is a youthful body. Our 30 min Lunchtime Yoga are great pick me up to help rejuvenate the mind and body.
Stretch & Tone - Stretch & Tone will move you through a series of stretching and toning exercises to improve overall functionality of the body. Using a variety of methods such as static, dynamic, yoga-based, alignment based, and pnf, we can relax hypertonic muscle groups and improve range of motion available at the joints. This will definitely help improve mobility and overall health of the entire body.
Zumba - Zumba is a fusion of Latin and International Dance themes that creates a dynamic, exciting and fun workout along with music inspired from both genres. The routines feature aerobic/fitness interval trainings with a combination of rhythms that tones and sculpts the body. Join us in a "feel-happy" workout that is great for both the body and the mind.
Personal Indemnity Notice
By participating in this HWE Virtual Workout session, you and any other person(s) participating in this workout together with you, acknowledged that physical exercise can be strenuous and subject to the risk of serious injury, we urge you to obtain a physical examination from a doctor before using any exercise equipment or participating in any exercise activity. You agree that by participating in physical exercise or training activities, you are doing it at your own risk and agree that you are voluntarily participating in these activities.
Personal Data Protection Notice
Personal Data will be collected and protected by SNEF.
Personal Data will be used, transferred and retained only for administrative purposes of Healthy Workplace Ecosystem virtual sessions at the Downtown Business District.
Images and videos will be captured during the conduct of the event.
Organiser of Healthy Workplace Ecosystem - Virtual Sessions