Sales Have Ended
Registrations are closed
The registration for this session has closed. You may wish to register for ther other available sessions.
Sales Have Ended
Registrations are closed
The registration for this session has closed. You may wish to register for ther other available sessions.
Join us in a variety of exciting physical activities and health workshops – all online and complimentary!
About this event
Overview
SNEF, HPB and landlords in the Downtown Business District have been partnering to make workplace health programmes easily accessible to workers. The collaboration aims to establish Healthy Workplace Ecosystems to make healthy living a default.
In view of the current situation, complimentary health programmes are now available online!
Mode
Sessions will be conducted via Zoom or Teams. Registered participants will receive the link to the session via email.
Do note that slots are limited and available on a first-come-first-serve basis. Only those registered will be admitted. If you are unable to attend, please release your slot early to allow others to book.
Note: Registration for on-ground sessions will continue to be via the Healthy 365 app.
Duration
30 min to 1 hour
Upcoming Sessions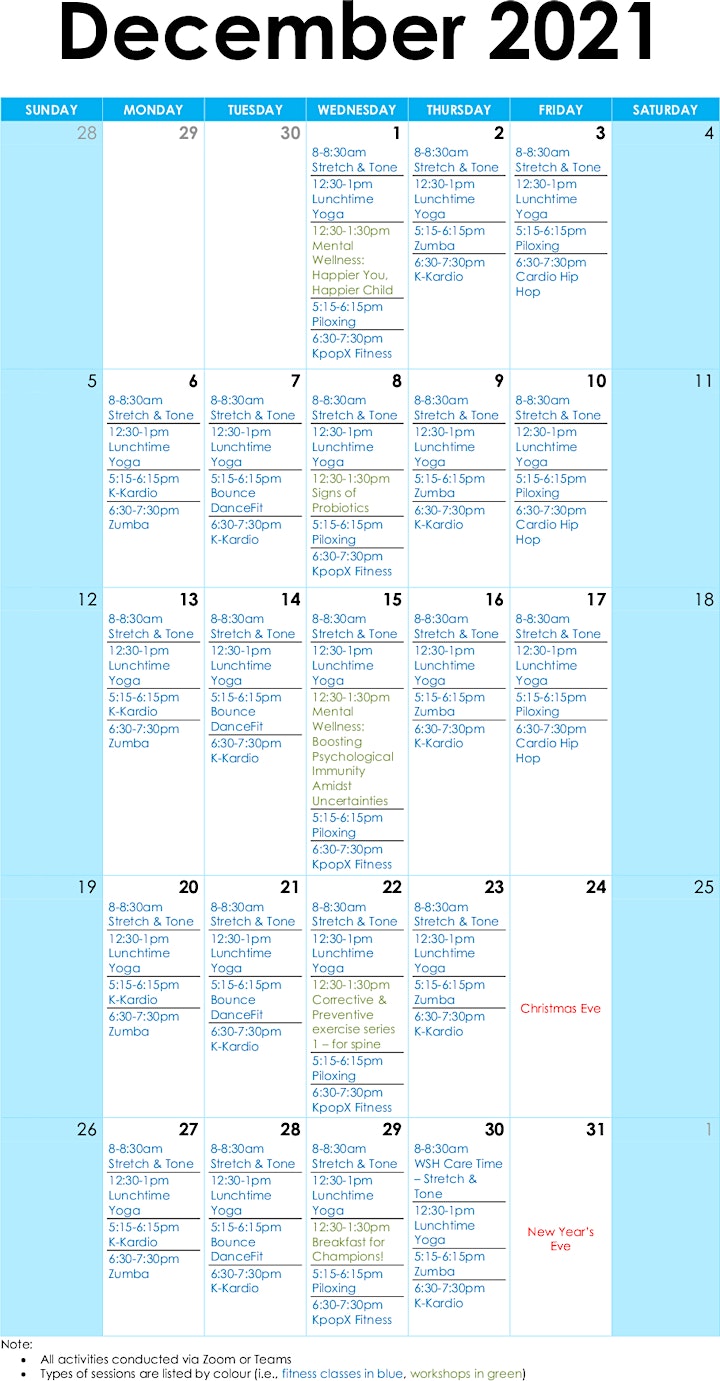 Note:
Schedule and registration for January 2022 virtual sessions will be updated in late December 2021. Stay tuned!
Remember to practise safe distancing measures to avoid close contact with others and wear a mask if you need to go out. Maintain good personal hygiene by washing your hands frequently.
Session Synopses
Workshop
Boosting Psychological Immunity Amidst Uncertainties - In our day-to-day lives, we often encounter unfamiliar and uncertain situations, and it is inevitable that we may react with anxiety to some of them. However, it is important to differentiate ordinary anxiety from anxiety disorders. During the recent COVID-19 outbreak, we have observed social phenomena such as hoarding, distancing, and even discrimination against each other. This webinar will share effective strategies to overcome anxiety and manage change in our lives.
Breakfast for Champions! - Having a well-balanced breakfast in the morning can make a difference in health and academic performance. Studies have shown that children who eat breakfast do better in school, have better concentration, perform better in test, have fewer behaviour problems, and feel more energetic. Children who eat breakfast are also more likely to maintain a healthy weight. Join us in this virtual supermarket tour to find out more about how and what you can include in a well-balanced breakfast for your child.
Corrective & Preventive Exercise: Part 1 (for spine) - Kyphosis and Lordosis are types of Scoliosis, a deformity that causes unusual curvatures in the spinal column. Certain exercises are believed to correct or at least lessen the degree of some abnormal spinal curvatures. In this workshop, we will focus on strengthening and elongating the muscle groups.
Happier You, Happier Child - Raising a happy and healthy child is often the greatest wish of every parent. Parenting can be the happiest, yet the toughest milestone in your family life. In fact, parents report more stress during this time and this can negatively impact the parent-child relationship. Come and learn how your experience, emotions, and behavior can contribute positively (and negatively) towards your child's development.
Signs of Probiotics - Do you know that your gastrointestinal tract is lined with microbes? Our gut has a combination of both good and bad bacteria and they are responsible for many important functions in the body. An imbalance of microbes in the gut may have a detrimental impact on our immune system. Come join us in this interesting workshop and learn how to be kind to your gut!
Fitness
Bounce DanceFit - Bounce DanceFit has a commercial Pop/R&B root and the choreography is fun and easy to follow, combining the latest hip-hop and commercial chart hits. Dance styles include Hip-Hop, Waacking, House and Vogue. This is a total workout, combining element of dance, fitness, cardio, muscle conditioning, balance and flexibility. Add on with an amazing boost of energy that will make you feel awesome at the end of every class!
Cardio Hip Hop - Switch up your fitness routine with exciting Cardio Hiphop workouts that will keep your heart-rate up.
K-Kardio - A fitness party to K-Pop music hits that incorporates cardio elements for an intense yet fun workout! Suitable for everybody with or without dance background, as long as you love moving to Kpop hits!
KpopX Fitness - A cardio dance workout that combines your love for KPOP music and its signature moves, with aerobic/body toning exercises to increase your stamina, coordination and flexibility.
Piloxing - A fusion of both boxing and pilates, Piloxing improves your cardiovascular strength, sense of balance, posture and strengthens your muscles.
Lunchtime Yoga - Classic yoga postures (asanas) that move with your breath to help you reduce stress and increase strength and flexibility. These classes are approximately 50% stretching poses and 50% strengthening and toning poses, all combined with proper breathing and grounding techniques. A flexible body is a youthful body. Our 30 min Lunchtime Yoga are great pick me up to help rejuvenate the mind and body
Stretch & Tone - Stretch & Tone will move you through a series of stretching and toning exercises to improve overall functionality of the body. Using a variety of methods such as static, dynamic, yoga-based, alignment based, and pnf, we can relax hypertonic muscle groups and improve range of motion available at the joints. This will definitely help improve mobility and overall health of the entire body.
Zumba - Zumba is a fusion of Latin and International Dance themes that creates a dynamic, exciting and fun workout along with music inspired from both genres. The routines feature aerobic/fitness interval trainings with a combination of rhythms that tones and sculpts the body. Join us in a "feel-happy" workout that is great for both the body and the mind.
Safety and Indemnity
By participating in the Activity, you warrant that you are in good health and have no physical condition that would endanger your life while participating in the Activity. Whilst reasonable precaution will be taken by HPB and/or its agent/s to ensure the safety of participants, you understand that you take part in the Activity as a participant of your own risk. You understand that your participation in the activity/programme is voluntary. You may choose to withdraw at any time and will inform the event organiser of your decision.
Personal Data Protection Notice
Personal Data will be collected and protected by SNEF.
Personal Data will be used, transferred and retained only for administrative purposes of Healthy Workplace Ecosystem virtual sessions at the Downtown Business District.
Images and videos will be captured during the conduct of the event.
Organiser of Healthy Workplace Ecosystem - Virtual Sessions