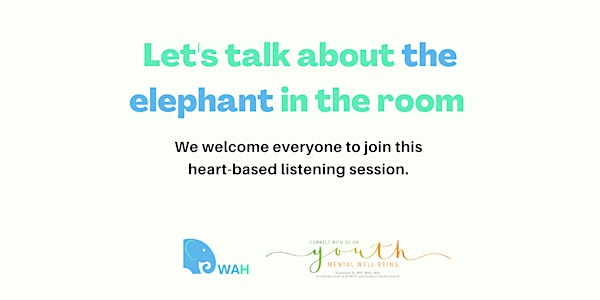 Heart-based Listening (3 September 2022)
You deserved to be heard. Come practise heart-based listening. Healing the loneliness epidemic, one listen at a time
About this event
First 15 minutes: Introduction to We Are Hear (WAH) and Basics in Listening.
Listening sessions: You will be paired in dyads or triads to practice listening and sharing.
Who can join us?
We support all people, all emotion, all feelings.
Disclaimer:
This is not a business soliciting platform. We do not offer solution, therapy or counselling.
About Us:
Maybe you've heard of active listening before. WAH adds heart to active listening. WAH Listeners view heart-centered listening as a personal growth practice they are devoted to practicing in their community. Why? Researchers continue to find life-changing benefits related to practicing listening skills which include: Improved health and wellness outcomes, Stronger cooperation and teamwork in groups, Better and faster resolutions in the face of conflict.
Get involved and help build a world filled with heart-centered listeners who create belonging and love everywhere.
This is a safe space to process what we are going through without being shut down or told to "stay positive". Group free listening with a free forum topic that organizes the group around time. We do not offer solution, therapy or counselling. NO "me too ing" or "advice-giving' or "helping".