Hearts Turn is a book reading and sharing session led by Michael Sugich. He will divulge greater insight and the stories behind his book.
About this Event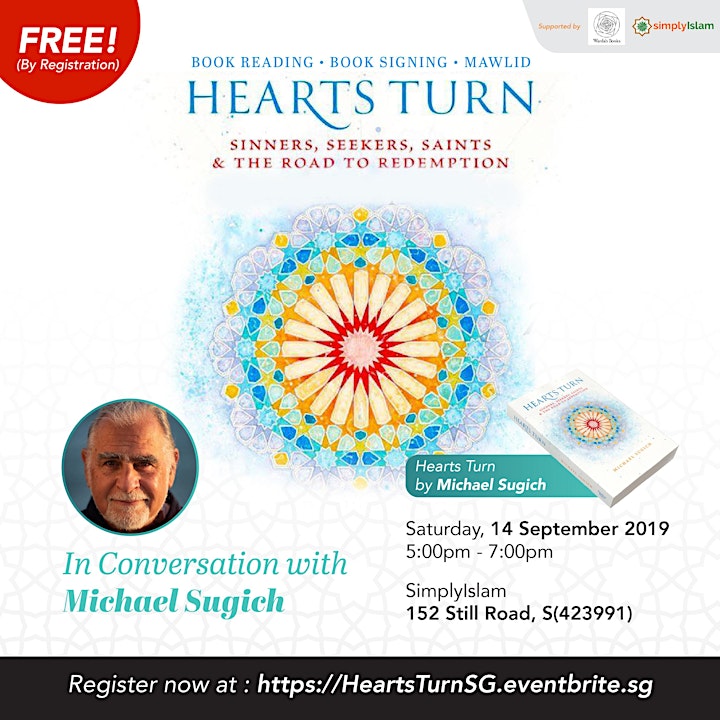 SimplyIslam is proud to present this specially curated book reading, book signing and Mawlid session with Michael Sugich, the esteemed author of the spiritually enlightening and uplifting Hearts Turn: Sinners, Seekers, Saints & The Road to Redemption.
Michael Sugich will share stories from the book, true stories that are harrowing and hilarious, heartrending and bizarre, profane and transcendent, and altogether full of hope, showing how men and women from many parts of the world and many walks of life have turned themselves around and taken a fork in the road toward a higher reality.
This session will be conducted on Saturday, 14 September 2019, from 5pm to 7pm at SimplyIslam (152 Still Road). It will end with a Mawlid session Insha'Allah. Entry is FREE (by Registration). Please register at: https://HeartsTurnSG.eventbrite.sg
An excerpt from the author's introduction:
"This book (Hearts Turn) is a declaration of mercy and certainty. Formed of a collection of stories I've experienced, read or heard, about how malleable the human heart can be and how wrongdoing, remorse, need, and yearning intersect with Divine Compassion, Forgiveness and Guidance. It is also about the sudden transitions from confusion to clarity, from sin to virtue, from sleep to wakefulness, from ignorance to knowledge, from foolishness to wisdom. And finally it is about the path of our lives, which leads us gradually, and for those who God favors, inexorably to salvation." - Michael Sugich
About Michael Sugich
Michael Sugich​ is an American writer, screenwriter and author, born and raised in Santa Barbara, California and educated at UCLA and the California Institute of the Arts. In his youth he was an award-winning singer and worked briefly in Hollywood as an actor in film and television before embarking on a spiritual journey that would lead him to London, North Africa, the Arabian Gulf.
He has, for over forty years been a writer for hire: a business, cultural and travel writer, film critic, scriptwriter and scenarist. He has written dozens of radio programs. In 1981 the late King Fahd of Saudi Arabia personally invited Mr. Sugich to participate in establishing an English language channel in the Kingdom. In that capacity he produced and presented a series of cultural programs and covered the annual pilgrimage for radio and television during the early 1980s. He subsequently served as a consultant for NBC News and BBC teams in Saudi Arabia.
Throughout the 1980s he traveled extensively throughout the length and breadth of India as a travel writer, from Kashmir to Kanya Kumari, culminating in his historical travel book Palaces of India (Pavilion Books UK 1992). He also authored ​Living in Makkah, a children's book (MacDonalds Publishers UK 1988). During the 1990s he relocated to the U.K. to write a series of documentary films on the expansion of the Two Holy Mosques in Makkah and Madinah. In 1998 he co-founded what was to become the largest public relations company in the Middle East and North Africa and relocated to Dubai in 2002 to run the company's expanding regional network and develop its training division. He is a PRCA certified communications training specialist.
Michael has written numerous documentary and information films, most recently a full-length feature documentary on the life of King Faisal of Saudi Arabia,​Faisal: Legacy of a King (2012). He authored ​Signs on the Horizons: Meetings with Men of Knowledge and Illumination (2013), which has achieved a worldwide readership. In 2016 Mr. Sugich contributed the chapter on the Middle East for ​Public Affairs: A Global Perspective (Urbane Publications UK 2016). At the beginning of 2019, his latest book, ​Hearts Turn, was published to widespread acclaim.
Michael currently lives in Istanbul, Turkey. He has six children and four grandchildren.