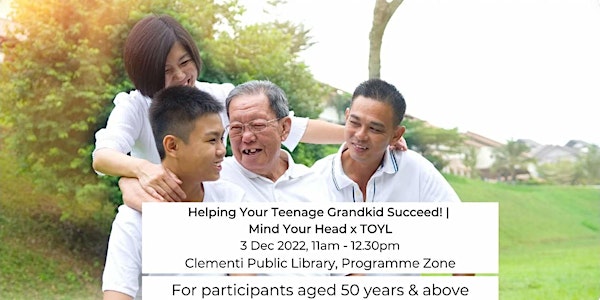 Helping Your Teenage Grandkid Succeed! | Mind Your Head x TOYL
Join this talk to understand how teenagers think and the issues they face so that you are better positioned to help them flourish in life.
When and where
Location
Clementi Public Library, Programme Zone 3155 Commonwealth Avenue West The Clementi Mall #05-13/14/15 Singapore, 129588 Singapore
About this event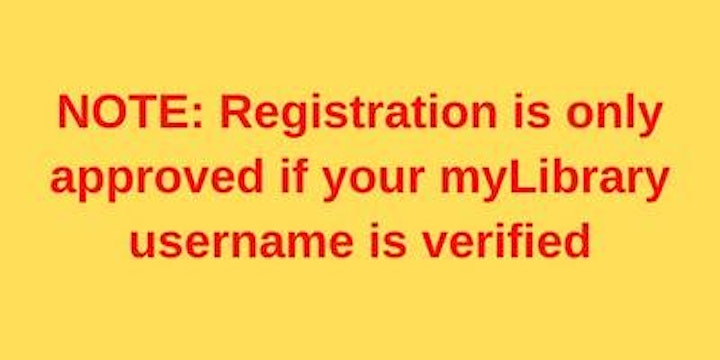 Important Notice 
This programme/event is open to members of the National Library Board, Singapore and those who are aged 50 years and above. Please ensure you have your myLibrary username on hand before proceeding with the registration. If you do not have a myLibrary username, you can create one here: https://account.nlb.gov.sg/. 
About the Programme
When we think of grandkids, what image comes to mind? Perhaps a baby or toddler. Most of us think of grandparents as playing an important role in the early childhood years of their grandkids. However, with longer lifespans, the bond between grandparents and grandkids will continue well into their pre-teen and teenage years. 
As a grandparent, you will play an integral role as part of the adult support in a teenager's life. Join this talk to understand how teenagers think as well as the issues they face so that you are better positioned to help them flourish through their teenage years.
The speaker, psychologist Nicholas Gabriel Lim, will also address specific questions or concerns you face in interacting with or helping the teenagers you know.
This talk is intended for grandparents or seniors above 50 - but interested parents or adults are also welcome to attend!
About the Speaker
Nicholas Gabriel Lim is currently the Head of Programme for Youth Work at the Singapore University of Social Sciences. He has been an adolescent psychologist for the past eighteen years. His mental health practice is informed by neuroscience, complemented by developmental, behavioural and positive youth development theories. He wrote the book, Clash of the Mind and Heart: Parents' Playbook for Helping Youths Succeed, not just for parents, but grandparents and all adults who want the best for the adolescents they know.
Nicholas' career as a mental health and youth work practitioner spans across the people, public and private sectors. He co-founded the Youth Work Association (Singapore) and was amongst the first few practitioners recognised in Singapore as an expert and a veteran in youth work. For his experiences and expertise, Nicholas was recommended by the National Youth Council to serve on advisory councils to advise the government appropriate policy responses to the evolving world of media, technology, and consumer participation impacting youths; as well as social concerns involving youths related to problems arising from gambling.
He was recently appointed by the President of Singapore to be one of the Youth Court Panel of Advisers.
About Time of Your Life  
Organised by the National Library Board, the Time of Your Life (TOYL) features informative talks, creative workshops, learning communities and resources for those aged 50 and above. Covering a wide range of topics such as Digital, Careers, Sustainability, Arts & Wellness, start your learning journey with us today. Visit https://go.gov.sg/toyl for the full programme listing and check out our dedicated publication at https://go.gov.sg/50plusmag. 
Unsure how to register for our programme? 
Refer to these guides for more information.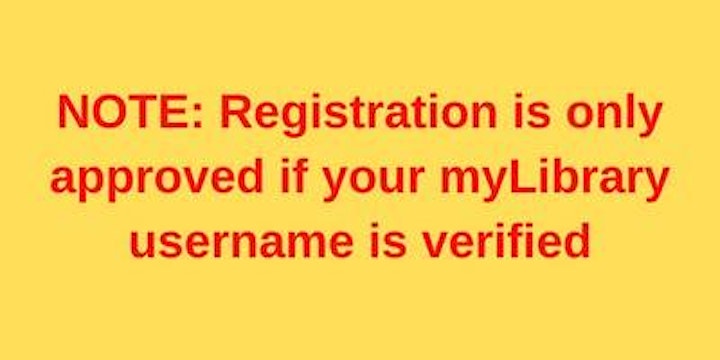 Please note the following: 
All participants are required to register for a ticket. Each ticket admits 1 person only. Please present your ticket when you enter the library and the event venue.
Arrive 10 mins before the session commences. Seats of late attendees may be given to those in the waitlist. 
NLB reserves the right to deny entry to participants who do not abide by the ground rules. 
Please note that photos and/or videos of this programme and its participants may be taken.