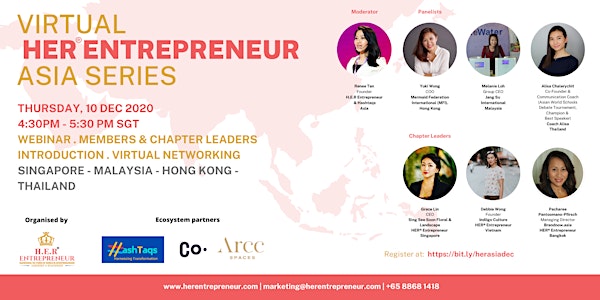 HER Entrepreneur Asia Series 2: Leadership Amidst Adversity
Leadership Amidst Adversity
About this event
Join Renee with invited speakers, Yuki Wang, COO, Mermaid Federation International (MFI), Hong Kong, Melanie Loh, Group CEO, Jang Su International, Malaysia & Alisa Chalerychit, Co-Founder & Communication Coach (Asian World Schools Debate Tournament, Champion & Best Speaker) Coach Alisa, Thailand for this business webinar on Leadership Amidst Adversity, where they will be sharing on the leadership role and how to navigate through times of crisis in a business landscape.
Through this event, you will also get the opportunity to connect with fellow attendees who are industry leaders, successful entrepreneurs, investors as well as service providers.
DETAILS
Date: 10 December 2020 (Thursday)
Time: 4:30pm to 5:30pm SGT
Venue: Zoom
Register for the Premium Pass to receive the full recording of the event.
We will be conducting the session via a webinar, so do RSVP by registering here to receive the webinar link.
Early bird Premium tickets ends 7 December 2020! Get your tickets now!
TICKETS
1. Freemium Pass
+ LIVE Broadcast only
+ Q&A
2. Premium Pass
+ Live Broadcast
+ Q&A
+ Video recording
Contact us at marketing@herentrepreneur.com or +65 8868 1418 for any inquiries.
*Content creation and training sessions are self-funded, support us to get this going if you can. 😊