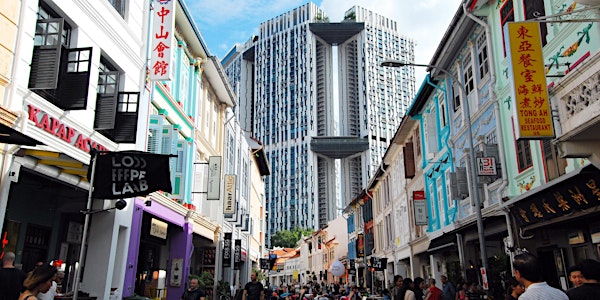 Heritage and Sustainable Urbanism Symposium – Session 3
When and where
Location
National Museum of Singapore 93 Stamford Road Gallery Theatre 178897 Singapore
Description
France has been fostering the policy to protect its national urban heritage since the beginning of the 19th century. They have shared knowledge and implemented demonstration projects in the 1980s and 1990s which has led to one of South-East Asia's earliest and largest urban conservation programme in 1989. In Singapore, urban conservation efforts have contributed significantly to the quality and identity of the living environment, and conserved buildings have become an integral part of the urban landscape since conservation efforts started in the 1970s.
Today, France continues to contribute expertise in the area of urban and heritage planning in the South-East Asian region and their approaches to restoring buildings as well as the use of heritage urban areas have evolved in tandem with the growing awareness for sustainability.
Similarly, Singapore has continued to expand its conservation programme, which now covers over 7000 buildings in over 100 areas and this city-state has been used as one model to demonstrate the value of heritage urban environments in a modernizing city.
This Symposium brings together conservation pioneers from France and Singapore, as well as current practitioners in the Region, to share their experiences in:
• Implementing policies and managing approaches towards the protection, restoration and reuse of heritage buildings;
• how heritage buildings play a crucial part in integrated urban planning and inclusive civic life; and
• the sustainability lessons from heritage buildings and urban ensembles for now and the future.
CPD by SIA/BOA, PEB & SILA
Qualified for 2 CPD points by SIA/BOA.

Qualified for 4 PDUs by PEB.

Qualified for 1 CPD point by SILA.
(Attendance will be taken at the end of the session.)
---
Speakers:
Mr Didier Repellin
Chief Architect and Inspector General of Historic Monuments in France
'Lessons and Pointers for the Future in Heritage Preservation in France, Singapore and the Region'
Mrs Koh-Lim Wen Gin
Former Chief Planner and Deputy Chief Executive, Urban Redevelopment Authority

&
Mrs Pamelia Lee

Senior Tourism Consultantm, Singapore Tourism Board
'The Singapore Conservation Story, Lessons from the Past, its Current State and Prospects for the Future'
---
This symposium is jointly organised by the Embassy of France in Singapore, the Urban Redevelopment Authority of Singapore and the Centre for Liveable Cities. Supported by the National Heritage Board.