Description
Support Singapore's Heritage Tiles
Learn more about vintage tiles at Singapore's best open-air museum! At Bukit Brown Cemetery, around 5% of an estimated 100,000 tombs feature decorative tiles imported from countries Belgium, England and Japan around 100 years ago.
By giving your time to cleaning a small number of abandoned tombs, you'll be able to enjoy learning about various types of ornamental tiles and their use in this commemorative space. The cross-cultural origins and features of these tiles will surely amuse and amaze!
We will be washing tiles, sweeping the areas in front of tombs and clipping away any vines. There will be some kneeling and bending over required. The weather is usually quite humid, but the air is clean with wildlife and various flora to discover.
Enjoy meeting people with a passion for Singapore's past and future. Join one of the most "Singaporean" experiences ever and see this beautiful country in a new light.
Jennifer Lim
Director, Singapore Heritage Tile Project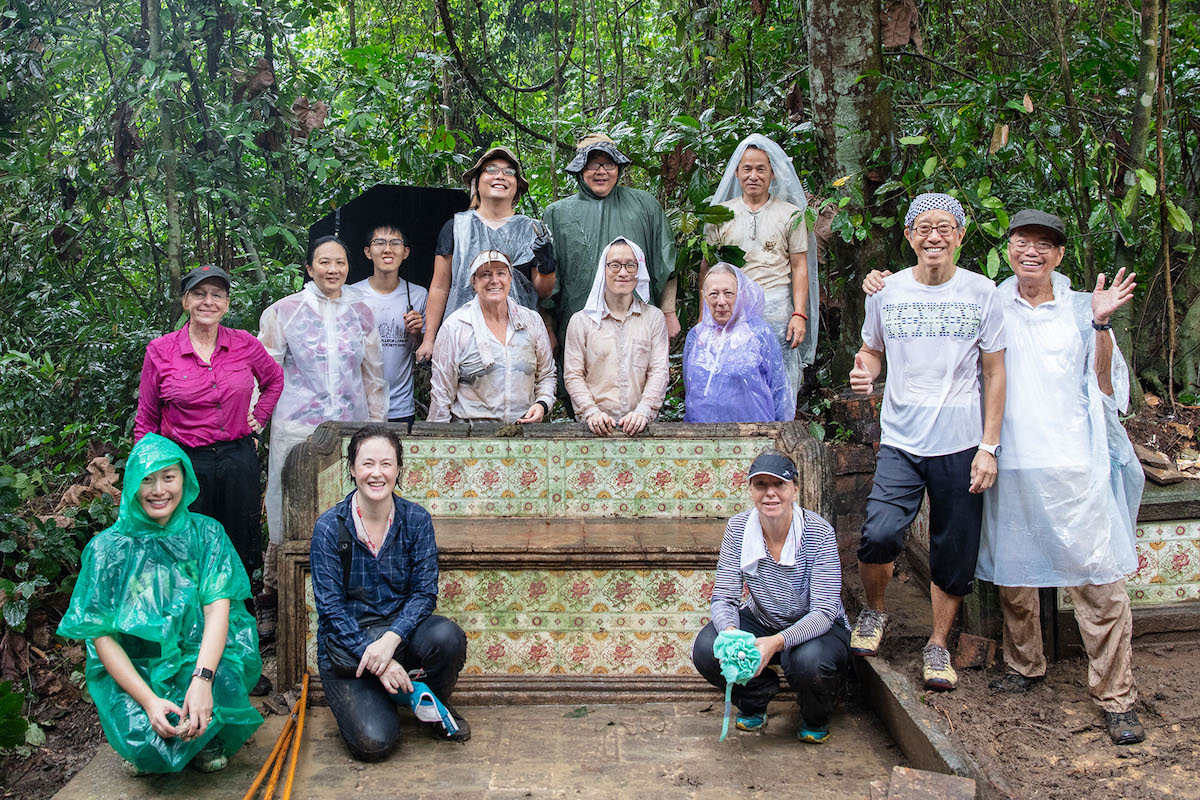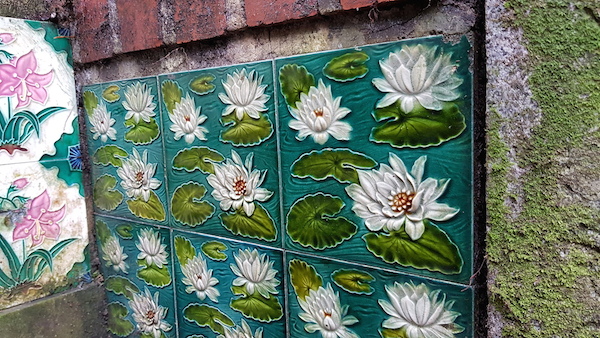 Participant Requirements
1. Please only register if you are confident that you are able to attend. There is no need to 'chope' or reserve a place if you are not sure if you can attend, and it creates more administration work for this volunteer-run event.
2. This event is not suitable for children under 12 years of age. Participants under 18 must be accompanied by an adult. Please register each person separately so we can manage group numbers.
3. Add to your email address book Jennifer's contact so that I may send you a Welcome Orientation: info (at) jenniferlimart.com
4. Please allow yourself enough time to arrive as we will be leaving promptly due to the heat. If you can't make it on the day, please message me.
5. Please do not register unless you agree to be photographed or filmed by Jennifer Lim Art Pte Ltd, and for Jennifer Lim Art Pte Ltd to use such images for marketing and publication purposes (digitally and in print)
6. You must have a reasonable fitness level to attend as we will be walking up hills and working in the outdoor heat.

7. We generally use Whatsapp to communicate with participants.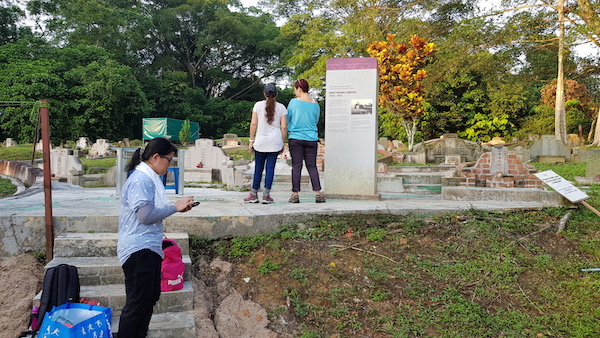 Time: 8.00am - 11.00am
It's an early start to avoid the heat! Feel free to leave at any time though. This event will go ahead regardless of weather conditions.
Venue: Bukit Brown Cemetery, 36C Lor Halwa, Singapore 298637, Meeting Point B: Platform at hill 1, via block 1, 3 & 4 entrance road.
Directions
- The best way is to enter from Kheam Hock Road, which is a one-way road off Lornie Highway.
- You may only turn into this road if you are on Lornie Highway heading away from Toa Payoh and towards Adam Road/Bukit Timah.

- You may likely need to do a U-turn near McRitchie Reservoir if you are coming from Bukit Timah.
- See link to Google map & photographs & other details
PLEASE carefully look up directions in advance. Our meeting place is not a particularly easy one.
What to Wear
LONG sleeves, pants and socks to keep mosquitoes and ants at bay. The cemetery's terrain is basically that of a tropical jungle.


It's best not to wear shorts, or expose your ankles by wearing cropped pants with low socks. Insects are bound to bite you.

A hat

Consider a spare t-shirt to wear afterward. I usually wear a Uniqlo singlet underneath so I can remove my sweaty t-shirt and put on a new one on the spot.
What to Bring
An expectation that your sweaty, dirty and unelegant work will reward you with immense satisfaction!

A small towel to wipe your sweat

Your drinking water and snacks

Cleaning water to help wash tiles (about 1.5 LT)

Any hand-held gardening tools like trowels, small clippers and gardening gloves

Any large blue Ikea plastic bags! We use them to carry stuff and to kneel on sometimes.

If you have one of those tiny folding stools for sitting on, please bring!

Heavy-duty bug spray and sunscreen (DEET is best)

An umbrella and plastic bag to keep your phone and wallet dry in case it rains

Wear good grip sneakers with long socks, or better still, hiking shoes
Please Note
By joining this tour, you are agreeing to my excursion policy. Each participant MUST be registered individually for safety reasons.

There is no official toilet at the cemetery, but we can advise you on this matter.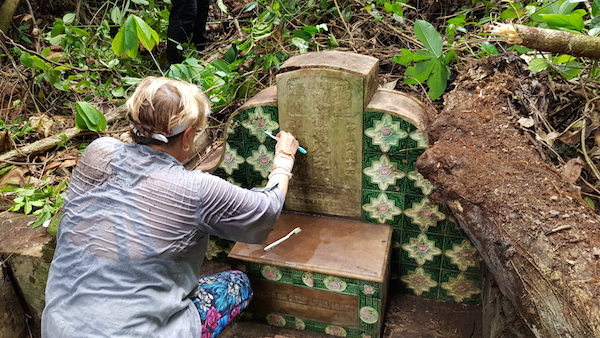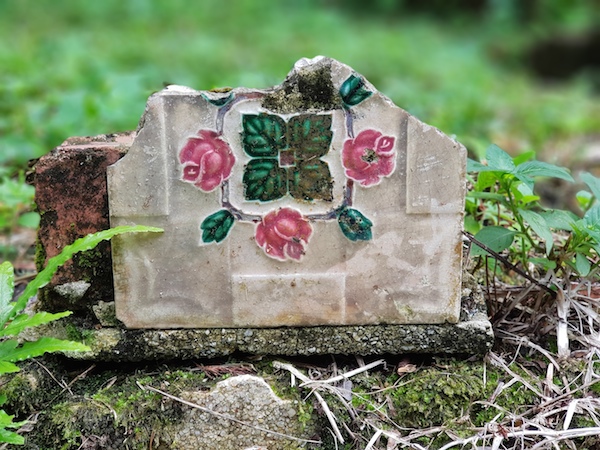 Thank you for your interest in this project. Even if you can't make it, please consider sharing this event, or simply following the project on social media. Every bit of support helps - thank you so much.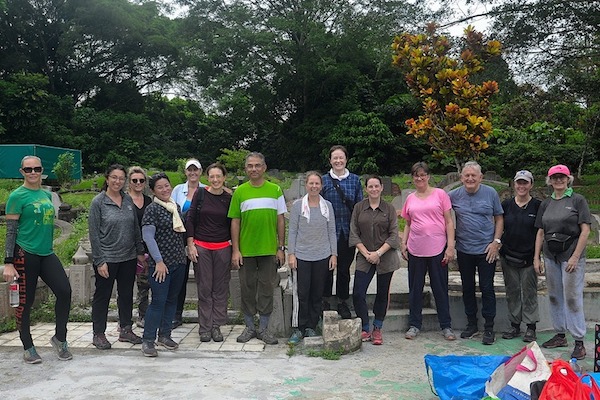 Follow this project on Facebook or Instagram
Learn more about Singapore Heritage Tile Project