Description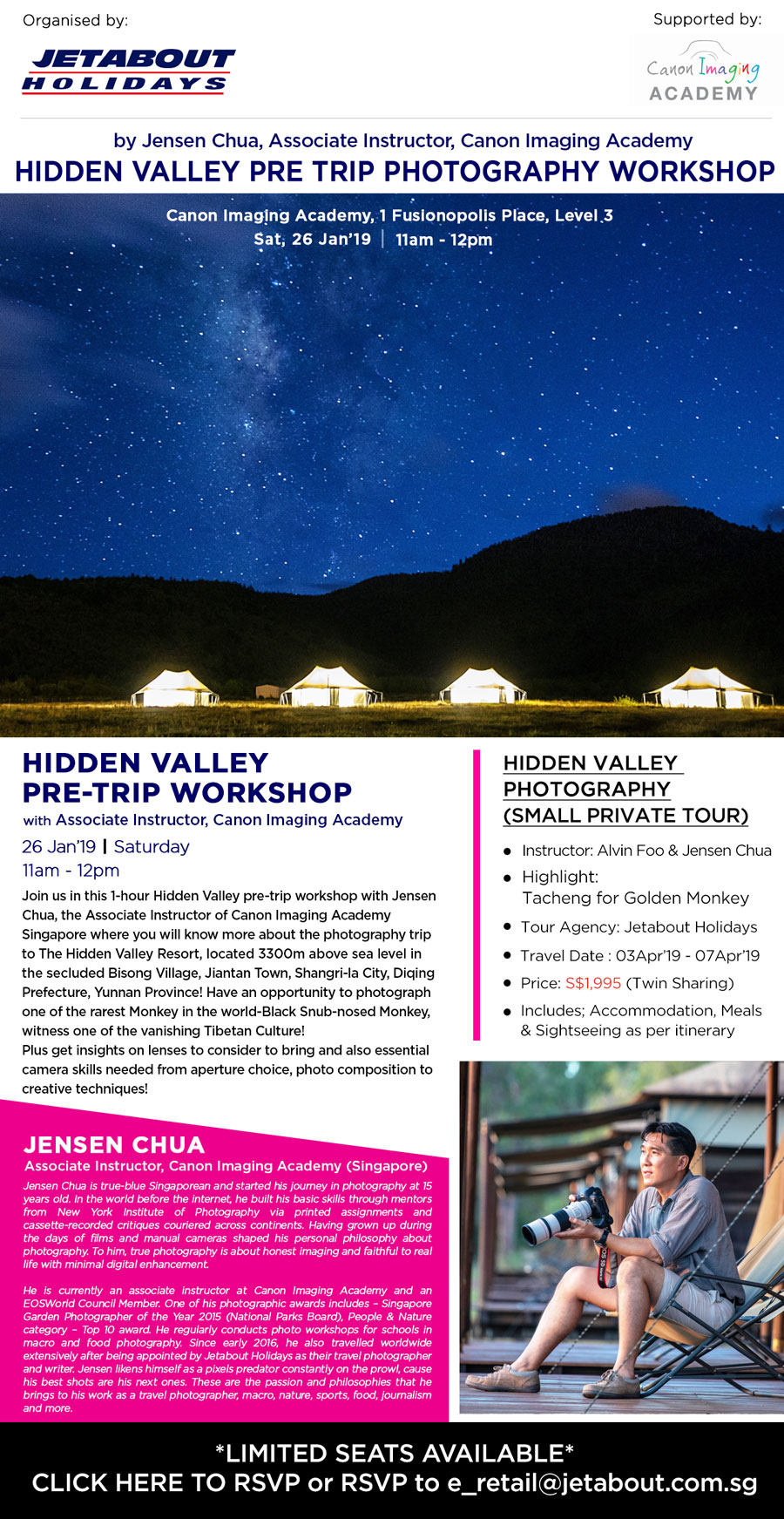 **TRAVEL PHOTOGRAPHY - with Alvin Foo & Jensen Chua**
4 Nights Travel Photography - The Hidden Valley Resort, China (Dep: 03Apr'19) Fr $1,995* (Twin Sharing). Details: https://bit.ly/2PELtI4
EXCLUSIVE INSIDER DEALS for this departure:
~ Professional Photography Guidance from Alvin Foo and Jensen Chua
~ 2 photography workshops prior to trip (Culture and Landscape by Alvin Foo & Wildlife and Macro by Jensen Chua)
~ 1 Photo sharing session during trip
~ One-time Complimentary 1x camera sensor cleaning and 2 lenses general check, valid within a month after the trip (for Canon DSLR / mirrorless users only)
~ Opportunity to hands-on some of the best Canon gears for the beautiful landscape of Hidden Valley
Join us in this 1-hour Hidden Valley pre-trip workshop with Jensen Chua, the Associate Instructor of Canon Imaging Academy Singapore where you will know more about the photography trip to The Hidden Valley Resort, located 3300m above sea level in the secluded Bisong Village, Jiantan Town, Shangri-la City, Diqing Prefecture, Yunnan Province! Have an opportunity to photograph one of the rarest Monkey in the world-Black Snub-nosed Monkey, witness one of the vanishing Tibetan Culture!
Plus get insights on lenses to consider to bring and also essential camera skills needed from aperture choice, photo composition to creative techniques!
Jensen Chua, Associate Instructor, Canon Imaging Academy (Singapore)
Jensen Chua is true-blue Singaporean and started his journey in photography at 15 years old. In the world before the internet, he built his basic skills through mentors from New York Institute of Photography via printed assignments and cassette-recorded critiques couriered across continents. Having grown up during the days of films and manual cameras shaped his personal philosophy about photography. To him, true photography is about honest imaging and faithful to real life with minimal digital enhancement.
He is currently an associate instructor at Canon Imaging Academy and an EOSWorld Council Member. One of his photographic awards includes – Singapore Garden Photographer of the Year 2015 (National Parks Board), People & Nature category – Top 10 award.

He regularly conducts photo workshops for schools in macro and food photography. Since early 2016, he also travelled worldwide extensively after being appointed by Jetabout Holidays as their travel photographer and writer. Jensen likens himself as a pixels predator constantly on the prowl, cause his best shots are his next ones. These are the passion and philosophies that he brings to his work as a travel photographer, macro, nature, sports, food, journalism and more.