Sales Have Ended
Registrations are closed
Thank you for registering our online forum! The seats are sold out, please do check up our page for upcoming events in the future!
Are you facing some challenges hiring Engineering Graduates for your company? Find out more during our forum discussion!
About this event
To support economic development and digital transformation, the demand for engineering graduates in Malaysia has increased rapidly in recent years. Yet, employers find it hard to recruit engineering graduates as they often require specific experience and qualifications. On the other hand, engineering graduates could not get a job in engineering and often move into other careers.
In this online forum in collaboration between SME Malaysia and Kabel, our panel of Business Leaders will discuss :
Challenges and opportunities of hiring Gen Z engineering graduates into the workforce
Understanding what matters to engineering graduates and their key concerns
Strategic approach to attract & hire engineering graduates
Register now. Participation is free.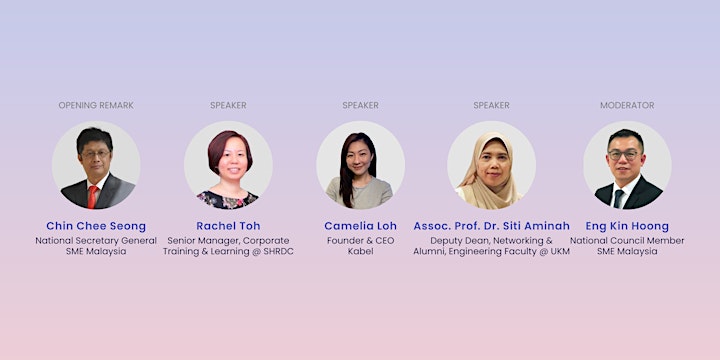 Introducing our guest speakers, who are leaders with diverse experiences:
Speaker #1
Assoc. Prof. Dr. Siti Aminah Osman| Deputy Dean of Networking & Alumni, Engineering Faculty of UKM
Graduated from Universiti Teknologi Malaysia in 1992 with BEng (Hons) in Civil Engineering, MSc in Structural Engineering from University of Bradford, UK (1995) and PhD in Civil & Structural Engineering from Universiti Kebangsaan Malaysia (2006). She is an Associate Professor in the Department of Civil Engineering, Faculty of Engineering & Built Environment, Universiti Kebangsaan Malaysia (UKM) and is actively involved in research on structural dynamics for earthquake and wind loading, industrial building systems (IBS) and engineering education as well. She has more than 20 years of experience in teaching, training, research, publication and administration. She has published many papers related to her work internationally and locally. Currently, she is the Deputy Dean of Networking and Alumni of the faculty and is quite active in the activities with the industries and communities which is in line with her portfolio. She is also a member of the Board of Engineers Malaysia (BEM) and the Society of Engineering Education Malaysia (SEEM).
Speaker #2
Ms. Rachel Toh | Senior Manager of Corporate Training & Learning at SHRDC
Rachel is passionate about training and skills development. This is evident with her 22-year experience working with SHRDC in various departments and capacities. Her strengths lie in running a training organisation, training analysis and design, programme management and business development.
Speaker #3
Ms. Camelia Loh | Founder of Kabel, A Career Launchpad App for Gen Z
Camelia Loh is the founder of Kabel, a mobile career platform that connects hirers and jobseekers directly to share expectations, goals and values. She has 17 years of experience managing her own executive search firm and recruiting skilled professionals.
This session is organised by SME Association Malaysia and Kabel, with the aim of creating awareness of the importance of leadership in building sustainable businesses through their best assets - PEOPLE.
Note:
By clicking the 'Register' button, you agree that any personal data provided by you on the registration page may be used by ZOOM Video Communications, Inc ("ZOOM") and may be transferred to SME Association of Malaysia ("SME Malaysia") and Talent In Motion Sdn Bhd ("Kabel").