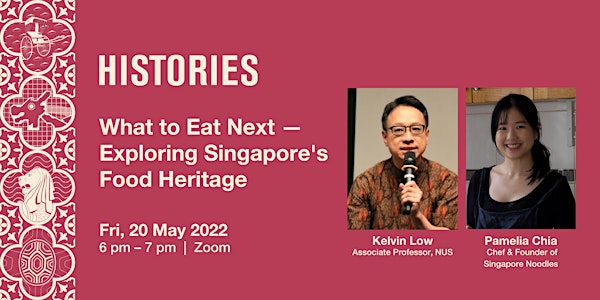 Histories: What to Eat Next – Exploring Singapore's Food Heritage
Join Dr Kelvin Low and Pamelia Chia as they share about Singapore's ethnicity and how people can connect with one another through food.
About this event
From quick fry ups to hours spent simmering on a stove, Singapore's varied foods are not only unique in preparation and taste, but also steeped in our rich cultural values. Join our speakers Dr Kelvin Low and chef and author Pamelia Chia as they share about Singapore's diverse ethnicity, its relationship with food and how people can connect with one another through food.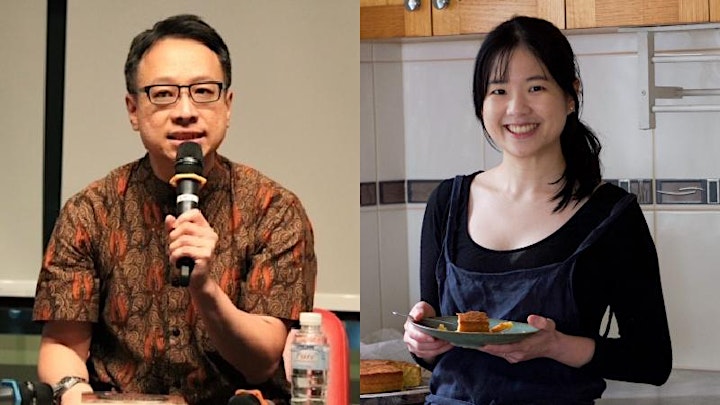 About the Speakers
Dr Kelvin E.Y. Low is an Associate Professor and Head of the Department of Sociology at the National University of Singapore. His research interests comprise sensory studies, social memory, heritage and historiography, migration and transnationalism, and food and foodways. He is also the co-founder and President of TG07 Senses and Society, International Sociological Association.
Pamelia Chia is a chef, author of "Wet Market to Table", and founder of Singapore Noodles, an online membership and podcast. Through her work, she hopes to empower young Singaporeans everywhere to cook from their heritage, so that Singapore's food heritage may be kept alive for generations to come.
About Histories
This series highlights research on historical and related matters in Singapore and the region, creating an appreciation of the role of humanities and social science research in contemporary society.
About From Book to Cook
From Book to Cook is a brand new cooking show on Singapore's old recipes found in the National Library collection. In every episode, our librarian-host Paddy Ong and a guest cook will make a dish or two from a vintage recipe. What happens when you put a librarian in the kitchen, armed with traditional kitchen tools and recipes from the past? Catch the series to find out!