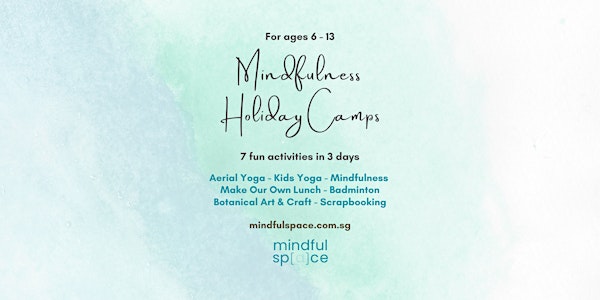 Holiday Camp 3-5 Jan 2022
Holiday Camp 3-5 Jan 2022
When and where
Location
Mindful Space 10 Winstedt Road Block A, 02-02 Singapore, 227977 Singapore
Refund Policy
Contact the organiser to request a refund.
Eventbrite's fee is nonrefundable.
About this event
Our Signature Holiday Camp is back!Mindfulness Holiday Camp Theme: Mindfulness Practice on "Being Out of Our Comfort Zone"
Our camp consists of SEVEN fun activities to learn values and build character.
Mindfulness practice
Mindful Eating and Make Our Own Lunch
Aerial Yoga
Kids Yoga
Mindful Scrapbook & Journaling
Left and Right Brain Integration with Badminton
Botanical Art and Craft with Nature
Day 1 (Mon)
Aerial Yoga
Snack Time (10:30 - 10:45am)
Mindfulness & Yoga
Mindful Eating and Make Our Own Lunch (12-1:30 pm) *half-day camp ends here at 1:30pm*
Scrapbooking & Journaling
Mindful Games (teaching values through play)
Day 2 (Tue)
Aerial Yoga
Snack Time (10:30 - 10:45am)
Mindfulness & Yoga
Mindful Eating and Make Our Own Lunch (12-1:30 pm) *half-day camp ends here at 1:30pm*
Scrapbooking & Journaling
Mindful Games (teaching values through play)
Day 3 (Wed)
Left and Right Brain Integration with Badminton (5 mins walk to Cairnhill Community Centre)
Resilience play-based activities
Mindful Eating and Make Our Own Lunch (12-1:30 pm) *half-day camp ends here at 1:30pm*
Botanical Art and Craft with Nature (Garden)
Hours:
HALF day option 9 - 1:30 pm
FULL day option 9 - 4 pm
Rates:
3 half-day
4.5 hours per day (9 - 1:30pm)
Single Price: $420
Buddy Price: $399
3 full days
8 hours per day (9 - 4pm)
Single Price: $550
Buddy Price: $522
Min 5 pax to commence a session
*private camp request available with 5 - 10 pax, enquire via WhatsApp 9783 7313
Rates inclusive of:
Lunch (ingredients are provided to guide children to make their own lunch)
Art and craft materials for scrapbooking and botanical art at garden
Equipment and props for badminton
Mindful Eating and Make Our Own Lunch
*Please note we might modify the "make our own lunch" according to the government restrictions
Mindful eating is a practice based on mindfulness techniques, to be focusing on the present moment, while calmly acknowledging and accepting our feelings, thoughts, bodily sensations and connections with food.
Why should you try mindful eating?
Today's fast-paced society tempts people with an abundance of food choices and technology is a distraction, shifted our attention away from the actual act of eating. Eating becomes a mindless act, often done quickly. This can be problematic since it takes our brain up to 20 minutes to realize we are full.
By eating mindfully, we restore our attention and slow down, making eating an intentional act instead of an automatic one.
Allowing children to explore the process of making their own food, experiencing the different cuisines (Western and Asian) and be willing to try food that is within and out of their comfort zone
Aim to intrigue their curiosity, it is okay for them to verbalise their preference yet the goal is to be willing to try different things
Learning to make their own food with our prepared ingredients. If your child has a strict diet or allergies, please notify us during the registration. Alternatively, bring your own lunch.
Slow down and enjoy the act of eating
Engaging our senses by noticing colours, smells, sounds, textures and flavours
Noticing the effects food has on our feelings and emotions
Appreciating food
Connecting food with the circle of life. Understand how and what we eat affects the world.
Aerial Yoga
An Inversion is a great tool for self-regulation to the central nervous system
Fun and therapeutic environment to flip, rock and swing to improve body and spatial awareness
Upside down with the help of gravity aligns and decompress the spine, promotes blood circulation and a calming sensory to the brain
Movements in different orientations and directions help develop a strong sense of balance; train the brain's focus, motor planning and working memory
Up in the air enhanced self-confidence, responsibility and require good observation and listening skills to move in and out of different poses
Values we instil with aerial yoga
✅ Stability before mobility: ground ourselves with mindful breath, listening and observation before moving to the next task
✅ Growth Mindset: accept that everyone is at a different pace, yet there is always room for improvement
✅ Slow and Steady: enhance on controlled movement, not speed
✅ Resilience: embrace dedication and effort, the ability to keep moving forward one step at a time. Keep trying!
Mindfulness & Yoga Themes
✅ Get to know MY BODY - Mindful of our bodyLearn about different body parts and our superpower breath.
Understand our body is all different and very smart. When we do something new, we are introducing changes to both the body and mind. What happens when there is a change, we might like it, we might not and the most important thing is we don't judge. We allow time for the body and mind to experience the changes. We allow time for the body to thrive and adapt.
How can we help? Rest & stretch.
✅ Get to know MY MIND - Silent Yoga & promote creativityUnderstanding our brain is super smart, alert us when there is a danger to protect us or inform us something is super fun and let's do it quickly. Who is even smarter than our brain? You - the combination of your brain, breath and heart.
How to overcome fear? Deep breath in and out. Understand the steps needed to do the challenge, try and ask for help
How to calm the excited mind? Sometimes when asked to do something, we think it is so easy and we are excited, we laugh, we talk and we lose the breath and the attention. We can be excited yet mindful. Being mindful keeps us aware. When we are aware, we are safe because we can pay attention
✅ Get to know MY LIFE - Mindful LivingUnderstand we all have superpowers to help achieve what we want if we get to know ourselves and the people around us better. The first step is to slow down and take our superpower breath.
Mindful Body - Recap of the 10 steps of sun salutation A and variations of the poses
Mindful Mind - Rest, Rejuvenate & Refocus
✅ Deepen yoga & meditation practiceUnderstand how to deepen our practice. More time to discuss the connection in our body, thoughts that are arising from our meditation practice and more importantly how will we overcome it.
Mindful Body - Opportunity to lead and teach a pose or even short sequence
Mindful Connection - Understand the body parts and the connection of their body parts. Learn how simple yoga poses develop into more advanced arm balances and inversions
Mindful Mind - Rest, Rejuvenate & Refocus. Learn simple meditation and relaxation techniques
Mindful Scrapbook Journaling
✅ Engage creativityThe freely flowing ideas that typically fill a journal are accompanied by the structure, layout, and planning that usually goes into making a scrapbook. By combining these two concepts, a child is free to be more creative and imaginative both in expressing his or her artistic qualities and in relaying thoughts and feelings to the journal. This helps in bringing out any hidden talent in a child which may otherwise remain unexplored.
✅ Foster better communicationScrapbooking provides a platform for parents to spend time and communicate with their children. Be it for problem-solving, expressing thoughts or getting ideas and inspiration, it serves to connect parents with their children in a break from the hectic routines of life.
✅ Improve organisation skillScrapbooking involves a lot of paperwork, cutting, pasting and sketching. The aim is to organise and arrange the pages/images/photos into the album that tells a story in an artistic way. Children will learn the need to decide how images are used (cut, pasted, drawn, painted etc) and brought together to tell their story.
✅ Reflections and recollections of memoriesThe scrapbook is a medium that enables a child to creatively record and explore what they are seeing, thinking and experiencing during a particular time and moment. At difficult times it can be hard to identify and accept certain feelings (both positive and negative), yet reflecting on emotions around an event and then expressing them on paper, can create a sense of relief and validation of these emotions.
✅ Improve concentrationScrapbooking encourages a child to stop thinking about what is going on in the outside world, and forces them to work on what is in front of them. Scrapbooking helps shed off the anxieties of daily routines by creating an escape for a child to simply create and focus on a single objective, and improve their concentration.
Left and Right Brain Integration with Badminton
Learn badminton techniques and positive values that are transferable to different areas of your child's life.
Conducted by Joel and team from Upraise.
Build interpersonal skills and learning to read social cues and work as a team
Learning what it means to continuously seek room for improvement to grow out of comfort zone
Practice resilience when things did not turn out the way they want (how to handle success and disappointment).
Promote self-awareness and intrapersonal skills to build a healthy confidence
Ability to stay focus, listen and follow instructions
Improve decision-making skills
Enhance hand-eye coordination and agility that comes with more body and spatial awareness
Develop early habits to a healthy lifestyle
Botanical Art & Craft
Giving space for kids to be creative and resourceful with the nature's material found around them.
Conducted by Wild Dot
learn how to source for natural colour pigments to create watercolour for painting (eg: blue peas for blue colour)
building an emotional connection with mother nature (we can love and protect what we can see and feel)
craft an artwork with the garden plants that are meaningful to the child
By signing up for this event, you agree to be contacted for future events.
Mindful Space
97837313
https://www.mindfulspace.com.sg/