Description
1 Full Day Training | 10am to 6pm | Max. 6 participants per class


What you will take away from this Hands-On Workshop:
Learn how you can start driving FREE traffic to your website
Learn how lead generation works on the internet
Learn about landing pages and why agencies use them for lead conversions
By the end of the workshop, you will be able to understand steps that you can take immediately to improve your SEO ranking on Google.
Workshop Topic Overview:
1. Introduction to the workshop
- What is Internet Marketing?
- What is Search Engine Optimization (SEO)?
- What is Search Engine Marketing (SEM)?
- What's your Buyer's Journey on the Internet


2. Guide to Internet Marketing: Websites

- How does Google rank my website?
- How do I decide on the keywords for my ads?
- Learn 5 Tips to better Internet Marketing
- Create a SEO & SEM keyword Strategy
- 9 Tips to having better conversions on your website

3. Landing Pages (for SEO & SEM)
- What are Landing Pages, and why are they important in lead conversion?
- How to use Landing Pages effectively (so your customers stay focused)
- Contents you will need on your landing page to convert your website traffic and visitors


4. Creating a landing page
- Creating a Landing Page Step by Step with Trainer (No coding knowledge required)
- Creating your own Landing Page (No coding knowledge required)
- We're introducing the platforms InstaPage and LeadPages

5. Google Analytics
- Integrating Google Analytics in your landing page
- How to understand Google Analytics Reports and what it has to offer
- Things you need to note in Google Analytics

6. FREE to use method to Generate Leads from your social media marketing

7. Consultation with the Trainer on your Internet Marketing Strategy


What you'll need to bring to class:
• Laptop & Charger
• Mouse & Mouse Pad
---
What you need to know (for Singaporeans above 25 years old):
This workshop is SkillsFuture Approved and Claimable.
For payment instructions on how you can pay us directly with SkillsFuture Credits, please select ticket option "$360 via SkillsFuture Credit" option or email us directly at skillsfuture@skycrm.asia for payment instructions. No cash required.
Course code on SkillsFuture Directory: CRS-N-0041548

This is a Certificate Workshop. Receive a Certificate of Completion upon completion of the workshop from Sky Digital Agency.
---
Training grants for companies

Companies can claim $2 per hour from SkillsFuture if they sponsor their employees for the training. All you need is our course code to apply for it on SkillsConnect.


40% of remaining fees can be claimed from PIC Grant for eligible companies.

PIC Grant: 40% of course fee
For company sponsored individuals, your company can claim 40% of course fee (for training conducted by external vendor) from PIC if your company is eligible.
More about the PIC Grant: https://goo.gl/qlldQz
---
About the Trainer
Charmaine, is the Founder and Creative Director of Sky Digital Agency.

Being a web designer by training, she was intrigue by many things when she first started her agency back in 2010. From Facebook marketing to SEO & SEM, she has became a self-taught marketer and hands-on practitioner.

Aside being a hands-on marketer and practitioner, she is someone who believes in learning something new everyday.

She is generous in dishing out tips and tricks especially in design and about the different digital marketing topics, Facebook, Email Marketing, SEO & SEM. She is also always always excited to bounce ideas and brainstorm together with her participants during the workshop.

Charmaine makes learning interactive, candid and fun, helping learners to be excited about applying what they have learned in their work or business even after the workshop.

If you're looking to learn abundantly, and be able to use the internet as a marketing tool to help your business stand out in today's ever growing industry of using tech for marketing, you have to join Charmaine at the workshop.

She strongly believes that the training industry needs more workshops that are conducted in a small group setting of max. 6 participants. This is what she has set herself out to do, so as to ensure that every participant get the most out of each training with Sky Digital Agency.

Sky Digital Agency currently has 5 Workshops SkillsFuture Approved and Claimable.
Here are some generous workshop reviews our participants have left us on Facebook on how our workshops have helped them be a better marketer for their work, business, and startups:

More workshop testimonials can be found on our Facebook Reviews
- - - - - - - - - - - - - - - - - - - - - - - - - - - - - - - - - - - - - - - - - - - - - - - - - - -


FAQs
1. Who can i contact should i have questions?
You may e-mail us at workshops@skycrm.asia


2. Is there a minimum class size to proceed?
Yes. We require a minimum class size of 3 people to proceed with the class.
In the event that there are insufficient participants, we reserve the right to reschedule the class. In such circumstances, we will notify you no later than 3 days before the event.

3. Where is the venue of the workshop?
6 Raffles Quay, #15-00, Singapore 048580
Nearest MRT: Raffles Place, take exit "i". The building 6 Raffles Quay is just beside Ascott at Raffles Place.

4. I'm driving, where can I park?
There is parking space at the building 6 Raffles Quay itself at $2.50 per 30 min block.
For weekend classes, we recommend our participants to park at SGX Centre, at $3 per entry.

Charmaine conducting a 3 hour workshop on "Ways to Effectively Retain Learning Through Better Visual Presentations" with 40 training and educators at Life Long Learning Centre, under Institute of Adult Learning (IAL)


Would you like to create amazing visual presentations with your PowerPoint and Keynote Applications? Join us for our Infographics & Visual Content Marketing workshop, SkillsFuture Approved & Claimable. Alternatively, you can email us at workshops@skycrm.asia to enquire about our workshop schedules.


Corporate Training with 15 staff from Singapore University of Technology and Design. If your company or organization would like to engage us for an in-house corporate training for your staff or employees, do reach out to us at trainings@skycrm.asia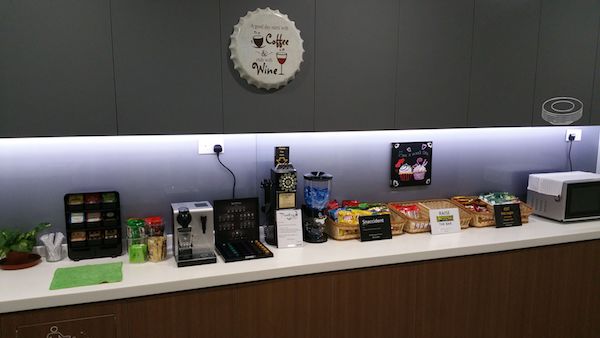 Don't you just love the pantry. Makes learning more fun when you have different hot drinks to keep you awake! We mean... to help you focus!