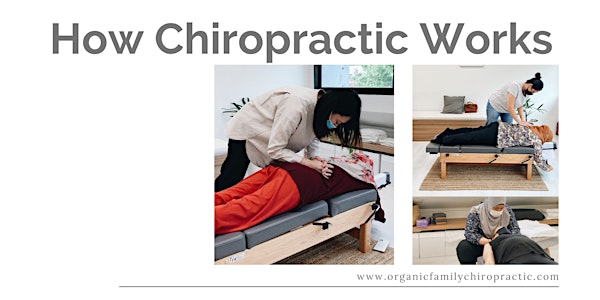 How Chiropractic Works
Attend this workshop & learn from our Chiropractors the unique way they help people to safely and effectively manage pain & improve health.
About this event
About this event
We are hosting an online workshop to discuss and learn more about if Chiropractic is a good option to help you with whatever pain, stiffness or health issue you are currently experiencing.
Back aches, neck pain and headaches are all common complaints that can make day to day life extremely challenging.
People in Singapore are increasingly looking for safe and alternative ways to help themselves with these kinds of issues which allow their bodies to recover and strengthen so that pain is no longer a common occurence in their life.
At our FREE online workshop you will learn:
- The most common causes of pain and sickness
- Why good function is paramount to a healthy body
- What Chiropractic is and how it helps people
- Self- help strategies that you can use to help manage your pain
- How the Chiropractors at Organic Family Chiropractic uniquely help people
We at Organic Family Chiropractic believe in the ability of the body to regulate itself with minimal external interference, and we believe all of us should be functioning at 100% through living a healthy and expressive life.
EVERYONE is welcome, so join us online and why not bring a family member or friend with you!
PLEASE NOTE: This event WILL sell out as we are limiting the attendees to a maximum of 5 plus one family member or friend. So register now to avoid disappointment.
Date: Wednesday 9th March 2022
Time: 5:30pm
Location: Zoom Webinar (link to be sent via email)
Cost: FREE