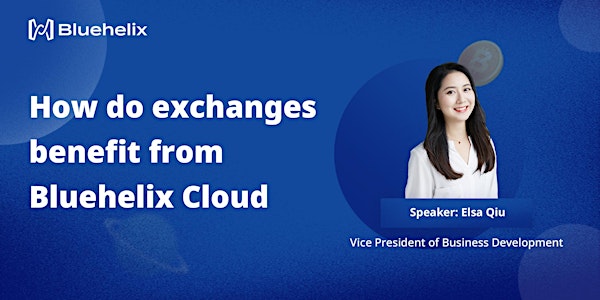 How do exchanges benefit from Bluehelix Cloud?
How do Bluehelix Cloud Equip Crypto Exchanges differentiate themselves from their competitors?
When and where
Location
UnionSpace Satrio Tower, Floor 16, Jl. Prof. DR. Satrio Kav. C4 Kuningan Tim., Kecamatan Setiabudi, Kota Jakarta Selatan 12950 Setiabudi, Jakarta 12950 Indonesia
About this event
Meet Elsa Qiu, the Vice President of Business Development at Bluehelix. She will be sharing with you on the benefits of Bluehelix Cloud and how it can help exchanges in achieving a low operating cost, depths sharing, system stability, asset security, code customisation, user privatization, exchange operation mode consultation with the backing of 40 investment institutions.
We're giving away 20 Bluehelix T-shirts and BHT Gift Cards to our attendees in the form of lucky draw. Come and grab yours now!
Speaker: Elsa Qiu, Vice President of Business Development
LinkedIn: https://www.linkedin.com/in/elsa-qiu-a2045790
Elsa started her career in Singapore Private Bank and has rich experience in asset management and investment consultation. Followed, Elsa joined Huobi Singapore as APAC Regional Business Development Manager and OTC Deputy Regional Manager, developed and acquired strategic partners in the South-East Asia and led OTC market development, establish and grow regionally. Recently, Elsa is enlisted in Top 100 Women in Fintech 2019 in Lattice80 & Miss Kaya.
Welcome Attendees: Projects, Community Leaders, Media, Exchanges and Crypto Enthusiast
Venue: UnionSpace
Address: Satrio Tower, Floor 16, Jl. Prof. DR. Satrio Kav.
C4 Kuningan Tim., Kecamatan Setiabudi, Kota Jakarta Selatan 12950
About Bluehelix (BHEX)
Bluehelix(BHEX) is the leading DeFi Services & Tech Provider and is dedicated to providing world-class professional financial trading and assets management services. Bluehelix has businesses of Bluehelix Exchange, Bluehelix Cloud, and Bluehelix Chain. The in-house developed Bluehelix decentralized blockchain-based assets custody and clearing system serves more than 120 Bluehelix Cloud Partners with 5 million end-users with custody of more than 6 billion USD worth of assets.
Join our @BHEXOfficial for discussion.