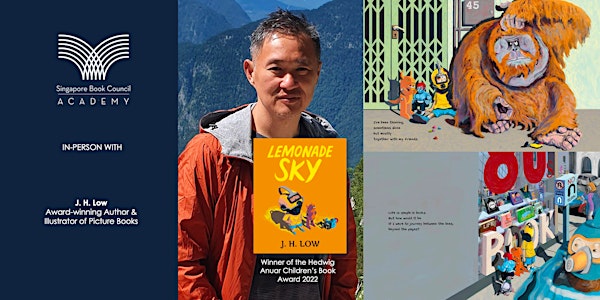 How to be a Picture Book Author-Illustrator
A full-day workshop to start participants off in their journey to become a published picture book author-illustrator.
By Singapore Book Council
Date and time
Sat, 8 Apr 2023 09:00 - 18:00 +08
Location
Goodman Arts Centre 90 Goodman Road Block E, #03-32, Singapore Book Council Training Room *Please note that there is no lift access to the Training Room Singapore, 439053 Singapore
About this event
Promotions
40% concession* rates for students and seniors
20% off buddy tickets (min 2 tickets)
20% off past participants of SBC Academy**
10% off for Kinokuniya Privilege Card members**
*Participants will have to present their student pass or senior citizen card on day of talk for verification purposes.
** Request promo code via email to programmes@bookcouncil.sg
This course is in process of being SkillsFuture credit available. Please check back again for updates or you may send in your interest for this funding to programmes@bookcouncil.sg
To submit claim for this SkillsFuture course:
Register and request for invoice
Log in on MySkillsFuture with Singpass and go to 'E-Services'
Click on 'Check and Claim SkillsFuture Credit'
Click on 'Proceed to Submit a Claim'.
Search for course.
The page will show your course details and the course run or course start date. Scroll down to key in payment details and upload supporting documents (invoice). Check the 'Terms & Conditions' checkbox and click 'Submit'.
Synopsis
This full-day workshop aims to start you off in your journey to become a published picture book author-illustrator. Through a combination of short presentations and hands-on studio sessions, you get to learn how to use the picture book form to create original stories of your own.
The workshop comprises the following segments:
What is a picture book and its potential as an expressive art form (1 hour)
Ways of storytelling: How to tell story with the picture book (3 hours)
Character-Design (2 hours)
Illustrate and create your own dummy book (2 hours)
At the end of the workshop, you will be able to:
understand the language of the picture book
learn different ways of storytelling
create a short story with storyboarding
design your own original characters
create a dummy picture book
Anyone can benefit from this workshop; you don't have to be a good writer or a good artist. If you ever dreamt of creating your own storybook, then sign up for this workshop and come join J.H. Low for day of fun learning experience.
Suitable for 11 years old and above.
About Trainer
J.H. Low is an award-winning author-illustrator of picture books. His book Lemonade Sky (2021) is featured in the prestigious White Raven catalogue 2021 and also won him the Hedwig Anuar Children's Book Award 2022. His recent publications include two graphic novels: Mr Goodchild (2021)and The Visitor (2022). Through these two books, J.H. Low explores existential issues with the picture book form and challenges conventional notion that the picture book is only for children's consumption.
J.H. Low has a BA (Hons) in Fine Art, a MA in Children's Book Illustration, and a PhD in Art.
Cancellation:
The workshop can be cancelled or postponed two weeks before the workshop date if the minimum number of participants is not met. Participants will be fully refunded for workshops cancelled by us.
Participants who are unable to attend a workshop they have registered for are to inform us of the reason two weeks before the workshop date. They will be fully refunded in the event of extenuating and mitigating circumstances (E.g. illness, bereavement, accidents) . Those who inform us up to 5 working days before the workshop date will receive a 50% refund. Those who did not turn up at the workshop will not receive a refund.
Upon registration, you are deemed to have read and understood the cancellation and withdrawal policy and accept the terms contained therein.
Please note there is no lift to the venue.
About the organiser
Singapore Book Council (SBC) is a charity founded in 1968. Its vision is to Build Our Imagine-nation by developing creativity, imagination and original thought through writing, reading, illustrating and storytelling. Its mission is to fulfil this vision through books and literary art events, workshops, and awards, because it all starts with a story.
 Support the Singapore Book Council!
As an independent charity with IPC status, the Singapore Book Council relies heavily on individual donations to help us promote a diverse, multilingual Singapore literature. Please donate to us so that we can organise more events like this, especially during this challenging time: https://www.giving.sg/singapore-book-council-limited