Description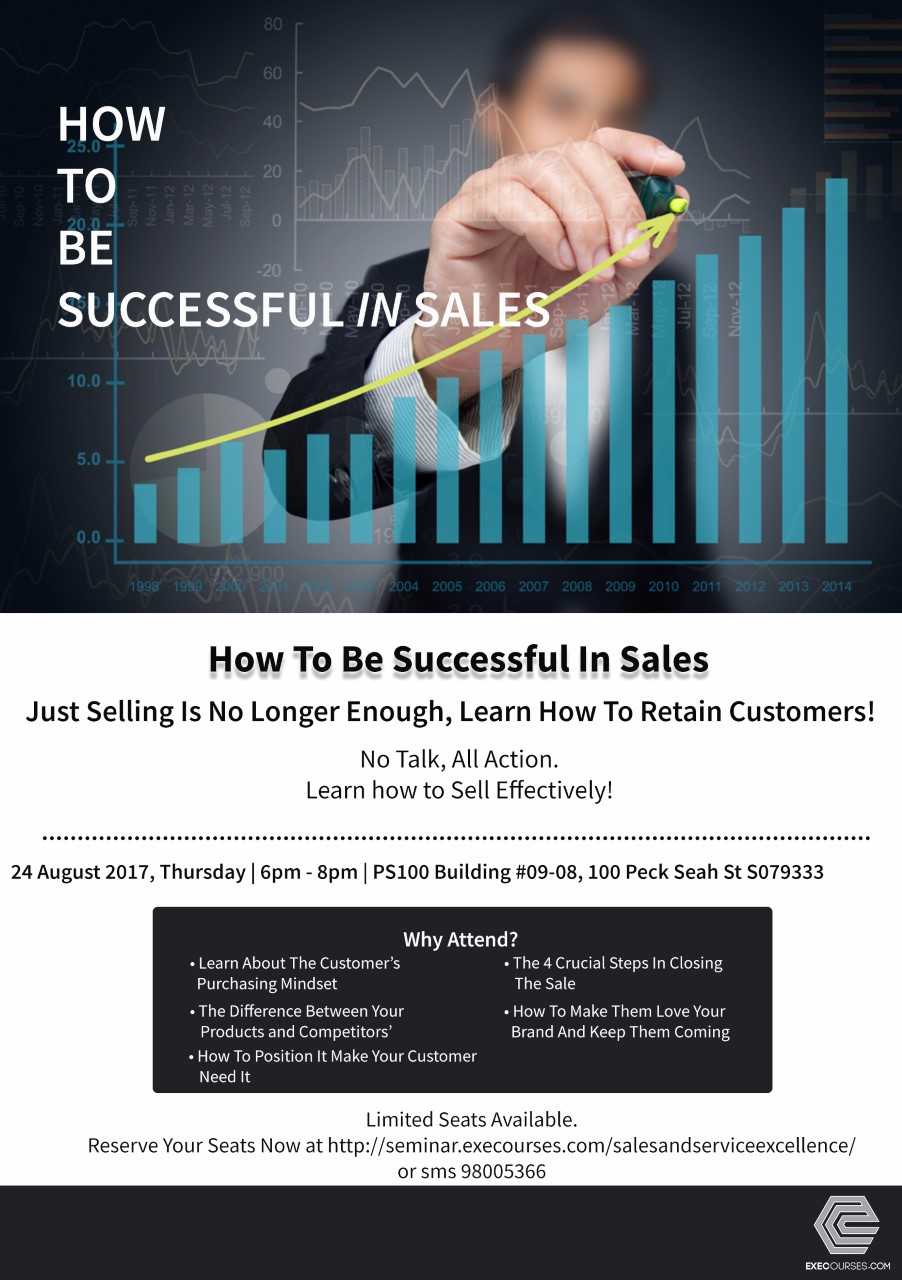 To Master the Success in Sales, There are techniques that can't be ignore.
How can you convert your targeted clients to loyal ones can increase your sales and overall company's profitability?
Learn more about how Service can make a difference in your sales. Nothing beats a professional a lesson on service sales that help you differentiate your business preposition.
Discover:
Understanding The Customer's Purchasing Mindset
The Difference Between Your Products And Competitors'
How To Position It To Make Your Customer NEED It
The 4 Crucial Steps In Closing The Sale
How To Make Them Love Your Brand And Keep Them Coming Back
If you are in business, sales manager or an management consultant, Join us this evening for networking and also hear from our exclusive Coach and Trainer, Dr Alvin Oh, Founder and CEO of Wisdom International, while he share tips on topping your sales with service excellence.
How to be Successful in Sales Seminar
Date: 24 August 2017, Thursday
Time: 6-8PM
Venue: PS100 Building #09-08 100 Peck Seah St Singapore 079333
Programme Schedule*:
18:00hrs - 18:30hrs: Networking reception
18:30hrs - 19:30hrs: "How to be Successful in Sales" by Dr Alvin Oh
19:30hrs - 20:00hrs: Light Refreshments
*Programme schedule is tentative and may be subjected to change without prior notice.
About the Speaker, Dr Alvin Oh
Dr Alvin is a practitioner in Learning & Development, Organizational Development and Talent Management, having spent over the last 20 years in multi roles as Director/ Head of regional Learning & Development for Linde Asia-Pacific, STATS ChipPAC and was Deputy Director, Talent Management as well as Senior Teaching Fellow at the Nanyang Technological University teaching Human Resource Development and Leadership for both undergraduate and postgraduate programs. He has also taught on a suite of executive education courses as an Adjunct Faculty over his pet subject of "Driving Performance Excellence", "Building the Talent Pipeline" and more.
In his 25 years of consulting, coaching and training, Dr Alvin has designed and developed a wide array of Learning and Development, Organizational Development and Psychology programs such as talent leadership, achieving performance excellence, business excellence and organizational effectiveness through building the leadership pipeline, develop leadership competencies, culture change, values orientation, building high performance teams, etc.