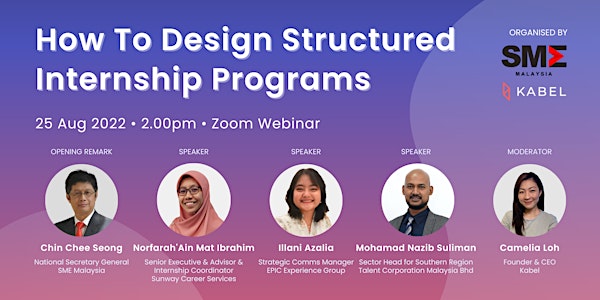 How to Design Structured Internship Programs
As employers, how do we provide graduates with real working experience through quality internships, and retain these young talents?
About this event
Today's market demands graduates with working experiences or some notable projects that they worked on. As employers, how do we provide graduates with real working experience through quality internships?
A well-planned and structured internship program will not only benefit graduates themselves, it is also an opportunity for companies to source and assess whether an intern can be a good fit for the company in the long term.
In this online forum, we will discuss :
How do employers benefit from structured internship programs
How to incorporate internship programs into hiring strategy & talent pipelining
How to curate quality internship programs through best practices
Register now. Participation is free.

Introducing our guest speakers, who are leaders with diverse experiences:
Speaker #1 Norfarah 'Ain Mat Ibrahim | Senior Executive of Sunway Career Services @ Student LIFE Sunway Education Group| The ACE of 🇲🇾 Talent 4.0 Skill Development |Advocate, Consult & Empower|Talent Development | Speaker & Trainer | Coaching |Mentoring | Data Management |Data Transformation |
I took my BSc Management Information System (Minor: Sociology) back in the States from Iowa State University, USA and I came back to Malaysia to kickstart my career in these sectors at TalentCorp, Malaysia as a former Industry Partnership Executive for Oil & Gas, Energy, Education and CGI (Creative, Content & Infrastructure).
In-between working for TalentCorp, I was the Lead of Learning & Development Unit of Intelek : Enriching Talent and Trainer of Perintis Professional Muda (Rintis).
Just about 3 years ago in 2019, I started working in Sunway University as a Senior Career Advisor and Internship Coordinator and part of NACDA (National Career Development Centre Association) as Public Relations Director.
Positive and out-going in nature, I enjoyed working with people especially students and young professionals in talent development while helping the community at large to achieve something significantly valuable in their career life like conduct career workshops, mentoring and coaching ie HRDF Career Coaching programme & Axiata Foundation Mentor for Mentor (M4M) programme. I'm willing to learn new things and to take risks in something that I believed in.
Have facilitated an orientation activity for more than 200 students, coached/mentored fresh graduates (local & overseas university), spearheaded talent management data and have great desire to do more in the future.
Speaker #2 Illani Azalia | Strategic Comms Manager @ EPIC Experience Group | Head of Integrated Strategy | Public Relation Executive |
After bouncing around different jobs, eventually I chanced upon a job in Public Relations (with another company within the EPIC Experience Group). I remember the line during the interview that got me the job was "Admittedly, I don't know anything about PR. But I promise you I'll give you 110% every day, and work harder than anyone else that walks through your door.", and that was a promise I kept everyday for the last 5 years and counting.
I'm proud to say that I've been able to build a career for myself with The Hot Shoes Show over the last 5 years, joining the company as a PR executive, and eventually shifting to content strategy, which is where I found my passion and focus for the next 4 years to become the Head of Integrated Strategy for the Group. Some of my most recent notable work includes the Virtual Coway Run, Petrosains Science Festival, Net Idol (in Cambodia), Rimmel x GVF, Robinsons KL Grand Opening, TM LEAP Summit, and many more. During this time I've gone from being an exec just learning ropes, and growing into a person that coordinates and leads a team of industry experts to conceptualize and execute winning ideas. But perhaps my favourite part of this season was when I hosted cross country trainings with over 25 participants, Teaching them how to #BuildWinningDecks.
Now, I embark on a new journey where I'm focused on learning how to develop functional departments including HR, Corporate Comms, as well as Intellectual Properties. Which gives me insight into what the other side of business looks like.
Speaker #3 Mohamad Nazib Suliman | Sector Head for Southern Region @ Talent Corporation Malaysia Berhad | Industry Partnership | Marketing Manager | Halal Executive | Internal Halal Auditor |
Mohamad Nazib bin Suliman, or commonly addressed as Nazib, leads the industry partnership portfolio for the State of Johor.
Prior to joining TalentCorp, Nazib was attached to an agency under the Jabatan Perdana Menteri (JPM), responsible for the implementation of entrepreneur development programs for the Southern Region since 2012. His roles include facilitating the growth of SMEs across various sectors through relevant enablers and localised solutions. He had the opportunity to manage a number of funding-based programs which include partnering with the banks, development financial institutions (DFI) and was actively promoting the alternative financing namely equity crowdfunding (ECF) and peer-to-peer (P2P) micro financing to the SMEs.
Nazib is a communications graduate from UiTM and completed his MBA at the Open University Malaysia. He is also a Certified Marketing Manager (CMM) with the Malaysia Shopping Malls Association and certified as both Halal Executive and Internal Halal Auditor with the Halal Professional Board.
Moderator
Camelia Loh is the founder of Kabel, a mobile career platform that connects hirers and jobseekers directly to share expectations, goals and values. She has 17 years of experience managing her own executive search firm and recruiting skilled professionals.
This session is organised by SME Association Malaysia and Kabel, with the aim of creating awareness of the importance of leadership in building sustainable businesses through their best assets - PEOPLE.
Note:
By clicking the 'Register' button, you agree that any personal data provided by you on the registration page may be used by ZOOM Video Communications, Inc ("ZOOM") and may be transferred to SME Association of Malaysia ("SME Malaysia") and Talent In Motion Sdn Bhd ("Kabel").