Description
Tired of making the same old new year resolution about losing weight?
Triggered that the first thing your date notice about you is your weight?
Upset that you can no longer fit into your favourite outfit?

Do you want to lose weight for good?


So You've Tried Everything, But Still
NOT SEEING RESULTS?
When I first started, I did everything other people taught me to do; shakes, workouts, pills, everything.
They sold me big promises and success. But, when it came to delivering, it was a different story.
Instead of giving practical advice to someone of my size & physique, they told me what they do best - crushing it at the gym, sweating it all out in a run, having the willpower to eat nothing but chicken breast every single day.



Luckily, I did nothing of those things and yet still
drop a
massive 16kg!
Let me tell you the biggest problem with these providers: they can't teach you how to replicate their success.
This is simply because most of them did not start from where you are right now.
They did not go through the process of being overweight; they are in the business to earn money!
Because of that, most people drop out after a few sessions. Feeling lousy, disappointed and even beginning to accept their fate of being overweight.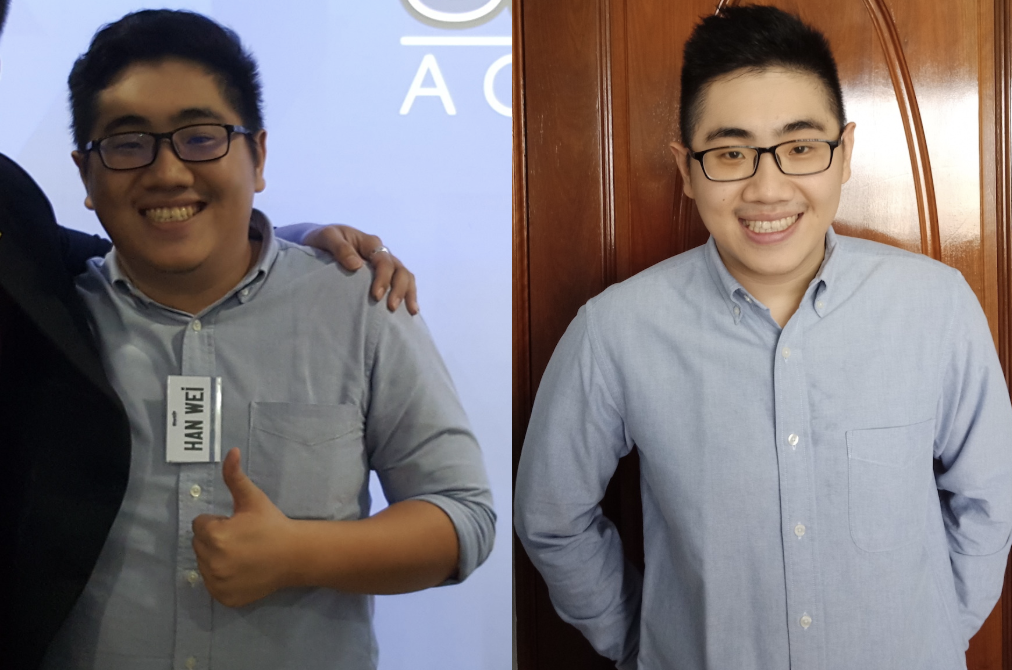 This is me; Before & After:
I was at an all-time-high 90kg in November 2017,
Fast-forward to today, I'm at 73kg,
The end results?

I'm Happier,
More Confidence
& Full of energy even after a full day's work
This could be you too!
What if you could lose weight for good;
Have your friends & relatives notice that you lost weight & compliment you,
Wear the clothes you want confidently rather than wearing clothes that could fit your size
& Best of all, lose weight without killing yourself in one of those insane workouts?
Would that be worth it?
So what I'm saying is this:
Before you "accept your fate", will you give yourself one more chance?

How is it different this time?
There are 3 important influencing factors of weight loss that most weight loss expert don't consider:
Sustainable Methods


Mediocre weight loss coaches talk about creating motivation, good ones talk about sustaining that motivation. But I found out that it is not only about your motivation, It's also about sustaining your energy levels.





Worst Day Strategy


Let's face it, we only talk about willpower when we are at our best. But what about days we don't feel our best? Your weight loss methods will only work if you take that into consideration.





The Social Aspect
Weight loss usually means watching your friends chomp down your favourite food while you eat your salads. Either that or you hide from your friends during lunch/dinner. No way would I do that! And neither should you.


And that's exactly what you will overcome and put into action when you attend our weight transformation workshop!
Excited yet? You should be!
Imagine the possibilities ahead of you when you drop that 10kg/15kg/20kg.
Maybe you will gain the confidence to ask out your secret crush in your office.
Maybe you will fit into your wedding dress again and feel young, beautiful & loved.
Maybe it's about returning to that figure where you once felt best in.
So my question to you is this:
Do you want to accept your fate, deal with the stereotype of being overweight and feel lethargic all the time?
Or do you want to take action and have lasting results to account for all the sacrifices you've made?