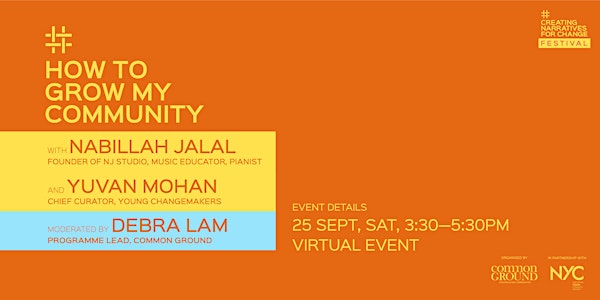 How To Grow My Community
Join a panel of young changemakers as they share their community building stories.
About this event
HOW TO GROW MY COMMUNITY
Rallying a group of people together is a first step. But what follows next is a lot of hard work and strategy. The challenges that follow the next growth stage in your ground-up initiative can be intimidating to navigate, but the struggles are far from isolating. The beauty of a community is that you're not walking in the dark by yourself. Resources are all around you!
Join a panel of young, but extensively experienced changemakers as they share about different transition paths; visible and invisible struggles; stakeholder relationships; and tips on being savvy and efficient in a resource-scarce sector.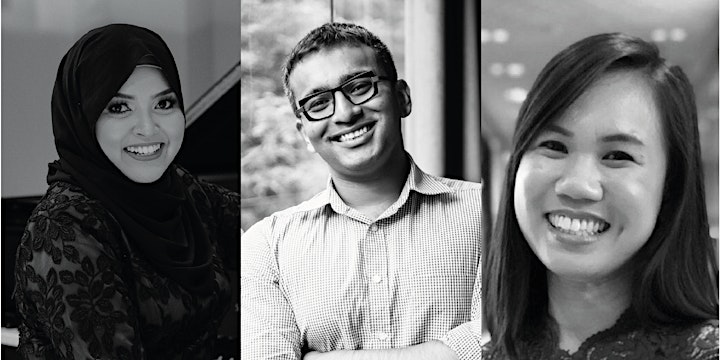 ABOUT THE SPEAKERS
Nabillah Jalal (left) founded NJ Studio in 2018, a boutique piano piano school that focuses on 1-to-1 lessons with a unique narrative-based teaching approach. Every year, NJ Studio aims to sponsor classical music education for selected students under MOE's Financial Assistance Scheme. She is the first Malay Singaporean to study at the Royal College of Music in London, majoring in Piano performance.
As an active advocate for youth, cultural and community programs, Nabillah frequently guest performs at private events and award showcases. Nabillah sits on the steering committee of Community Labs Forum, a Mendaki initiative that funds youth-driven entrepreneurship. She is also a Malay language ambassador.
Yuvan (center) is a youth leader who gives back to the community by growing youth leaders and building youth led organisations. He is the Chief Curator of Young ChangeMakers (YCM), a programme under the National Youth Council that supports a wide range of projects that are youth-led. Yuvan currently oversees the recruitment, training and development of more than 30 volunteers under the programme.
ABOUT THE MODERATOR
Debra (right) is the lead for programmes and community outreach of Common Ground, a civic center that works with people, public and private sector partners to create solutions for pressing social issues.
She previously co-founded Society Staples (currently on hiatus), a social enterprise that spearheaded innovative disability projects in the areas of inclusive sports, play and community building for greater social inclusion. Debra also runs a non-profit, Society Staples Cares, which focuses on plugging gaps in the social sector space through ground up, community-led programmes.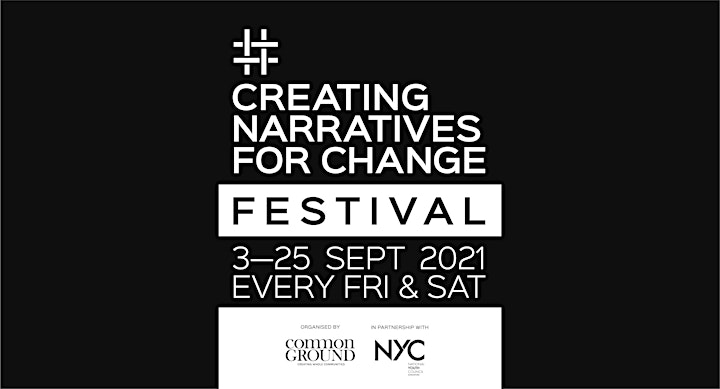 ABOUT THE FESTIVAL
The Creating Narratives for Change Festival is a hub for community builders and changemakers to gather and learn from one another. Join in on the festivities as we share stories from the sector, learn new digital storytelling tips & tricks, and hear from our lineup of changemaking self-starters!
View the full programme lineup: here.

TICKETING INFO
Don't miss out on all the festivities this September! To purchase festival packages, head over to the links below.
To view the full festival ticketing info, click: here.
We would like to thank our partner, National Youth Council, for their generosity and support to this programme for youths 35 years old and under.