How to kick-start your Investing Journey in Recession Market?
Description
His name is Mr K L Chua. He was the Founder of MATHS SPECIALIST, a Mathematics tuition centre and taught Mathematics for over 20 years, until he finally retired at the age of 39 in October 2017.
Wondering how it was possible for him to retire at 39? Do you also want to retire as early as possible so that you can do what you truly want in your life?
Honestly, without the existence of cryptocurrencies, he would not have been able to retire, regardless of how hard and how long he worked.
Fortunately, when he was 37, while many around him were very skeptical about Bitcoin trading, He focused on it and made himself to master it.
Instead of using technical analysis, which he found too challenging for beginners to master, he devised his own strategy known as Pattern Recognition.
Surprisingly, it worked perfectly well and he was able to adapt it to various ways to maximise his profits while minimising the risks.
Cheer! He had finally retired! Do you know that by learning Pattern Recognition, you are also unknowingly learning technical analysis and candlestick-reading? Come for his FREE 1-hour talk to find out more. Details are shown below.
The pictures below show his two small accounts which have already accumulated over SGD$100,000. Can you guess how huge his large accounts are?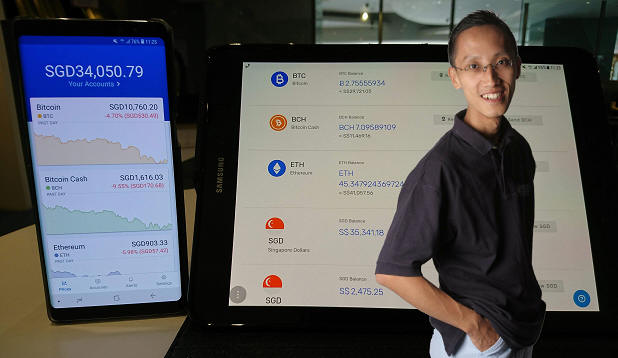 In this FREE Talk, he will share with you how to get yourself started on making money with Bitcoin trading in just two steps.
If you seriously want to retire like him and enjoy life as early as possible, join his CryptoTrading Course 1 during the FREE talk to enjoy a very special rate!
====================================================
DESCRIPTION OF THE FREE 1-HOUR TALK
(1) Why is Bitcoin a wonderful currency?
(2) How my life has changed after knowing Bitcoin.
(3) 2 steps to get started instantly with Bitcoin.
(4) Is Bitcoin just a currency?
(5) Can blockchain be hacked?
(6) Does FREE Money drop from the sky?
(7) Why cryptotrading is the best way to create my wealth.
(8) Want to FIRE your boss?
====================================================
For Enquiries, feel free to call Manson See at (+65) 9297 3400
====================================================
Website: www.SgCryptoTrading.com
Blog: www.SgBTC.blogspot.sg