Discover how to wield greater influence in the office and learn what it means to have a black belt in negotiation skills.
About this event
"Never fear to negotiate and never negotiate under fear" - JF Kennedy
What Will Be Covered?
At the end of this two hour seminar, you will:
- discover the biggest barrier amongst Managers and Executives to exercise influence and leadership
- harness negotiation as a practical tool for success in your career be it as an entrepreneur, business owner or executive in corporations
- learn a powerful negotiation behaviours framework utilised by powerful negotiators to navigate office politics
Meet The Speaker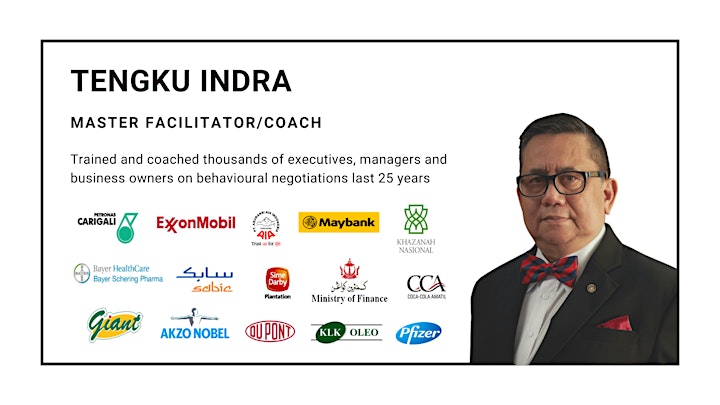 Tengku Indra is Founder of International Negotiators' Institution. He is also the Chief Mentor Officer of SDG International Pte Ltd and a Certified Behavioral Consultant by Psychological Associates Inc. USA.
His Fortune 500 mentoring, coaching and training is gleaned from over 40 years of corporate, commercial and organizational consulting experience, advising clients in the Asia Pacific and Middle Eastern regions ranging from government linked companies to multi national companies, across industries and cultures. He has mentored, coached and trained thousands of senior managers and professionals, in areas of his specialisation in companies such as Pfizer, Bayer, ExxonMobil, Novozymes, Petronas, DuPont, Khazanah, Maybank as well as Government Ministries. Tengku Indra was once dubbed as 'The Royal Mentor' by The Straits Times.
Prior to founding and embarking on his consulting and training career in SDG International in 1995, Tengku worked in three large corporations which include Singapore Airlines, General Electric and Monsanto Chemicals USA where he last held the position of Regional Director (Resins Sales) for Southern Asia. Trained and Certified in Leadership, Management, Sales and Service by Psychological Associates in the USA in 1983, Tengku has developed the passion for inspiring managers and professionals to practice the P4 Way of Leading, Coaching, Mentoring, Selling, Negotiating and Servicing clients with completeness and graciousness.
Organiser of How To Manage Office Politics Through Effective Negotiations