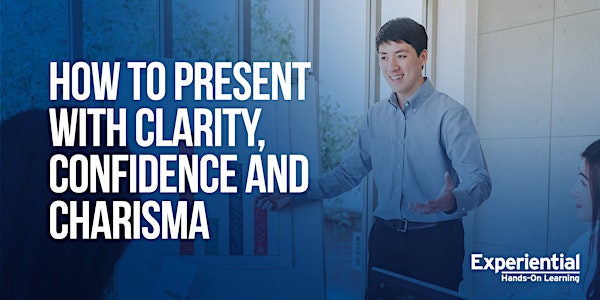 How to Present with Clarity, Confidence & Charisma
Establish your leadership executive presence. Learn techniques to develop engaging presentations that are clear, concise & compelling.
When and where
Location
American Chamber of Commerce - XCL American Academy Auditorium 1 Scotts Road #23-03/04/05 Shaw Centre Singapore, 228208 Singapore
About this event
TRAINING INTRODUCTION
In today's image-driven business world, success often comes down to presentation which, when you get to the heart of it, is presence. How to consciously create, refine, and wield your presence is one of the most important aspects of building your business.
When industry professionals are not being seen or taken seriously by investors, management, and prospective clients, it can be a detriment to their careers and your organization.
Gone are the days when individuals could just 'show up and wing it' when meeting with a client or prospect. Clients today are more knowledgeable, time-strapped and looking for executives to bring valuable insights and relevant information to the table.
To deliver a pitch or presentation that moves the needle with clients, prospects, internal and external stakeholders, presenters must come to the meeting prepared to execute a presentation that opens with impact and takes the listener on a journey. At the same time, the presenter must convey executive presence - strong gravitas, great communication skills and an overall appearance that conveys trust and authority.
2-DAY TRAINING LEARNING OUTCOMES
Develop Your In-Person and Virtual Executive Presence
In today's business environment it is important to understand what executive presence is and how to demonstrate both face-to-face and virtually.
Fully understand what Executive Presence and Leadership Perception is
Personally address the three key client questions -
Why you?
Why your Company?
Why Now?
Convey leadership and executive presence in the virtual world including Online gravitas, Online communication, and Appearance on the small screen.
Every presentation has high stakes – Preparing for Presentations
Every presentation has high stakes and therefore every meeting is not to be taken lightly.
Identify the Presentation Purpose
Understanding & Breaking Buying Trances
Preparing the Pitch or Presentation
Prepare with a Client Analysis.
Tap into Monroe's Motivational Sequence to a Presentation.
Use a presentation structure to map the message and keep on time.
Opening with an Impact Statement - establish relevance & WIIFT.
Define the three Key Topics to be delivered.
Use transitions effectively to be conversational.
Close with a Call to Action.
Upping your game with persuasive language techniques & figurative language
When presenting to an audience of one or 100, it's vital that we gain the audience's attention. We achieve this by being strategic with the words we use and using influential language.
Key to influencing the audience or prospect, use persuasive language techniques - Alliteration, Figurative language, Repetition and more.
Overcoming Objections and Handling Q & A with Ease
Dealing with question and answers during or after a presentation can be extremely daunting when you don't know how to respond. Discover techniques to respond with confidence and authority.
Make use of key phrases to use when you don't know the answer to respond to a question.
Discover the LADR technique and language to handle Questions and Answers.
Prepare for difficult questions and practice being on the 'hotseat'.
ABOUT THE TRAINER:
Pamela Wigglesworth, CSP, is an American, Singapore-based, international communication consultant & high-performance presentation coach, speaker, and CEO of Experiential Hands-on Learning. She works with clients to help them develop their executive presence; structure a clear, concise presentation message and deliver their thoughts and ideas with style, confidence, and authority.
As a presentation coach she works one-to-one with senior leaders, C-suite executives, small business owners, sales teams and managing partners across multiple industries such as private equity, pharmaceutical, technology, medical devices, insurance, and more.
She has a global and multi-cultural outlook on life and business. Drawing upon more than 28 years' experience as a business owner, she has a deep understanding of the issues and challenges facing presenters in today's upended business environment.
In her coaching sessions, she acts as a neutral sounding board and provides another pair of eyes and ears, to help her clients discover their authentic voice and message. In the process they develop the skills to communicate in a way which makes an emotional connection with their audience.
Pamela provides actionable tactics, techniques and takeaways that can be immediately applied by individuals in their business.
She is a member of the Global Speakers Federation and served as a past Vice-President of the Asia Professional Speakers Singapore (APSS). Pamela is a founding board member of the PrimeTime Business and Professional Women's Association in Singapore.
For questions or more information or to bring this 2-day training to your organization, contact Pamela at 9109 7478 or email her at courses@experiential.sg.
Put yourself on the road to success and register today!