Description
Discover How To Relieve 90% Of Body Pains And Stresses With This Simple "All-Natural" Treatment…
That Countless Sports Athletes Swear By It Since The 1890s!
Do you know that living in pain is NOT normal? The human body is designed for self-healing… provided that you have been taking care of its "Supply Chain Highway": The spine!
Who Would Have Known the Solution to Constant Agonizing Pain Lies in Your Spine?
And maintaining a healthy spine does NOT require any bone-cracking NOR invasive surgery.
And professional sports athletes have been swearing by it since the 1890s... Including our very own Joseph Schooling!
(The Straits Times, Saturday, November 26, 2016)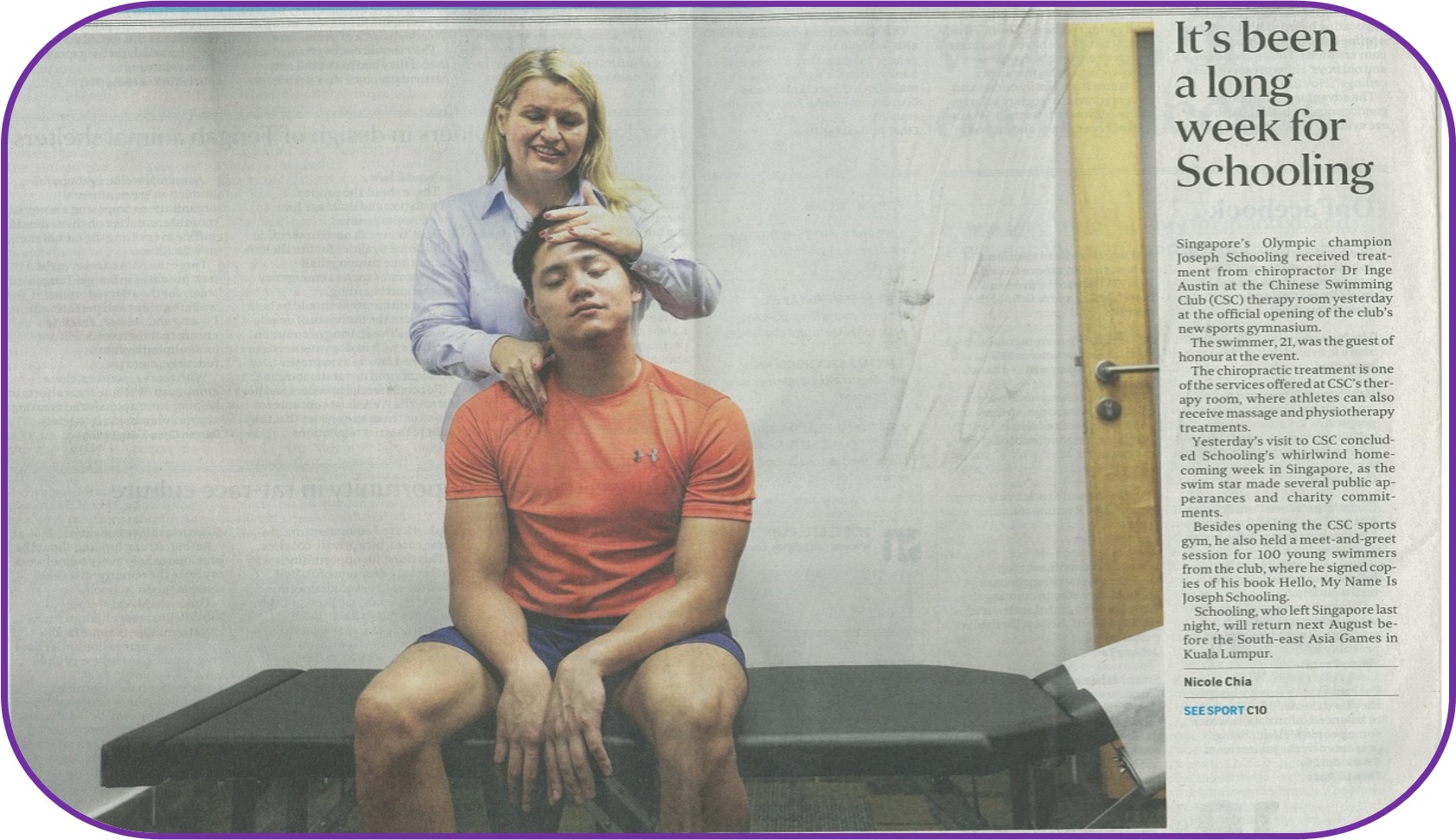 So How Can You Take Advantage Of This "All-Natural" Treatment Too?
In fact, the treatment only requires you to lie down… And some minor (but highly-targeted) spinal adjustments.
With this PAINLESS alignment and movement of the bones (usually take 5 -10 minutes), 90% of the tension and stress will be relieved from the nervous system.
---
What Some People Are Saying About This Chiropractic Care Treatments…

" I was suffering from weekly migraines, which were triggered by work stress, poor sleeping habits and heat. Gradually through chiropractic care, the frequency of migraines was greatly reduced.
After each treatment (usually about 10 minutes), I was able to stand with better posture. Now I don't need to take MC 2 - 3 times a month due to my migraine anymore! "
-- Ms Samantha Chong

"I was having frequent lower back, shoulder and wrist pain. They had been constantly affecting my work and personal life. After the Kirolounge Chiropractic treatment, the frequency of my pain is reduced. Now I feel young again."
-- Mr Samuel Chua
---
So if you are experiencing any of the following conditions…
Slipped Disc
Scoliosis
Sinus
Wrist Pain
Neck Pain
Back Pain
Ankle Pain
Arm & Shoulder Pain
Low Energy & Fatigue
Headaches & Migraines
Hip Pain
Knee Pain
Car Accident Injuries
Sports Injuries
… You should attend this free workshop to discover the natural way of healing.
---
Here Are 7 Reasons Why You Should Attend This Free Chiropractic Care Workshop...
Understand the underlying reasons why your spine degenerates & how you can effectively prevent or slow down this process

Understand why your body is experiencing all different aches & pains and their root causes.


Receive actionable steps to relieve these painful symptoms. Live the pain-free life that you deserve!

Become aware of some of the most common myths and untruths in healthcare that is actually detrimental to your health.

Discover how to Get Paid and at the same time, maintain your healthy spine.

Learn how to maintain your healthy spine FREE FOR LIFE. I mean it literaly FREE FOR LIFE.

Get your FREE foot-scan & report for you to take home valued at $68 (market rate). Note: Register to attend this talk and claim the FREE foot-scan.
Exactly Why Do You Need The Foot Scan?
Imbalances in your feet such as fallen arches can lead to back pain, hip pain, knee pain, leg pain, plantar fasciitis, posture problems, and many other conditions.
The whole process starts with a quick scan of your feet on our state-of-the-art digital scanner (100% radiation-free). This scan can identify problems with your arches and misalignments of the small bones in your feet.
Once we have pin-pointed the exact causes, we can then accurately fix the stresses and tensions in your body... For good!
---

" I used to have prolonged muscle aches around the neck and shoulders. After the introductory talk and taking the foot scan, I've finally discovered what how my body can learn to re-adjust itself.
After just a handful of treatments, there is a significant absence of aches I used to have. They have also helped me immensely to prevent injuries from my active lifestyle. My body posture now is much better and I feel more confident of myself! "
-- Ms Jun Toh

" I have pain in my wrist for a long period of time. Even after several attempts at TCM, there was no sign of recovery. After taking foot scan which revealed the root cause, I went through targeted chiropractic adjustments. My wrist pain is now eased and my body posture is corrected ever since. "
-- Ms Herlina Joe
---
My friends, you don't deserve to live a life in constant pain. There's a all-natural, non-invasive solution to the problem. Let our certified chiropractic doctors share with you professional advice.
Click the "Register" button to take your first step to relieve all your bodily stress, tension and pain now!
---
Eh? Still Here? See more testimonial from our happy participants...


---
Don't suffer in silence anymore with you body aches and tensions...
Click the "Register" button to secure your seat to the workshop, claim your free foot scan and re-discover a pain-free life!
---
P.S. We will be revealing a SPECIAL offer if you decide to have your chiropractic adjustments with us, at the talk... GUARANTEED to be the LOWEST price in Singapore!
---