Description
As business owners, we are all aware of the importance of using videos in our marketing efforts.
Social media sites such as Facebook now favor videos over any other types of posts and if you are not capitalizing on videos, your competitors might leave you in the dust.
However, most business owners are clueless as to how to get started on their video marketing campaign. One of the common questions they have is, what type of video should I produce?
This is where we present to you "Video Story Branding". In this workshop, we will share the blueprint that we use on our own business with very positive results.
For example, in one video, we were able to achieve 3,477 shares, 2,500 likes and over 158,000 video views.
So what is the secret recipe?
The answer is the ability to tell emotionally engaging stories that connect the heart of your audience.
In this workshop, we will share the step-by-step process on how you too can craft your very own story that will move the heart of your audience.
Over at Video Story Branding, we believe that the story that you tell is more important than the product that you sell.
About Subject Expert Trainer Johari Sa'ad:
Johari Sa'ad is the founder of three successful businesses - Art of Marriage, EDUdebt and Video Story Branding.
He ventured into entrepreneurship because he felt he had no other choices as he had only 1 'O' level credit to his name.
He could take the traditional route of furthering his studies and get a good job but he did not want to fall into the rat race, thus venturing into the Entrepreneurship route.
He tried anything and everything to succeed in his business from selling hand phone cases and battery chargers to even going into multi-level marketing and being a real estate agent.
All that failed until 5 years ago when he started Art of Marriage. He combined his love for training and personal development to conduct pre-marriage courses for soon-to-be married couples.
His entrepreneurial success also came from his passion in marketing especially in video marketing and that was when he started Video Story Branding, catering mainly for small business owners, consultants, trainers, speakers or any solo-preneurs as he believes that everyone should have the opportunity to produce professional looking videos that are emotionally engaging without breaking the bank.
Lots of inspired participants and what they say about Johari Sa'ad: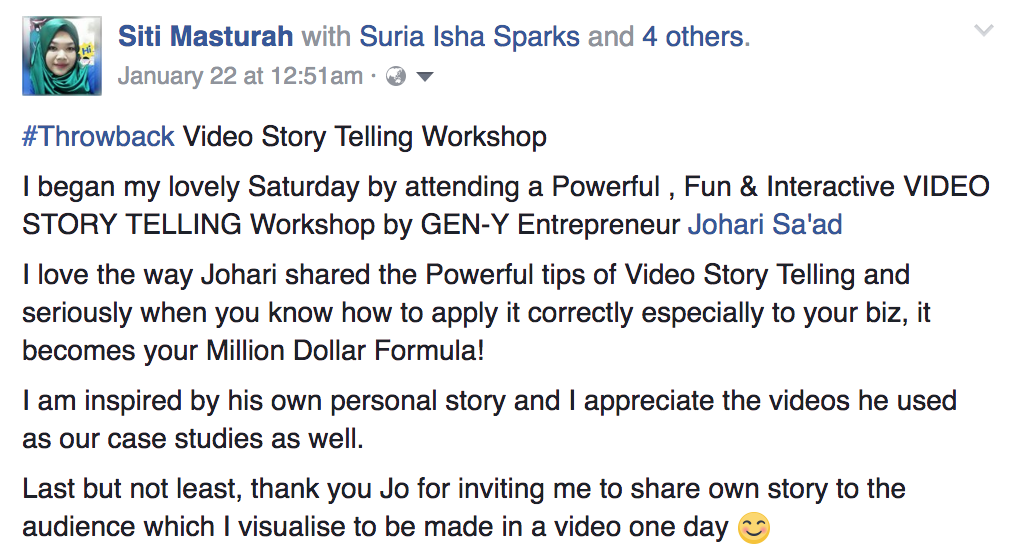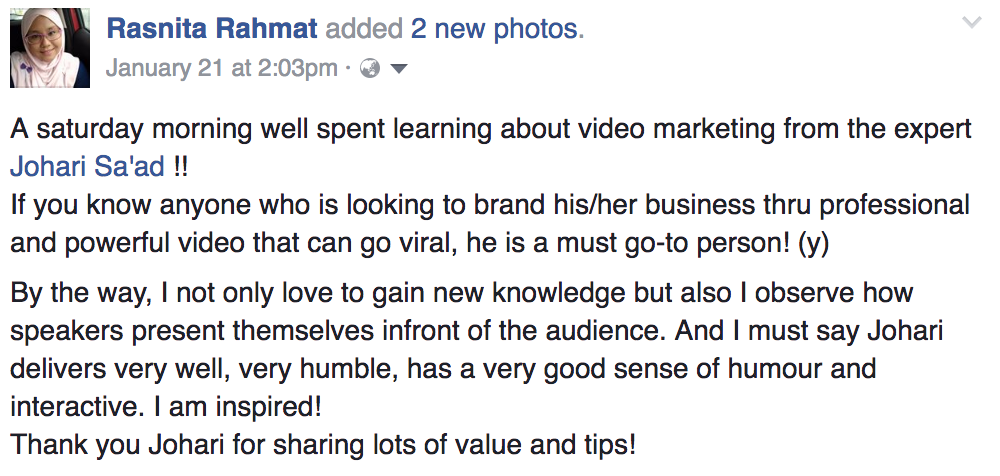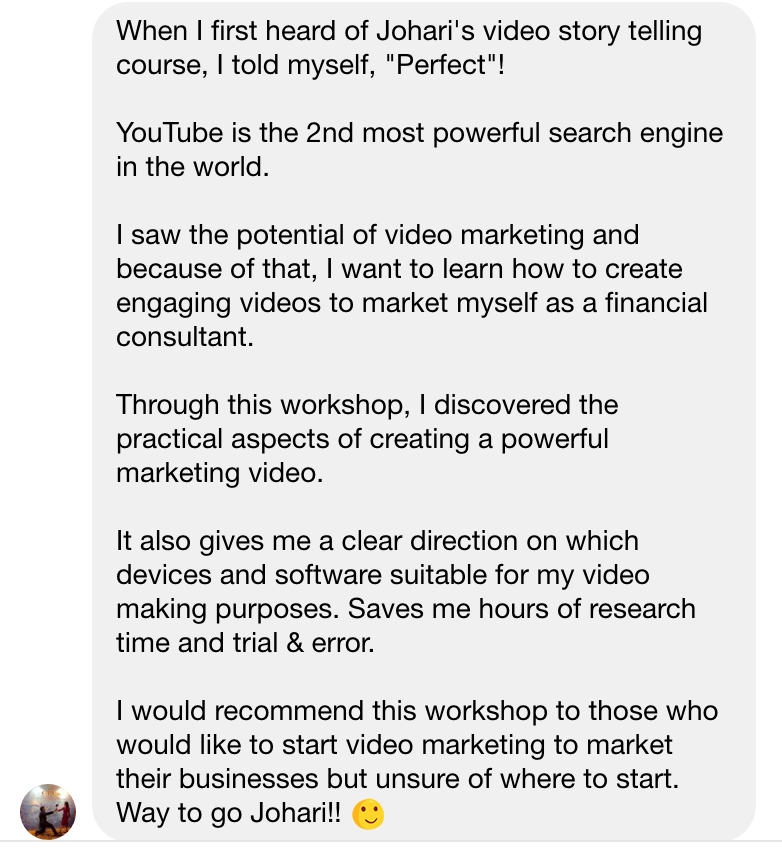 About Superbrand Me Founder Eugene Seah:
Eugene is Singapore's leading Personal Branding coach and has spoken at major corporations including GIC, Citibank, Sony, Star Cruises, ANZ, DBS, Mizuho, BHP Billiton, Western Digital, Singapore Technologies, ERA and many others. He's also passionate about empowering youths and has trained students in tertiary institutions including SMU, SP, NAFA etc.
He's been speaking in several countries including China, Hong Kong, Taiwan, Maldives, Brunei, Thailand, Indonesia, and also been interviewed on several media including TV, radio, newspapers and popular blogs.
His passion is to help entrepreneurs, sales professionals, managers and anyone who wants to succeed, to design a premium Personal Brand to be significantly more outstanding in their respective fields.
He founded the SUPERBRAND ME Club to connect like-minded professionals and entrepreneurs who are committed to success, and is the author of the upcoming definitive Personal Branding book "Superbrand Me - Personal Branding for Career and Business Success."
Read the testimonials below to get a sense of what you will experience during the workshop.
"I found Eugene's workshop very helpful as I learnt the key elements for good personal branding and how to weave my personal story as part of my unique selling point (USP). It is especially useful for me as a solopreneur and i will definitely apply some of these techniques in promoting my copywriting service. Highly recommended for those who want some new insights into personal branding! Thanks Eugene!" – Sian Tham, Sales Copywriter
"Through the workshop, I learnt how to boost my personal brand and increase my influence. I recommend this to anyone who is serious about growing their business and career."
- Bryan Setho, property expert
"The workshop is really helpful in terms of building not just your personal branding, but corporate branding too. The biggest takeaway would be the different approach in branding yourself in different way and platforms. Those who are keen should give it a try! Awesome!"
- Lin Junhong, entrepreneur
"Eugene really shone and his energy rubbed off on the participants; everyone was contributing and sharing. I find the workshop to be extremely valuable and learnt many insightful tips on personal branding. I am glad I did not pass up the chance to attend!"
- Ahmad Matin, financial advisor
"Learnt about social media branding and how your online profiles can add value (or not) to your professional/social image, as well as strategies on creating a powerful personal branding that resonates with your core personality and values! Truly empowering!"
- Junelle Cher, civil service
"The workshop is "WOW-fully" useful ,its all about personal branding .I gained new perpective and can't wait to put into practise all thanks to Eugene for the coaching."
- Lee Wei Cheng, aspiring entrepreneur