Description
Time: 1.30pm to 5pm | 80% hands-on, small class training, max. 12 participants

Course Fee: $288/pax
Do you have an expertise or knowledge to share with others?
Would you like to share those knowledge with others to help them, and at the same time generate yourself quality leads for your financial advising, property business and B2B businesses?
In summary, here's what you will learn:
• Discover a sales funnel lead generating blue print with your very own ebook content
• Learn to research and create an awesome title for your ebooks
• Structure your ebook in 5 basic information structure that will generate you quality leads for your business
• SEO Keyword Strategy, Google Keyword Planner, Google Trends and Questions people are asking in their heads!
• Ways you can build FREE landing pages (Company email required)
• Why are landing pages required?
• Email Marketing Funnels you require to follow up with your potential clients

New & Additional Bonus Content:
• Worksheet of resources shared during the class where you can use to create your future ebook contents
After creating your ebook you could always have a paid version of your ebook as well to start earning money online!
- - - - - - - - - - - - - - - - - - - - - - - - - - - - - - - - - - - - - - - - - -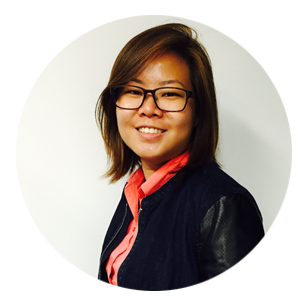 Charmaine is the Creative Director of Sky Digital Agency and The Good Designers.
Being a designer by training, she designs, consults and trains individuals in digital marketing. She started with small group trainings on Facebook, SEO and Email Marketing topics in early 2015.

Till date, she has curated more than 15 different creative topics and key digital marketing courses including Instagram marketing, Branding with IGTV videos, Social Media Marketing BootCamp, Integrated Content Marketing, Digital Marketing Sales Funnels & more.

Till date, she has conducted more than 1,500 hours of training, and she is an ACTA Certified Trainer.

Charmaine makes learning interactive, practical and fun. She enjoys breaking down complex topics to help participants gain better understanding and find success in the digital marketing campaigns with FREE digital tools available in the market for Individuals, Entrepreneurs, Adult Educators, SME marketing teams and Startups to leverage on.

Passionate about training, and helping others through training, Charmaine strongly believes that many business owners can improve their branding and brand positioning by sharing their ideas and knowledge with digital contents which involves ebook and online courses.

Get connected with Charmaine on LinkedIn: http://bit.ly/charmaine-linkedin
Follow @skydigitalagency on Instagram
Follow @thegooddesigners on Instagram

Other SkillsFuture Credit Eligible Courses under Sky Digital Agency
✓ MailChimp Email Marketing for Beginners
✓ Instagram Marketing for Beginners
✓ Social Media Marketing BootCamp for Business Owners
✓ SEO Internet Marketing for Beginners
✓ Content Marketing Strategy for Ebooks & Landing Pages Course
✓ Facebook Marketing Masterclass and Chatbots
✓ Skyrocket your sales with Facebook Marketing for Business and E-commerce Owners (2 days)
✓ Explode your sales with MailChimp Email Marketing for Business and E-commerce Owners (2 days)
✓ Integrated Digital Marketing Strategy & Sales Funnels for Beginners
✓ LinkedIn Marketing and SlideShares Content Strategy (New!)

Enquire with us at workshops@skycrm.asia

Connect with us on:
Facebook | Instagram | YouTube | Website

WE HAVE PARTICIPANTS FROM THE FOLLOWING ORGANIZATIONS JOINING US: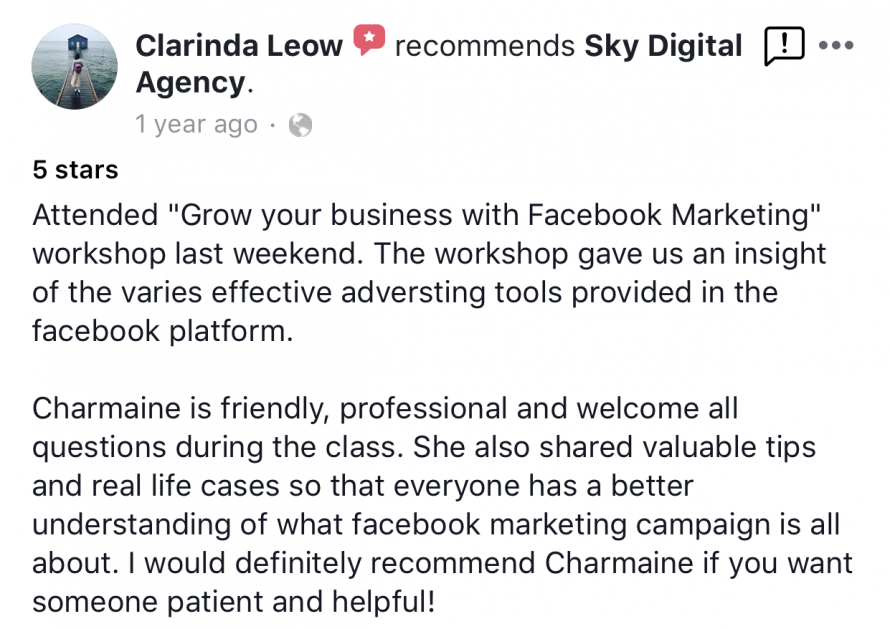 - - - - - - - - - - - - - - - - - - - - - - - - - - - - - - - - - - - - - - - - - -

FAQs
1. Who can i contact should i have questions?
You may e-mail us at workshops@skycrm.asia


2. Is there a minimum class size to proceed?
Yes. We require a minimum class size of 5 people to proceed with the class.
In the event that there are insufficient participants, we reserve the right to reschedule the class. Under such circumstances, we will inform you no later than 2 to 5 working days before the event.
For our 1/2 day courses we will refund course fees if we are still unable to get the min. participants required after 1 postponement of the class.
Should you not be able to make it for the rescheduled date for our 1/2 day course, the ticket fees will be refunded to you as well upon your request.
3. Where is the venue of the workshop?
6 Raffles Quay, #15-00, Singapore 048580
Nearest MRT: Raffles Place, take exit "i". The building 6 Raffles Quay is just beside Ascott at Raffles Place.
Our office is beside Hong Leong Building, 3 mins walk from Download Line, Downtown Station, exit A.

4. I'm driving, where can I park?
There is parking space at the building 6 Raffles Quay itself at $2.50 per 30 min block.
Alternatively, you can park at Telok Ayer's Public Car Park.


For Corporate Training Enquiries, please email us at trainings@skycrm.asia on your requirements, and we will be in touch with you within 2 working days.