Description



Last year we saw the Dow Jones average daily ranging at 106 which is a net change of +/-0.52%. However starting this year, the volatility has increased, seeing it's average daily range now at 362, which translates to a net change of +/-1.44%.
Under such a backdrop, what kind of volatility should traders expect going forward in the markets.
Will there be more volatility ahead? What does it means for investors and traders when volatility increases? Come and find out how traders can take advantage and manage during volatile period successfully.
---
Who's it for?
Anyone who is keen to boost their trading knowledge.
---
Workshop key features:
1. Will there be more volatility ahead?
2. What is volatility?
3. How do we read volatility with VIX
4. How should traders manage market's volatility with CFDs?

---
Speaker: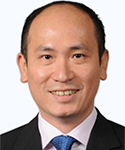 Wong Kon How – Managing Director, Weipedia Pte Ltd
Kon How has more than 20 years of trading experience in the finance industry. He is managing his own fund and he founded Weipedia Private Limited. He is also a SGX Academy professional trainer with Singapore Exchange.
He specializes in the study of behavioural finance or the market psychology and he is an investment strategist. He is also an expert in risks management.
He conducts workshops for industry practitioners, fund managers, propriety traders, dealers and retail investors. His clients and participants are securities and derivative exchanges, regulators, investment banks, institutions and brokers. His delivery has gained good reviews and testimonies from our partners and their clients. He also conducts training sessions for Trading Representatives as part of their Continuous Education Program in Hong Kong, Malaysia, Singapore and Thailand.
He studied Engineering but was passionate about investment and trading. This led him to pursue after the financial market after his graduation. He started off as an apprentice in SiMEX and a floor runner in 1995. Since then he had been a floor trader, financial dealer and an active practitioner in the Securities and Derivatives market.

---
Terms and conditions

For full terms and conditions, please click here.

The views, opinions or recommendations of the presenters are solely their own and do not in any way reflect the views, opinions, endorsements or recommendations, of IG Asia Pte Ltd (Co. Reg. No. 200510021K) ("IG"). Information and material presented at the seminar is for educational purposes only and does not constitute any form of investment advice nor an offer or solicitation to invest in any financial instrument. Representations of past performance are in no way an indication of future performance and such representations have not been verified by IG. No representation or warranty is given as to the accuracy or completeness of the information or material presented. Investors should seek the services of an Independent Financial Adviser under a separate engagement when in doubt or if they require investment advice. No responsibility is accepted by IG for any loss or damage arising in any way (including due to negligence) from anyone acting or refraining from acting as a result of this information or material.