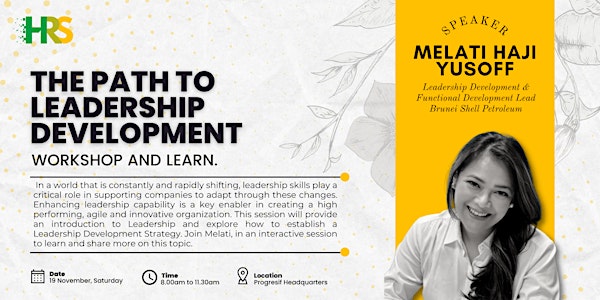 HRS Workshop and Connect: The Path to Leadership Development
A workshop session brought to you by the Human Resource Society (HRS) Brunei
When and where
Location
Progresif Headquarters Unit 1-5, Block A & B Spg 137-65, Kg Kiarong Jln Pasar Baharu Gadong Bandar Seri Begawan, Brunei-Muara District BE1318 Brunei Darussalam
About this event
This event is dedicated to HRS members only at no charge. Public are welcomed to attend if you register as a HRS member.
Why is leadership development important? How do we enhance leadership capability?
In a world that is constantly and rapidly shifting, leadership skills play a critical role in supporting companies to adapt through these changes. Enhancing leadership capability is a key enabler in creating a high performing, agile and innovative organization. This session will provide an introduction to Leadership and explore how to establish a Leadership Development Strategy. Join Melati, in an interactive session to learn and share more on this topic.
Understand the importance of Leadership Competence and the 70:20:10 Model
Appreciate the difference between Leader, Boss and Manager and the mindsets of a good leader
Explore tools in creating a leadership development strategy
Practice the application of the 70:20:10 approach in the context of your Leadership Journey
This workshop and connect edition is brought to you by Human Resources Society (HRS) Brunei together with Progresif as event partners.
For queries and for next HRS-related events, do follow us on Instagram and LinkedIn on our social handle at @hrsociety.bn and check your emails (and spam box) from hrsocietybn@gmail.com. Official HRS website coming to your screens soon!
About Human Resources Society (HRS) Brunei
Human Resources Society (HRS) is the first society established in Brunei Darussalam, to provide a platform for all experienced HR professionals in growing new talents in HR skill pool, and to share the best practices and knowledge of strategic human resources.
We are affiliated with International Society for Performance Improvement (ISPI).
Vision: Develop Brunei's HR competitiveness and eventually Pioneer HR practices in the region
Our Mission: Build Human Performance capability in Brunei Darussalam, making it a center of excellence and capability center in the region
Contact Us: For more information, contact us via our social media handle @hrsociety.bn or email us at hrsocietybn@gmail.com