Join the curators of the exhibition Human x Nature: Environmental Histories of Singapore, Georgina Wong and Chia Jie Lin, on a special tour.
About this event
They will also share insights into what goes behind the scenes of the exhibition.
Conducted on the third Thursday of every month.
Please observe safe management measures while you are enjoying our exhibition.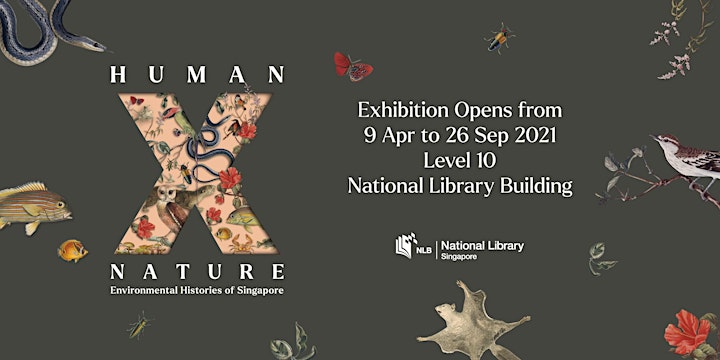 Held in conjunction with the National Library's exhibition, "Human x Nature: Environmental Histories of Singapore".
About the Exhibition
Singapore's natural environment, as we know and experience today, is the result of a long history of knowledge gathering, plantation agriculture and attempts at rehabilitation. This exhibition explores our relationships with the natural world from cultural understandings and scientific study to commercial and urban land use, as well as conservation and restoration.
Modelled after our changing natural landscapes, the exhibition features a dazzling array of natural history books, botanical prints, plantation photographs and maps from the collections of the National Library and National Archives, together with herbarium and natural history specimens on loan from the Lee Kong Chian Natural History Museum, Singapore Botanic Gardens and Urban Redevelopment Authority. Visitors will learn about various understandings of the natural world, and how they shaped the different ways local, colonial, and migrant communities lived within and transformed the natural landscape.
***
Visit www.go.gov.sg/hxnprogs for the full programmes listing.
Organiser of Human x Nature: Curators' Tour
The National Library Board (NLB) manages a network of 27 public libraries, the National Library and the National Archives of Singapore. NLB promotes reading, learning and information literacy by providing a trusted, accessible and globally-connected library and information service through the National Library and a comprehensive network of Public Libraries.