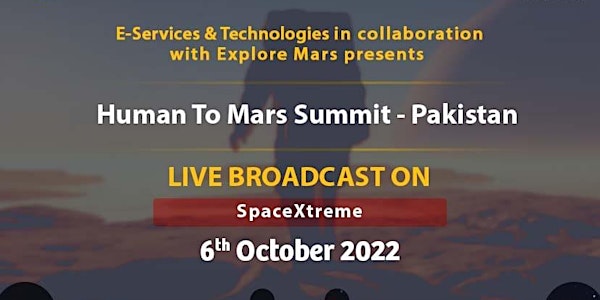 Humans to Mars Summit - SpaceXtreme Pakistan
An event by Explore Mars & E-Services & Technologies where best minds in space industry gather to make way for future outpost on Mars.
About this event
The Largest Gathering of Industry, Science, And Policy Members, Directly Responsible for Our Future on Mars! H2M Pakistan 2022 features expert speakers across all disciplines invested in achieving human exploration of Mars in the 2030s. H2M Features Experts and Luminaries from Relevant and Diverse Fields, Including Senior NASA, Industry, And Policy Figures, As Well As Representatives from The Entertainment, Technology, And Innovation Industries, STEM Education Professionals, And Members of The General Public.
Through Consensus Building in The Space Community and Inspiring the General Public, The Goal of H2M Is To Advance The Prospects For The Human Exploration Of Mars In The Early To Mid-2030s