NUS Enterprise-BoP Hub (JISSI) Kickoff Event for Launchpad on Innovation in Food and Environmental Sustainability (LIFES)
About this event
LIFES is an exciting new programme anchored in food and environmental sustainability. The kick-off event features a talk by the author of "Hungry for Disruption: How Tech Innovations Will Nourish 10 Billion By 2050", Ms Shen Ming Lee, and a presentation of what you can look forward to in LIFES in the coming months! All who are passionate in this field, hungry for knowledge and eager to contribute to innovative solutions are invited!
What to expect:
Keynote speech by Shen Ming Lee
LIFES Introduction by Mr Brian Koh (NUS Enterprise), Mr Tony Tan (Executive Director, BoP Hub)
Follow NUSE-BOP JISSI here:
Website: https://enterprise.nus.edu.sg/supporting-entrepreneurs/societal-impact-initiatives/jissi/
LinkedIn: https://www.linkedin.com/company/nusbopjissi
Facebook: https://www.facebook.com/NUSBOP.JISSI
Instagram: https://instagram.com/nusbop.jissi
Telegram: https://t.me/nusbopjissi
Email: nus-bop@nus.edu.sg
Please join us here at 6:30PM SGT!
https://nus-sg.zoom.us/j/86161847683
Passcode: 869527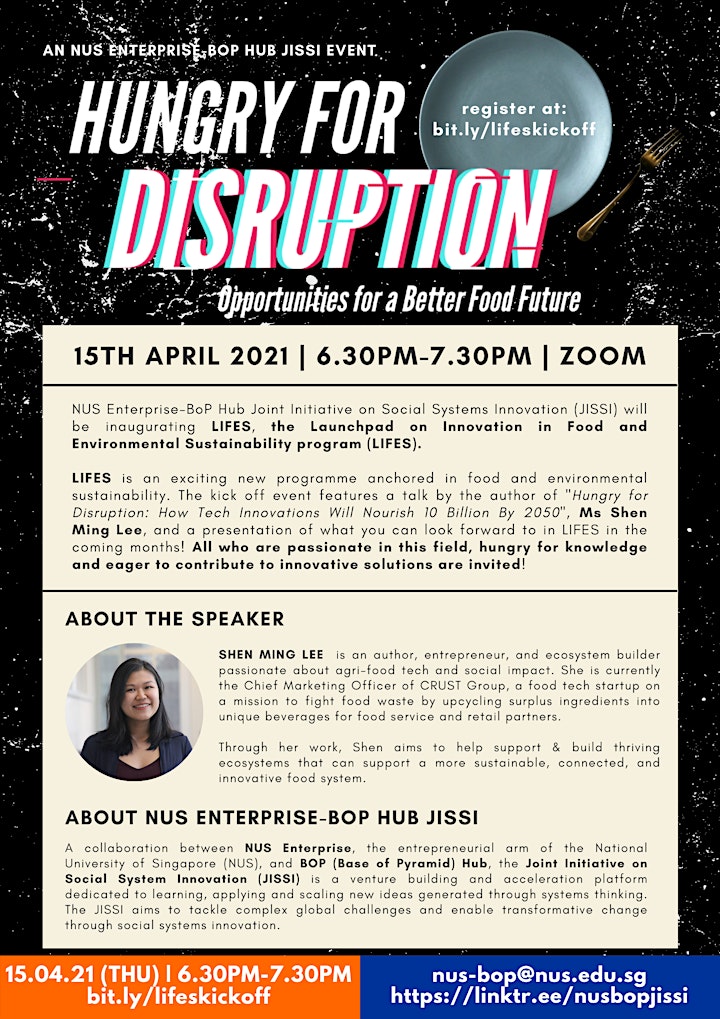 Organiser of Hungry for Disruption: Opportunities for a Better Food Future