HYC x LASALLE College of the Arts: Art and Mental Health
Join us for art therapy-informed workshops about art and mental health!
When and where
Location
Tzu Chi Humanistic Youth Centre 慈济人文青年中心 30A Yishun Central 1 Singapore, 768796 Singapore
About this event
Mental health and wellness in Singapore are gaining national attention, especially during the ongoing global pandemic. Engaging in the arts has been evidenced to effectively and positively enhance one's mental health and offer outlets for creative self-expression for artists and non-artists alike. Tzu Chi Humanistic Youth Centre (HYC) is partnering with the MA Art Therapy programme at LASALLE College of the Arts to proactively initiate discussions on this important topic through a collaborative and immersive 2-part 2-day talk and workshop with youth. The workshop, as a continuation of the talk, is to further deepen the discussion through introducing the participants into a creative experience.
These programmes are for youths aged 15 - 35 years old only. Programmes are conducted at HYC (30A Yishun Central 1). Participants are encouraged to attend both programmes. Seats are limited to 32 pax per programme only, so register early!
Let's Talk: Art and Mental Health
Inspired by Vincent van Gogh, this Let's Talk includes a visual exploration of how art and art-making contribute to mental wellbeing. Discuss the understanding of art and mental health in Singapore, and create personalised greeting cards of gratitude, hope and harmony!
15 October 2022 (Saturday)
2.00-4.00pm
Tzu Chi Humanistic Youth Centre (HYC), 30A Yishun Central 1, S768796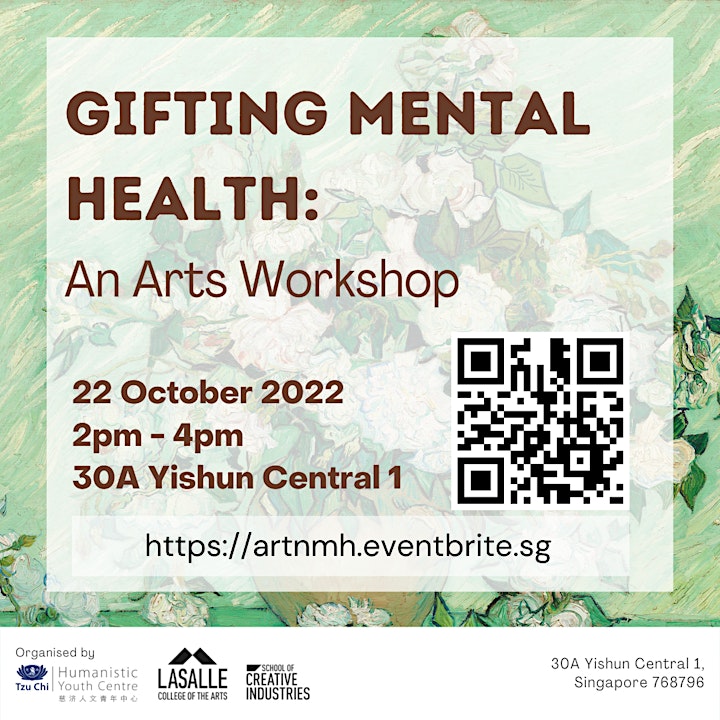 Gifting Mental Health: An Arts Workshop
This workshop invites participants to create a three-dimensional artwork that addresses the significance of mental health and wellness, and one's own commitment to emotional awareness, safety and self-care. Engaging in creative self-expression is empowering, enlightening and rewarding. Creating in community further asserts our interconnectedness as individuals, validates our presence and affirms our humanity.
22 October 2022 (Saturday)
2.00-4.00pm
Tzu Chi Humanistic Youth Centre (HYC), 30A Yishun Central 1, S768796
PDPA and Media Release
Upon registration, you are deemed to have given consent to the organisers and partners to collect, use and disclose your personal data to facilitate the necessary administration as follows:
To verify your identity and information
To manage and administer your registrations
To update and engage you regarding this event
To maintain database of participants for this event.
In addition, your personal data will also be used, retained and disclosed for the following purposes, for which we seek your consent:
To respond to your enquiries and feedback whenever applicable, and
To publish your stories, sharing, photos, audio and/or video recordings on our official website, related social media platforms, and other promotional materials.