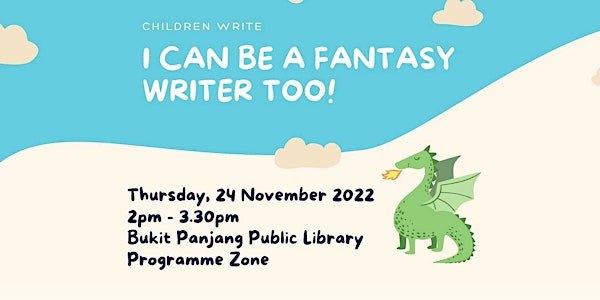 I Can Be a Fantasy Writer Too! | Children Write
Let your imagination run wild and create your very own story!
When and where
Location
Bukit Panjang Public Library - Programme Zone 1 Jelebu Road Bukit Panjang Plaza #04-04 & 16/17 Singapore, 677743 Singapore
About this event
About the Programme:
Do you love stories? Have you ever wondered if you could write your own?
Come unlock your creative potential with award-winning author Low Ying Ping of the Mount Emily novels and Prophecy of the Underworld as she guides you to write a story on fantastical worlds and beings.
This programme is part of the Children Write series, where children aged 7 to 12 create a piece of writing and/or illustrative work as guided by established authors and/or illustrators. The works created by participants during the programme will be collected and potentially put up at Punggol Regional Library's community display.
Please bring along:
Your own writing and colouring materials for this workshop (e.g. pens, pencils, colour markers, colour pencils).
By registering for the workshop, you consent to:
i) having your child/ward's works collected at the end of the workshop and potentially displayed at Punggol Regional Library
ii) NLB's right to capture videos and images relating to the workshop including of your child/ward and their completed works, and to use these for any NLB purposes such as in exhibitions, publications, and presentations (including on online and successor platforms)
This programme is part of Love Our Libraries and Archives (LOLA) 2022 celebrations.
About LOLA - Love Our Libraries and Archives:
LOLA invites you to (RE)CONNECT with the libraries and archives through a month-long suite of programmes and activities. Explore our spaces, be a part of our Celebrations and continue your reading journey with the Big Book Giveaway. Finally, immerse yourself in stories told by experts and everyday heroes, as they share personal narratives and experiences at Share Fest.
Let's meet, connect and be inspired this November! Sign up at https://go.gov.sg/lola22-collection.