Description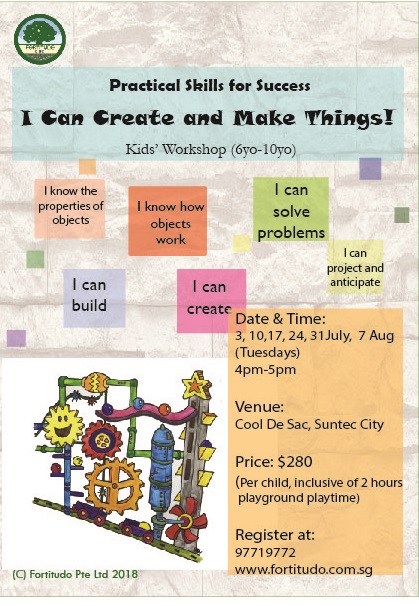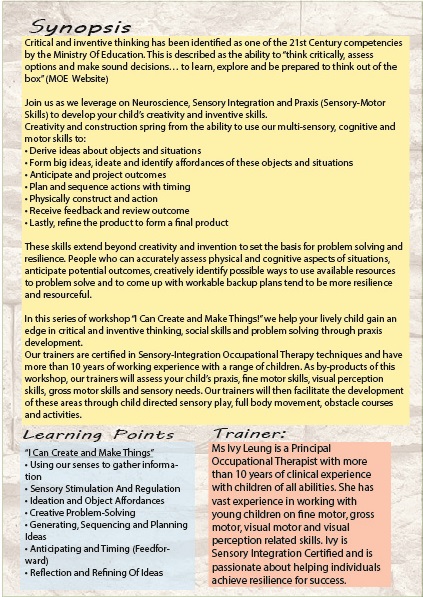 Critical and inventive thinking has been identified as one of the 21st Century competencies by the Ministry Of Education. This is described as the ability to "think critically, assess options and make sound decisions… to learn, explore and be prepared to think out of the box" (MOE Website)
Join us as we leverage on Neuroscience, Sensory Integration and Praxis (Sensory-Motor Skills) to develop your child's creativity and inventive skills.
Creativity and construction spring from the ability to use our multi-sensory, cognitive and motor skills to:
• Derive ideas about objects and situations
• Form big ideas, ideate and identify affordances of these objects and situations
• Anticipate and project outcomes
• Plan and sequence actions with timing
• Physically construct and action
• Receive feedback and review outcome
• Lastly, refine the product to form a final product
These skills extend beyond creativity and invention to set the basis for problem solving and resilience. People who can accurately assess physical and cognitive aspects of situations, anticipate potential outcomes, creatively identify possible ways to use available resources to problem solve and to come up with workable backup plans tend to be more resilience and resourceful.
In this series of workshop "I Can Create and Make Things!" we help your lively child gain an edge in critical and inventive thinking, social skills and problem solving through praxis development.
Our trainers are certified in Sensory-Integration Occupational Therapy techniques and have more than 10 years of working experience with a range of children. As by-products of this workshop, our trainers will assess your child's praxis, fine motor skills, visual perception skills, gross motor skills and sensory needs. Our trainers will then facilitate the development of these areas through child directed sensory play, full body movement, obstacle courses and activities.
Learning Points:
"I Can Create and Make Things"
• Using our senses to gather information
• Sensory Stimulation And Regulation
• Ideation and Object Affordances
• Creative Problem-Solving
• Generating, Sequencing and Planning Ideas
• Anticipating and Timing (Feedforward)
• Reflection and Refining Of Ideas