Description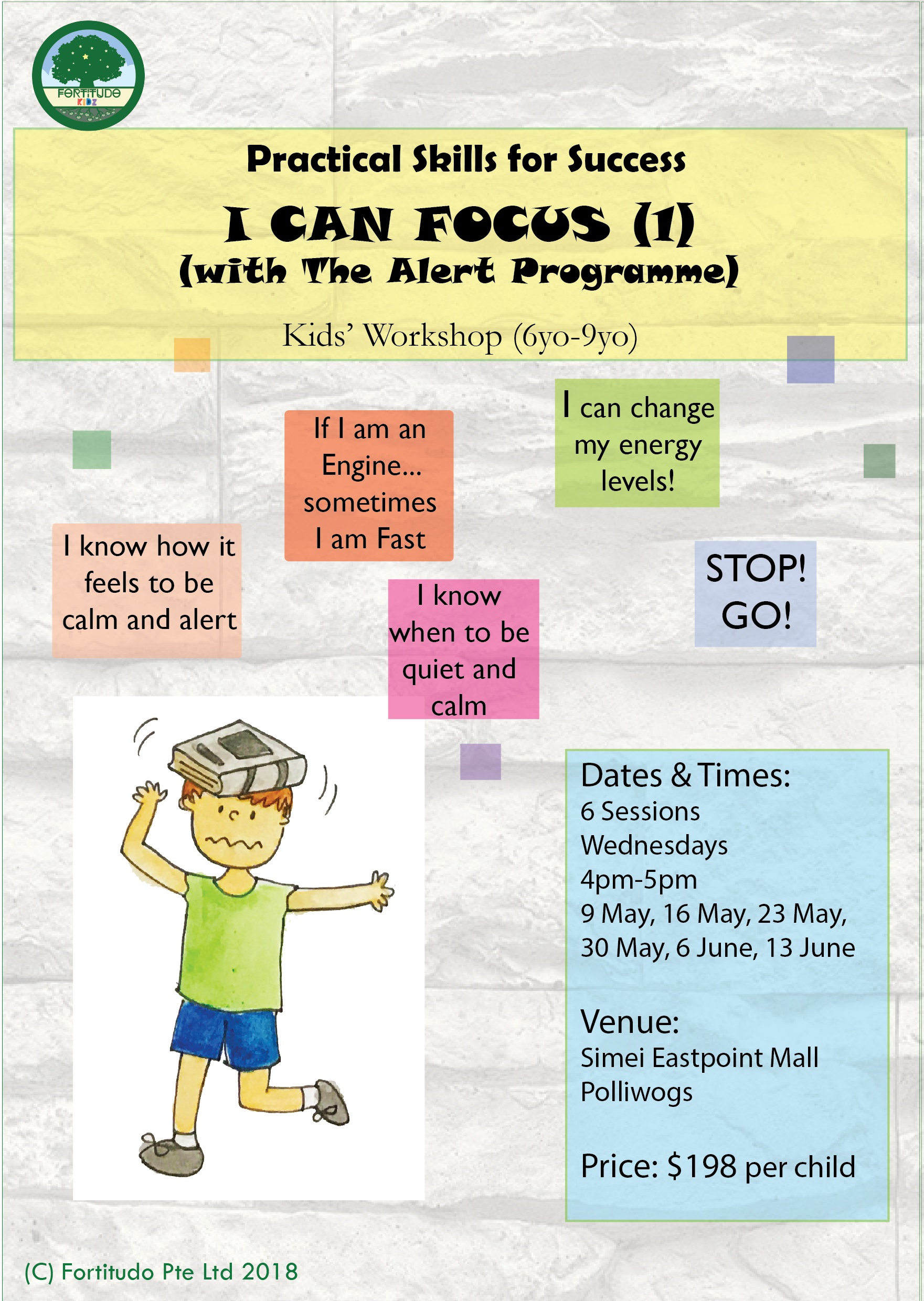 What does a neurosurgeon in the operation room and a lawyer in the court have in common? They can deeply focus to deliver high level performance by screening out irrelevant information. Being able to focus and pay attention helps us get things done and become capable in any area. Learning takes place when we focus our attention on thinking about information.

To be a high achiever, it is crucial to pay attention and persevere through difficulty. Equip your child to channel energy in positive productive ways.

"I Can Focus" is a workshop that helps children improve focus and self-control from young. Children (5yo-9yo) are earnest doers, starting and finishing small tasks on their own. Strengthen your child's power to focus and help your child get the most out of large group learning in Kindergarten and Primary School. There will be alerting as well as calming activities so that your child can identify these two alertness states from young. A basic sensory diet will also be recommended for each child to alert and/or calm the child down to suit different situations. Suitable self-regulation skills will be taught to develop longer attention spans required for large group learning in Kindergarten and Primary School.

For this age group, children are exploring ways to self-regulate, thus, participation of their caregivers, teachers and/or parents is recommended so that they can encourage the children to regulate their energy.

Workshop materials and activities are developed in-house by our highly qualified trainers who have more than 10 years of working experience with a wide range of children.

Learning Points:
• Impulse control (Stop- Start)
• How the different energy states feels like
• The Seven Senses
• Alerting sensory strategies
• Calming sensory strategies
• Identifying and verbalizing alertness states and sensory needs
• Starting to Self-Regulate using sensory strategies

Trainer:
Ms Ivy Leung is a Principal Occupational Therapist with more than 10 years of clinical experience with children of all abilities. When working under Child Guidance Clinic (The REACH school based team) Ms Ivy brought into schools The Alert Programme. Ms Ivy is Sensory Integration Certified and is passionate about helping individuals achieve resilience for success.