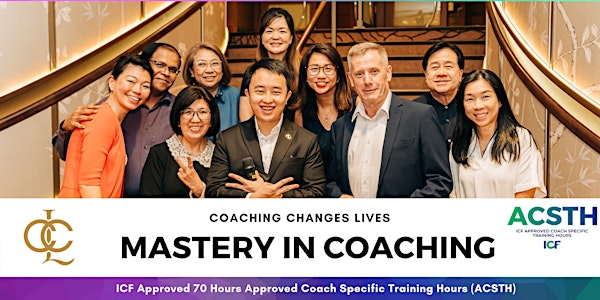 ICF Accredited Mastery in Coaching Certification 70HR ACSTH (Singapore)
ICF Approved 70 Hours Approved Coach Specific Training Hours (ACSTH): Mastery in Coaching Coaching Certification Our Upcoming Run: 4 Days L
When and where
Location
Singapore (TBC) Singapore Singapore, 000000 Singapore
About this event
ICF Approved 70 Hours Approved Coach Specific Training Hours (ACSTH):
Mastery in Coaching Coaching Certification
Our Upcoming Run: 4 Days Live in Singapore
Nov/Dec: 27 November, 4, 11, 18 December 2021 (Saturdays)
The Mastery in Coaching Certification Program (MIC) an internationally certified program and approved by International Coaching Federation (ICF). It is for individuals looking to be professionally certified as coaches.
MIC lays the foundation for coaching practice and the coaches' journey as a professional coach. Coaching is not bounded by age, industry, or culture. Coaching is about helping others through a thought-provoking and creative process to co-create solutions that generate progress and growth. In MIC, you learn the coaching core competencies, managing progress, regulating state changes, coaching strategies, and coaching tools to help you begin your journey as a coach.
Today, many people are challenged in a whole array of areas ranging emotionally, mentally, physically, and spiritually. The coach is there to help bring clarity, expand awareness, and develop actionable steps with the client to achieve results. Coaching is not mentoring; to be a mentor you need to be an expert in the field of study but as a coach, you are a process expert in helping people from across industries to unravel problems and generate positive solutions.
MIC is the key enablement for coaches to create positive results for clients. Coaching is the most powerful tool that can help create change in your client's life and business. Make a difference today, be a Coach.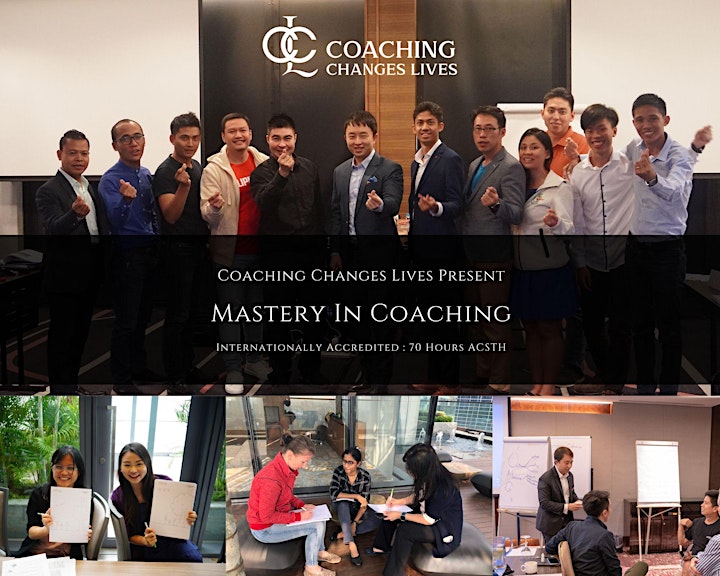 Program Overview
The Mastery in Coaching Certification program is ICF approved program of 70 Hour Approved Coach Specific Training Hours (ACSTH) conducted over 5 modules through face-to-face training or online synchronous and asynchronous training and coaching. English will be the main mode of delivery (unless otherwise stated). Our focus is on creating results for our coaches, and the training follows the ICF core competency and professional standards. The modules will be delivered through active learning, with theories, demonstrations, practice, reflections, and case studies. The program is hands-on, direct feedback, and application of theories to integrate learnings deeply.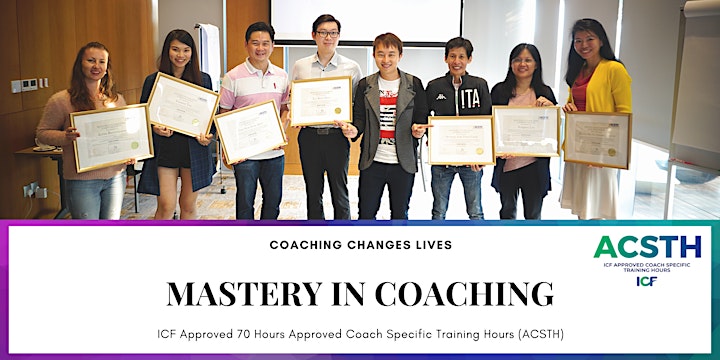 Program Syllabus Outline
Module 1 – Foundations of Coaching
Laying the foundations for the profession of coaching and what the future of coaching entails. This module focuses on the state of the coach in the coaching process and how the state radically shifts the effectiveness of the coaching conversation.
Some of the key lessons:
Ethical and Professional Standards of Coaching
Coach's State - Cultivating a Coaching Mindset
Philosophy of Coaching as a Profession
Module 2 – Co-Creating the Relationship
The coaching process involves the on-going relationship between the coach and client. The trust and conversational intimacy developed over the sessions will enable the coach to dive deeper with the client and create tangible change.
Some of the key lessons:
Establishes and Maintaining a Coaching Agreement
Cultivating Trust and Safety
Accelerated Rapport Building
Coaching Presence
Module 3 –Effective Coaching Conversations
The communication process is often misunderstood and in the process of effective and efficacious coaching conversation, you will unravel the art and science of conversations that unravel deeper issues and works at the root cause.
Some of the key lessons:
Listens Actively with Intent
Evoking Awareness In Coaching Process through generative questioning techniques
Module 4 – Cultivating Learning and Growth
Growth is the key ingredient for the client to experience tangible progress and movement towards their goals. In the cultivation process discover how to create self-propelled drive and motivation towards milestones and results for the client. The process includes planning and goal setting not in the traditional sense but one that is actionable and creating new habit patterns that empower the client.
Some of the key lessons:
Neuroscience of Coaching
Facilitating Client Growth
5 Layers of Learning
Designing the 'Go'
Managing Progress and Accountability
Module 5 – Building Your Coaching Practice
A Coach without a client is not a coach. Learn the basic building blocks for establishing your coaching practice. Understand the mechanics and the intentions of your outcome to create deeper alignment and congruence in building your coaching practice.
Some of the key lessons:
The Coaching Business
Growing as a Coach
Developing Your Coaching Niche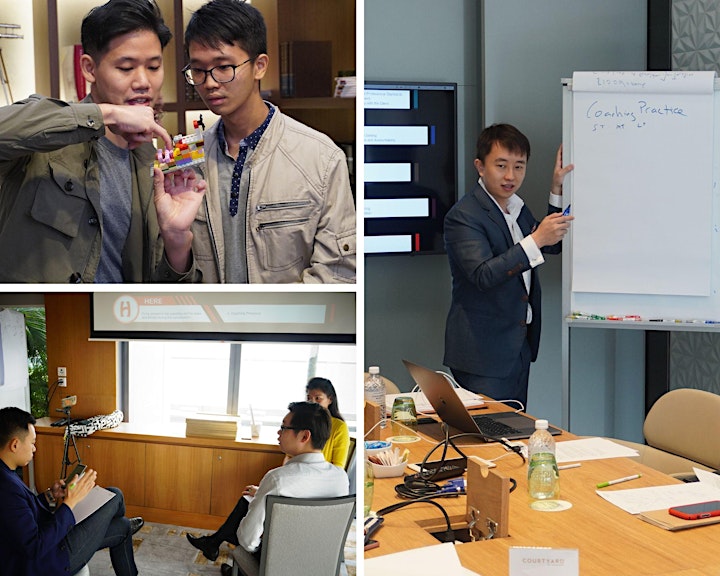 Coaching Changes Lives Advantage
To ensure that all objectives of the course match yours, Coaching Changes Lives' programs are developed after intensive and extensive research within the industry. The programs focus on your immediate working issues to ensure that you are able to apply and deliver immediate results in real work situations. Application and implementation of industry knowledge and experience are the drivers for our course design, not theoretical academic lectures. The training focuses on practical interactive learning tools and techniques including case studies, group discussions, scenarios, simulations, practical exercises, and knowledge assessments during the course. Invest a small amount of your time to prepare before attending the course to ensure maximum learning.
Tesimonials
The 4 days of coaching workshop conducted by Jedi was very inspiring. This is not the usual workshop that you would expect with lots of slides and download. Instead there were a lot of practical learnings which made the experience very different. The sessions have made a difference in the way I approach coaching. It's not about just applying the different coaching models but beyond that, how we can transform one's life - "Coaching changes lives". If you are considering to becoming a coach and do not know where to start... you can consider attending this program.
Sok Cheng Koh
Area Director of Human Resources, APAC, Marriott International
Signing up for the ICF Certification by Coaching Changes Lives is by far the most rewarding things I have ever done. I have been always wanted to be a coach and I came across Jedi from Event Bright. Completed the course with lots of awesome knowledge, confident and stronger than ever, equipped with the right tools, and practical tips on how to be a Great Coach. I'm proudly said that this is one of the best training I ever attended in my Life. Definitely looking forward to upgrade myself with more training with them. Thank you Master Jedi. Lastly, Thank you Wilson for your amazing support and motivation, without you I won't be joining the training.
Aishah
Professional Life Coach, Dubai
Jedi demonstrated active learning strategies, effective inductive learning and unique Guru charisma in his training. The transformation journey is simply enjoyable and fulfilling!
Shina Lye
Regional Sales Manager, Siemens
Jedi is a wonderful coach and trainer. The beauty of his training lies in his style of delivery. He makes you question your own beliefs while keeping the sessions light and humor filled. I have learnt a lot from his workshops. Such a transparent coach, that makes him genuine and sought after at the same time. The learning transcends within, to create the lightening effect of questioning self and limiting beliefs. His coaching truly stands out. And As he says, if you are a coach, you must be able to coach yourself. I have learnt the art of coaching myself and others from the master "Jedi" himself. Feel privileged to be mentored by him.
Khyati
Career Coach, Tata Consultancy Services
Quality training, professional organisation, awesome and knowledgeable master coach, super friendly approach, best value for money. Definitely the best choice I have made. Highly recommended!! Thank you for changing my life!
Ilona Bruyanszki
Sports Manager, Gymnastics Coach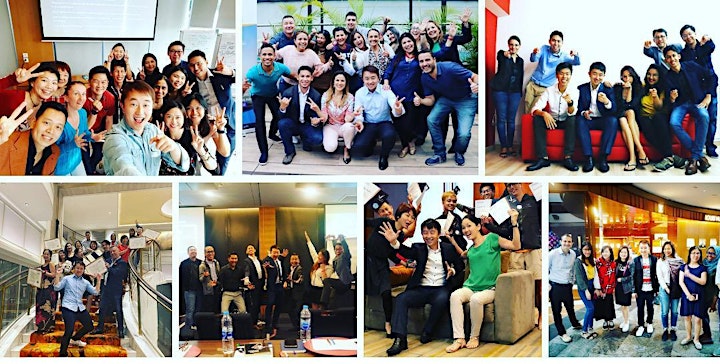 Your Lead Master Certified Coach Trainer
The program will be led by ICF Master Certified Coach (MCC), Jedidiah Alex Koh with a team of  Coaching Specialists to enable you to achieve your credentialing. He has recently been awarded top 101 Global Coaching Leaders at the World Coaching Congress 2020 and is also featured as one of Expert Coaches in Forbes Coach Council.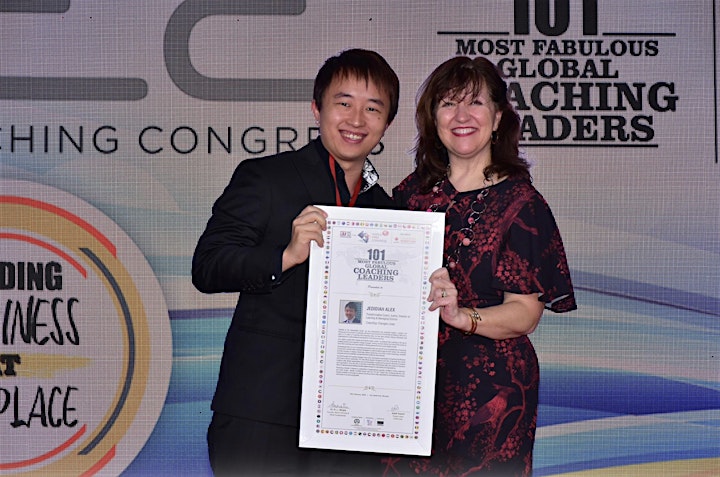 Jedidiah is the Exponential Coach. He has empowered and equipped leaders, coaches and influencers from across 5 continents with the Art and Science of Conversational Mastery. He is the founder of Coaching Changes lives International with presences in the USA, Latin America, and Asia, focusing on cross-cultural diversity and leadership in a VUCA world. With over a span of 13 years of coaching and impacting lives, he has been actively helping individuals and organizations to build resilience and tenacity for the future economy. 
As a highly sought-after result and transformation coach. He believes that coaching is the key to creating positive and impactful change in people. Having coached clients from around the world, he found that coaching was a key enabler in driving peak performance and creating results. Being a mentor coach to coaches around the world, he constantly seeks to improve his coaching practice and founded The Coach Advantage (a network for coaches to meetup and share best practices) to help connect coaches and empower people. 
He developed the C.O.A.C.H coaching framework build upon the ICF core competencies of coaching to empower coaches with coaching strategies to create breakthroughs for their clients. His coaching process focuses on helping clients gain deeper awareness and clarity, create solutions, establish progress and accountability, and generate the results the client desires. His experience in both the public and private sectors has helped him impact clients across various industries.
https://www.linkedin.com/in/jedidiahalex/
Your Investment
MIC Certification LIVE + 10 Hour ACC Mentor Coaching: $4,050 SGD
Group Package of 2 - 3 pax: $3,805 SGD per pax
Group Package of more than 3 pax : (Please email coach@coachingchangeslives.com for a special rate)
Bundle Pricing (2 or more programs) : Contact/Email coach@coachingchangeslives.com for a quote.
* Contact via email or whatsapp for nett price fees as reflected without ticketing fees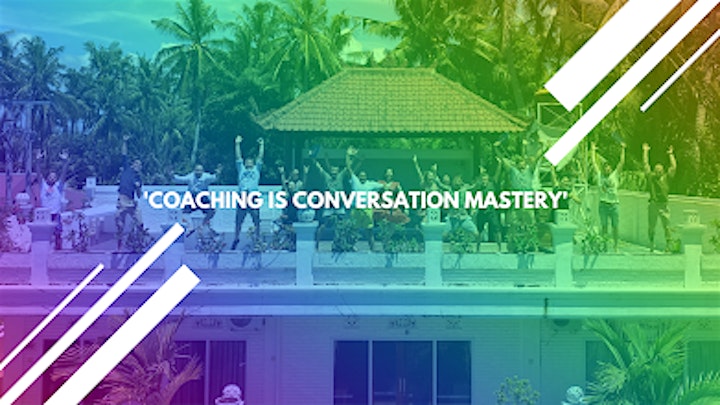 Our Other Coach Programs (ACSTH/ACTP/CCE for your ICF Credentialing) 
1) Coaching Intelligence Mastery Certification (150 Hr ACTP) PCC -> MCC Program
2) Mastery In Coaching Certification (70 Hr ACSTH)
3) Team Leadership Coaching Certification (70 Hr ACSTH) 
4) NLP Practitioner Coaching Certification (120 Hr CCE)
5) Leadership Executive Coaching (24 Hr CCE)
6) Exponential Career Coaching (24 Hr CCE)
7)Professional Public Speaking Practitioner (20 Hr CCE)
8) Coaching to Transform Lives (10 Hr CCE)
Enquiries
For Enquiries, contact the following channels,
email: coach@coachingchangeslives.com
WhatsApp: +65 87923402
For Trainings in other Cities and for more information & Registrations visit:
Or email us at coach@coachingchangeslives.com
We look forward to serving you. #CoachingChangesLives