As we struggle with the strange and apocalyptic realities today of the global pandemic the tension between mastery and mystery looms over us
About this event
As we struggle with the strange and apocalyptic realities today of the global pandemic the tension between mastery and mystery looms over us. Mastery is our striving of control, certainty, predictability and trust in what we know. Mystery is our letting go, not knowing, intuition and wonder. As humanity moves forth divided by those following the new religion of science and technology, and those who believe in magic, callousness, and cynicism, we are challenged to embrace the mystery. The pandemic forcefully reminds us of our vulnerability and the ultimate failure of all our attempts to master the universe. Need for faith in the mystery. Today as our government attacks science we are reminded of the importance of respecting its immense importance in helping us to determine best practices for human survival and flourishing.
We are also reminded of the dangers of blind faith in technology and the need to trust in the mystery and revel in the wonder of humanity. We can engage in the pursuit of knowledge unburdened by dualism, not separating what belongs together, embracing visible and invisible, marginal and mainstream, human and divine. We cross borders by respecting diverse forms of knowledge.
Prof Stephen Murphy-Shigematsu
A Professor trained in East Asian Medicine, yoga, and Zen in Japan and received a doctorate in clinical and community psychology from Harvard University. His teaching at Harvard, The University of Tokyo, and Stanford University spans 25 years. His work in designing gentle, healing, inclusive spaces is done in schools, businesses, religious organizations and hospitals, connecting diverse people and transforming self and society.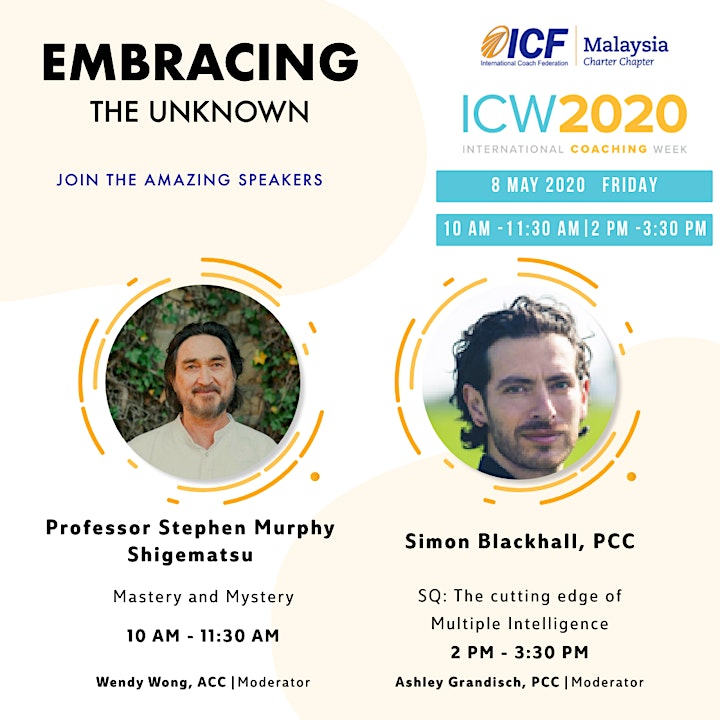 Organiser of ICF Malaysia - ICW 2020, Day 5: Mastery & Mystery