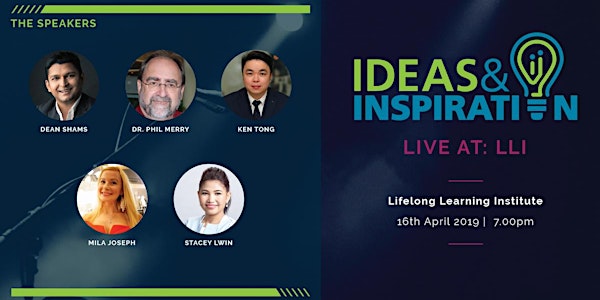 Ideas & Inspiration: Live at LLI (April 2019)
When and where
Location
Lifelong Learning Institute, Lecture Theatre (Lobby B, Level 2) 11 Eunos Road 8 Singapore, Singapore 408601 Singapore
Description
Ideas & Inspiration aims to create a global community of change-makers who believe in making the world a better place through the free sharing of knowledge and experiences. Through a series of live events, carefully selected thought leaders take stage to share inspiring and thought provoking talks on positive change to an audience of curious souls.
Register now for this session to connect with like minded people and get ready for an evening positive and empowering talks.


Featured Talks For This Session
---

1. Synchronicity For Life Success
 - Dr. Phil Merry
Research in quantum physics, biology, and psychology shows that we can connect with fields of energy that are literally "answers from the universe". In this potentially life changing talk, Dr. Phil Merry shares his recent PhD research on how you can take advantage of "Synchronicity" to raise your game in your business and your life.


2. The Untold Risks Of Myopia - Ken Tong
Singapore is a Myopia Capital, and in the year 2050, 77% of the Singaporeans will be short-sighted. Optometrist Ken Tong shares insights about the cause, effect and prevention of Myopia, and why we should change our approach when it comes to eye care.


3. Sometimes It's Alright To Depend On Others For Help - Mila Joseph
We all go through challenges in life — but we do not have to go through them alone. In this talk about changing our perspectives when it comes to asking for help, Mila Joseph shares the importance of ensuring a positive and supportive ecosystems for each other during times of challenge.


4. Make Your Stories Make Your Brand - Dean Shams
There is so much content coming at us every day that we are forced to be hyper selective to those worthy of our attention. The best way to create engagement with your target audience is to do what Netflix & HBO does – tell a story well. Not just for speeches and presentations. But any time you want to engage the hearts and minds of your audience. And that's every time. Because building a brand takes consistent effort.


5. Accepting vs Adapting - Stacey Lwin
Change is inevitable part of life and how we respond to change can either make or break us. Sharing her personal story of life changing experience that happened to her at the age of 5, Stacey will inspire you to look at adapting change from a totally different perspective.
About The Speakers
---
Founder & CEO of PMCG, Dr. Phil Merry, a global leadership consultant, coach and speaker for over 30 years in 59 countries focusses team excellence, cultural intelligence, spiritual fulfilment, mindlessness and BEING happy. Former head of leadership training for Reuters, he works with global organisations and is a United Nations consultant. Organiser of Singapore's first happiness conference, he created the Search (and book) for Singapore's Happiest People. Singapore resident since 1990, Phil is the only person in the world with a grounded theory PhD in Leadership & Synchronicity.


Ken Tong is a primary eye care advocate and the current Vice President of the Singapore Optometric Association. With more than 13 years experience in Optometry, he is invited to be part of the Advisory Panel for the Ministry of Health to implement primary eye care strategies in the private sectors, so that more can serve to preserve the vision of our fellow Singaporeans. He believes that primary eye care can improve the lives of Singaporeans and strive to achieve that vision through his company, eyesight.sg.


Mila Joseph has been in banking and service industry for over a decade. She has a positive and collaborative outlook of life, and truly believes in creating a positive environment for each other to make the world a better place.


Dean Shams has been crafting and selling stories to the media for the last 13 years. As a PR and communications strategist, he has a strong track record of getting all his clients featured in the media. His secret – telling their stories the right way
Stacey Lwin is a Financial Services Branch Director in one of the leading financial advisory firm in Singapore. She manages a group of successful consultants and plays an active role in building life-long working relationships with her clients, business partners and colleagues. Stacey believes in bringing positive energy to the environment and the people we interact with daily.
IDEAS & INSPIRATION Talks from Previous Events
---
YouTube: https://goo.gl/bpyoQ8
Facebook: https://www.facebook.com/ideasandinspiration
STRATEGIC PARTNERS
---
Lifelong Learning Institute
Up Your Game Community
Strategic Resources International
PeachyPixx Productions
Black White Sheep