iGROW's HappyHR: Managing Costs through Employee Engagement

Friday, 26 April 2019 from 13:30 to 17:30 (Singapore Standard Time Singapore Time)
Event Details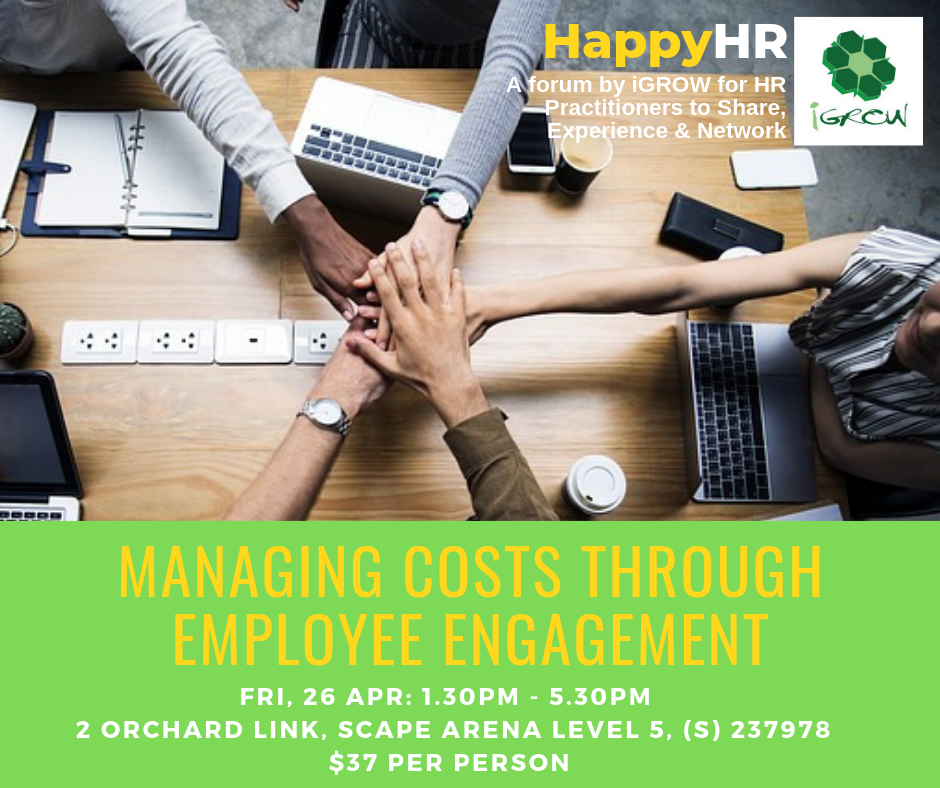 iGROW invites you to our upcoming HappyHR.
WIth a playful pun on HappyHR for Human Resource and Hour, we seek to create a platform on Employee Development, Wellness & Engagement for HR Practitioners to Share, Experience and Network. . 
This HappyHR will focus on Managing Costs, especially during these uncertain economic times.  
We will cover topics by our panel of experts to address Costs of Disengagement, Employee's Health, Strategies to Manage Cost & Unlock Cashflow, with an experience of Community Workout by our fitness guru. 
Here's the AGENDA for the Seminar:
1.30pm: Registration & Open networking
2.00pm: Cost of Employee Disengagement by iGROW
3.00pm: Is Employee's Health Corporate's Wealth by Youngberg
3.45pm: Community Workout for Engagement by SGFitFam
4.15pm: Strategies to manage cost & unlock cashflow by Robin AA
5.00pm: Tea, Open Networking & 1-1 Consult with Experts
---
OVERVIEW OF TOPIC Covered
"Cost of Employee Disengagement" by Benedict Lim, Chief Psychologist, iGROW.
Disengaged employees are negatively affecting organizations across industries and levels. It creates an unproductive workforce that can easily result in a toxic environment that goes around circles. Benedict will be going through a hands-on session for you to evaluate the state of your workforce, and how much it is costing you, financially, psychologically, and culturally. He will also share with you 6 Steps to improve Employee Engagement. 


"Is Employee's Health Corporate's Wealth" by Dr Eric Teo, Director & Registered Dietitian, Youngberg Wellness Centre. 
If Health is like money, we never have a true idea of its value until we lose it. At an individual level, this saying indeed resonate with the notion that Health is Wealth. However, can this notion be extrapolated to the corporate level, that an employee's health is the corporate's wealth? 
Study has shown that healthier workers are more productive -- lifestyle change: better nutrition, more exercise, less stress — were responsible for most of the gains (Lauren Weber). Dr Eric will be sharing about Tips to boost employee productivity, and present some new Workplace Health Promotion Schemes from Health Promotion Board that will support you to promote good health, and as a result, good productivity in your workplace.  
 
"Community Workout for Engagement" by Gina Chan, Founder & Chief Fitness Guru, SGFitFam.
Do you know that just by introducing exercise to your employees can help increase their work productivity by 21%? Not mentioning reducing the MC rate as well. But how do we get started? What type of fitness class is suitable for your company? Gina Chan, the founder of SgFitFam, will be sharing with you HOW to introduce a sustainable group fitness program that can help build up employees fitness level, increase engagement between employees while utilising HPB funding and free community workouts near your office. 


"Strategies to manage Cost & Unlock Cashflow" by Chan Rong Yao, Managing Partner, Robin Advisory & Analytics.
It is common for business owners and entrepreneurs to look outwards for growth opportunities. Truth be told, if a business had been in active operations for three years, there is probably a huge but hidden goldmine of opportunities buried within the very backyard of the organization. With the help of the right "packaging", these hidden assets can often be turned into highly profitable, sometimes even highly disruptive revenue models. Other times, tweaks in the right places will lead to a myriad of cost savings strategies, unlocking cashflow to support the operations of any organization. Rong Yao will be showing you the exact frameworks and templates he use to help his clients monetize their hidden assets. 

---
Profile of Presenters
Benedict Lim, 
CEO & Chief Psychologist, iGROW

BENEDICT is the CEO  and Chief Psychologist of iGROW, a nationally recognized psychological consulting firm that specialises in Happiness at work, family and life. He has accumulated more than a decade of experience working with corporate and youth in various settings. 

In his work, he is required to consult, counsel, coach and train individuals and organizations in building their Psychological Capital, and live the best possible life. Benedict has also led consulting teams for several national level projects where principles of positive psychology and behavioral economics are applied to solve real world challenges. 
Dr Eric Teo
Director & Registered Dietitian, Youngberg Wellness Centre
Dr Eric holds a Doctorate in Public Health from Loma Linda University, California, USA. He is a registered dietitian accreditted by the American Dietitian Association and certified in Public Health by the National Board of Public Health Examiners (USA). He has years of experience in different lifestyle centre and health food stores and restaurants in America during 1999-2003 and later pursued his Masters and Doctorate degree in Public Health majoring in nutrition from 2005-2010. He is presently the Director of Youngberg Wellness Centre, a recognized workplace health care provider which specialises in providing health promotion and education programs to corporate organizations, voluntary welfare organizations, religious groups and communities. 
Gina Chan
Founder & Chief Fitness Guru, SGFitFam

Gina is an advocate of sustainable fitness, a personal trainer & group fitness instructor for the past 6 years. She believes that the process of living a healthier lifestyle can be made enjoyable by introducing habits and having a holistic program through customization. She decided to set up a team of specialists to cover all aspect of a healthier lifestyle mainly exercise, nutrition and rehab for her personal training clients, all in one package. As time passes, she decided to share this concept to the corporate world through proper group fitness planning as well.


Chan Rong Yao
Managing Partner, Robin Advisory & Analytics

Rong Yao is a managing consultant with experience from his days with Ernst & Young to the Singapore Economic Development Board. Rong Yao was quick to score quick wins for his clients. Whether it's boosting group-wide customer service by 30% in just 3 months to reducing clients' business cost by over SGD20 million under 4 months, he never failed to exceed clients' expectations. Which was no suprised to his peers when he was recognised as one of the only 25 Expert Singapore Certified Management Consultant. Realising that he could introduced the best frameworks of the MNCs into SMEs and grew them by leap and bound, Rong Yao started Arete Advisory with the primary mission of creating 100 David to Goliath Stories in South East Asia.  
---
There are Limited Places. Please secure your ticket today.
Queries can be directed to enquiries@iGROW.sg 
Sign Up Now!!
Please remember to enter the PROMO-CODE for the special pass found in the special invitation email. 
Do you have questions about iGROW's HappyHR: Managing Costs through Employee Engagement?
Contact iGROW
When & Where

SCAPE Arena (next to Orchard Cinelesiure)
2 Orchard Link
Level 5, Arena Room (take lift to level 5)
Singapore 237978
Singapore

Friday, 26 April 2019 from 13:30 to 17:30 (Singapore Standard Time Singapore Time)
Add to my calendar
Organiser
iGROW is a Corporate Partner to drive Employee Engagement through Holistic Health Solutions
iGROW believes that everyone is born innately Good, is a Relational being possessing infinite human pOtential and is fully capable of engaging in Works of kindness. This belief drives us to empower individuals, families, organizations and communities to live the best possible life.
iGROW is a listed consultant and service provider of Workplace Health Promotion by Singapore's Health Promotion Board. Supported by a team of professionals, we create innovative holistic health programs that produced stellar results on Corporate Health and Employee Engagement for our clients.
Thanks to our dedication to Technology and Evidence-based approach, HR Professionals have trusted us with their Employee Well-being and Employee Engagement goals.
iGROW CorpHealth's business division encompass an overall corporate health and employee wellbeing solutions:
Workplace Health Consultancy & Implementation of Programs 
Workshops for Managers & Supervisors
Group Coaching
EAP