Event Information
Location
Masjid Jamiyah Ar-Rabitah
601 Tiong Bahru Road
Level 3
Singapore, 158787
Description
This class is every Tuesday, starting from 4 September 2018, frm 7.45pm - 9.45pm. Do note that the book is not included. You can get the book at Wardah Books.
8 INTENSIVE LESSONS ON DISCIPLINING THE SOUL
Indeed, this life is about our relationship with Allah swt. Yet little do we ponder on this. In order for us to be in complete submission to Allah swt, we must understand how our nafs can chain us and veil us from being a true servant. Regardless of the quantity of our deeds and our status, in reality, if we see our deeds as a source of pride, we are just succumbing to our nafs.
Every seeker on the path to Allah must therefore acquaint himself with his own nafs, for the Prophet salAllahualayhiwassalam has said, "Whoever knows himself, knows His Lord."
Join us for 8 sessions covering 3 chapters from Imam Ghazali's Ihya Ulumuddin Mukhtasar with Ustaz Amin Yusuf. Only $130. Students get a special price of $100! (PM or email us at enquiries@soutilaahi.com for student pricing details.)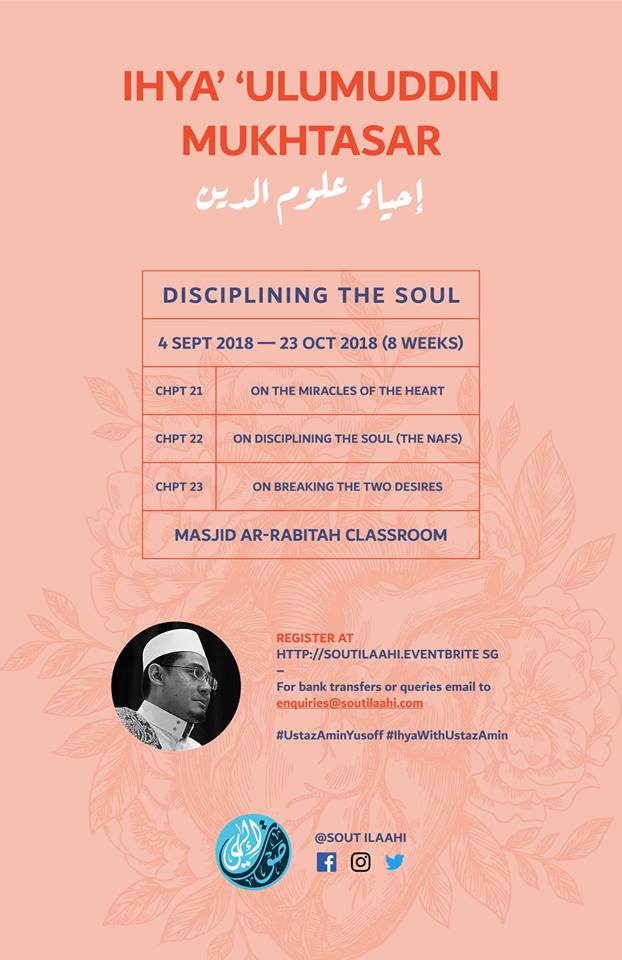 Date and Time
Location
Masjid Jamiyah Ar-Rabitah
601 Tiong Bahru Road
Level 3
Singapore, 158787
Refund Policy