Description

A space to spark imagination for children (ages 3-10) and parents, to tinker with technology, and indulge in some free unstructured play. Meet like-minded parents, make new friends, and swap views on the fascinating learning needs for today's children!
This month, we have 2 exciting activities and a new special surprise for you!
1. Marble Maze
Build a route for your marble on a cardboard, shake it left and right to make the marble move to the finish line!
2. Carrot Whistle
Do you know you could turn a carrot into a musical instrument? Find out how in our Open House!
Aaaand... Our special surprise!
App-a-thon
What is App-a-thon?
Come to the Open House with Imagin8ors App on your iPhone.

Choose ANY hands-on activities from the app that you would like to do!

We provide all the materials you need to start tinkering!
What is Imagin8ors App?
The Imagin8ors app is intended to spark the joy of learning in each child on a daily basis, to build a foundation of capabilities for the child to be an entrepreneur, innovator, and critical thinker, and create an environment for child and parent to bond and learn together.

The app features stories, videos, hands on activities, events, quizzes and challenges, all are tailored to each child's interests.

The app is currently on a private, invite-only beta stage, for iPhone users. The Android version is on it's way!
How do I download the App?
Our App is not yet available on the App Store.

Get an exclusive invite to download the app when you register for this Open House.

We will send you an email invite to download and guide you through the download process.
What if I'm not an iPhone user?
You are welcome to join and do the 2 activities (Marble Maze and Carrot Whistle).

We will be happy to provide you with iPhones to share among the participants to join the App-a-thon.
Event Details:
Date: Saturday, Dec 3, 2016
Time: 1030am - 1230pm
Venue: The Meeting Point @ JTC Launchpad, 73 Ayer Rajah Crescent
(the glass pannelled building near Timbre+, 5 mins walk from One North MRT)
Registration:
Each ticket admits 1 child. Parents are welcome to join!

This is a community event and we'd like to spread the joy of learning to as many people as possible! Join us and invite ONE friend to join. The more the merrier!

We will send an email invite to download Imagin8ors App after you sign up for the Open House.
Contact Information:
If you have any questions, feel free to contact us at 81200702 or email nathania@imagin8ors.com

Foundation for 21st Century Capabilities
Our program are designed to incorporate design thinking and computational thinking that will build the foundation for children to become job creators in the future.
Individualized Facilitation
We believe that learning should be individualised to each child, so we have at least 1 facilitator for 3 children during our experiences, and we give them enough freedom to express their own personality in what they make.
We believe in an inquiry-based learning approach. Research supported that that self-directed learning, interests-based activities, and creating/tinkering help provide deeper learning for children.
Creativity and Imagination
Our emphasis is on nurturing the unique creativity and imagination in each child to make them creators of tomorrow!
Character Traits Development
We pay attention to developing character traits like curiosity, resilience, collaboration, and a love of learning as they are important to help the child internalise learning concepts.
Standards-Aligned Pedagogy
Our team of Educators ensures that our programs are pedagogically sound and are aligned to educational standards in schools.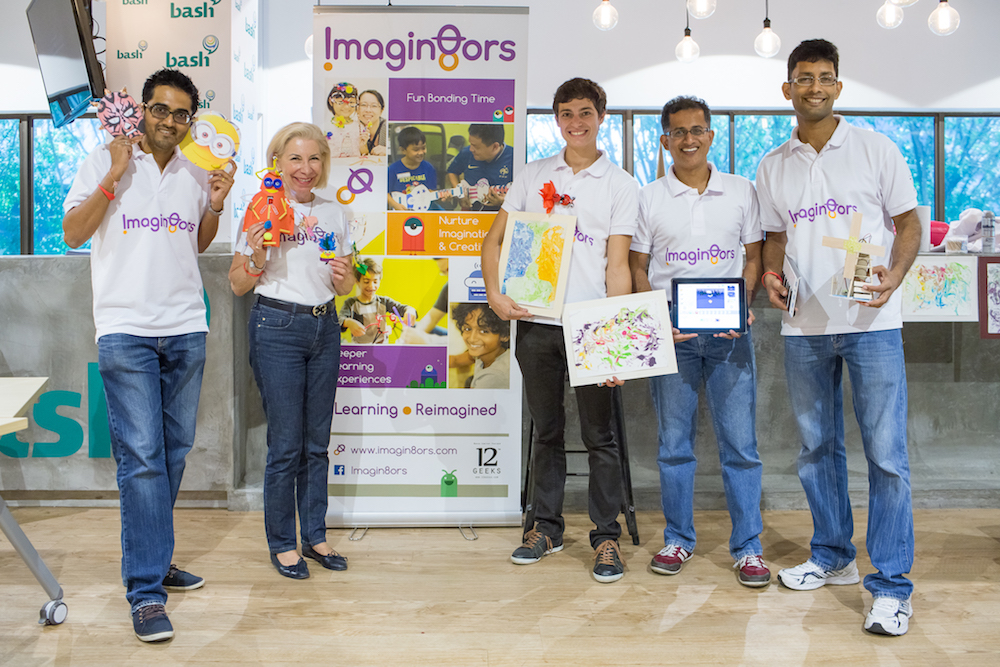 Imagin8ors is an Education Technology Startup that seeks to reimagine learning. We deliver highly curated learning experiences to parents and children (ages 3-10) around computational thinking, STEAM, and many other interest areas.
Our goal is to build the foundation of 21st century capabilities through deeper learning experiences and to nurture the imagination and creativity of each child. We aim to empower parents to be active participants in their child's learning journey.
We are backed by SPH, Infocomm Investments and PlugandPlay (a leading technology accelerator based in Silicon Valley), among others. We have collaborated with leading organizations like NTUC Learning Hub, Science Center, One Maker Group, Esplanade, National Design Center etc. to co-create and support creative programs.