How has this pandemic affected you? Ready to meet the Impactful New You?
About this event
Find your Happy Me within your Struggles, Unlocking your Esteem for Self-empowerment, Giveback to Community, Towards a Zero Hunger World and Ignite the Creativity in you to achieve Sustainability in this VUCA world!
Our Agenda
7:00pm - "Welcome & Introduction" by Host Remy Fan
7:10pm - "Finding your Happy Me within Your Struggles" by Mavis Ng
7:25pm - "Unlocking your Esteem for Self-empowerment" by Cindy Tien
7:40pm - "Community Giveback: Towards a Zero Hunger World" by Siti Jumat
7:55pm - "Creativity & Sustainability in a VUCA world" by Irene & Tim Hamons
8:10pm - Q& A + Panel Discussion hosted by Remy Fan
8:25pm - Visuals by Tikka
8:30pm - Close
Our Host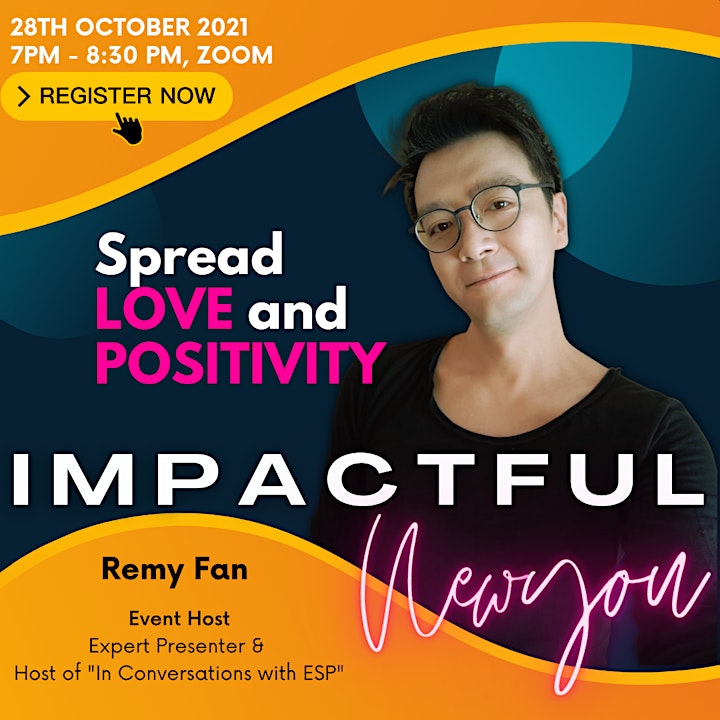 Remy Fan
Remy is a professional presenter and show host since 1996. He is the lyricist and lead vocalist of the band "ESP" - a Thrash Metal band esteemed in Singapore and Bangkok, Thailand. His stage name Remy ESP is what makes him prominent in the field of music. He began to start his talk show titled "In Conversation with ESP" last May 2020 and has further affirmed his passion and drive to bring his public speaking craft to the next level by guesting influential people from different countries in the world. Guests from 'In Conversation with ESP' includes business leader, artistes, and athletes notables with meaningful, relevant, and compelling conversations. Topics of everyday life, music, artistry, and mastery, there is no lack of laughter and positive vibes that gives joy to the audience. This October 2021, he has been invited to host the launch of "Guengsi" a graphic novel by Sean Lam- a Singapore Artist and Author. His passion does not hinder him from having a progressive career throughout his journey in life. Ever heard of the phrase "Give and Take"? Ever wondered why it isn't "Take and Give?" Remy has an interpretation for this: Because "you need to give, before you take." He lives by this maxim, and hope to spread love and positivity by giving and loving, with no expectations.
Our Speakers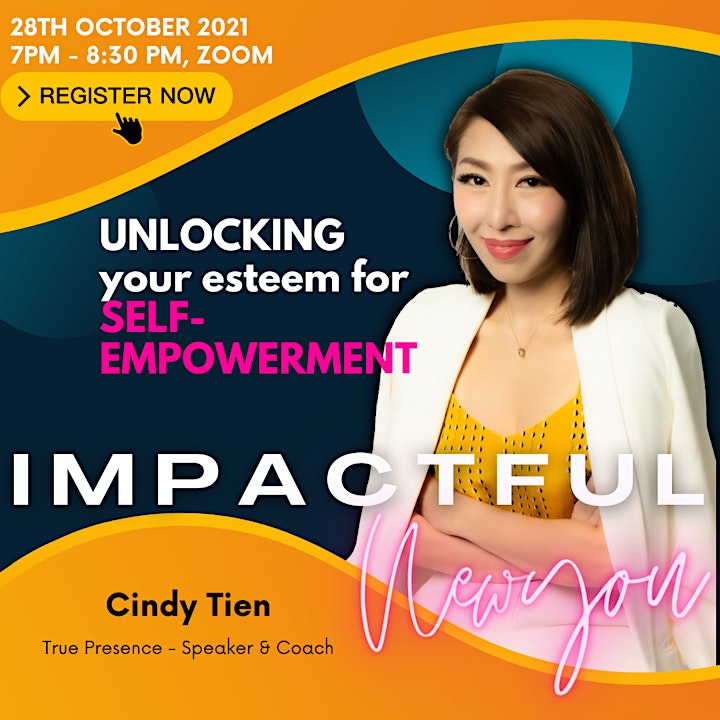 About Cindy Tien
"Impactful, authentic, and inspiring, just a few words to describe Cindy Tien - A professional speaker who has worked with global MNC clients such as American Express, Citibank, LVMH, S&P Global, amongst others.
Cindy's life journey is nothing short of a transformation. Growing up in a household of 20 people, she battled addictions, traumatic health problems, and self-destructive behaviors. However, she learned through her difficult circumstances that we all have the power to change our reality. As Cindy started to reconstruct her life, she assimilated that transformation only happens when one develops "True Presence - the space between inner confidence & outer influence." - this is also the title of her upcoming first book.
Cindy's motivation stems from her deep interest and study of human behavior over the last 20 years in people-centric roles. As an advocate for personal development, Cindy is certified in Public Speaking, Neuro-linguistic programming, Confidence coaching, Emotional quotient, Social Intelligence, and Visual branding. Her personal stories inspire authenticity & awakening with practical life-changing strategies for individuals to achieve higher levels of consciousness, connect deeply with their inner self and develop the courage to pursue their deepest desires with purpose.
A member of Asia Professional Speakers Singapore (APSS) as well as Keynote Asia's Women Speakers, Cindy is sought after as a thought-provoking, entertaining, and edgy influencer who delivers results.
She will share with us "Unlocking your esteem for self-empowerment"
In a world of change, uncertainty and excessive focus on social media - stress and low self-esteem have become major problems leading to confusion, depression and inaction. What could be the elements that can break us down unknowingly? What can we do to transform ourselves to a desired state? In this interactive session, Cindy shares her personal story from being at the rock bottom to turning her own gruelling test into a powerful testimony. The audience will walk away with powerful life lessons as they reflect on their own journey.
Once your mindset changes, everything else changes.
-Cindy
About Mavis Ng
Mavis is a successful entrepreneur and an excellent coach. Being in the service industry for 14 years, she was awarded several Accolades. She created Happy Me Career, a digital coaching platform to help bridge the individuals to engage the intrinsic motivations, willingness and attitude to develop their own career and personal goal. She also seats as Director in Founder Institute Singapore, running the Pre-Seed Accelerator program for aspiring founders of start-ups. She volunteers her time as VP Education in Toast Masters International, mentors undergraduates in Nanyang Technological University and Stories of Asia.
Coaching for over 9 years, Mavis's burning desire has been to make a difference in people's life. Mavis believes that each one of us is Leaders in our own right.
15min: Mavis will speak on "Finding your Happy Me within your struggles"
A great coach is one who is able to coach through wounds. Hear Mavis, a mother of 2, came from a single parent family, walk you through how you can find "Happy Me" to your struggle as you strike a balance in aligning reality with desired outcome in your own personal and professional journey.
Opportunities don't just happen; you do not need to wait for opportunities to come to you. You can create them.
-Mavis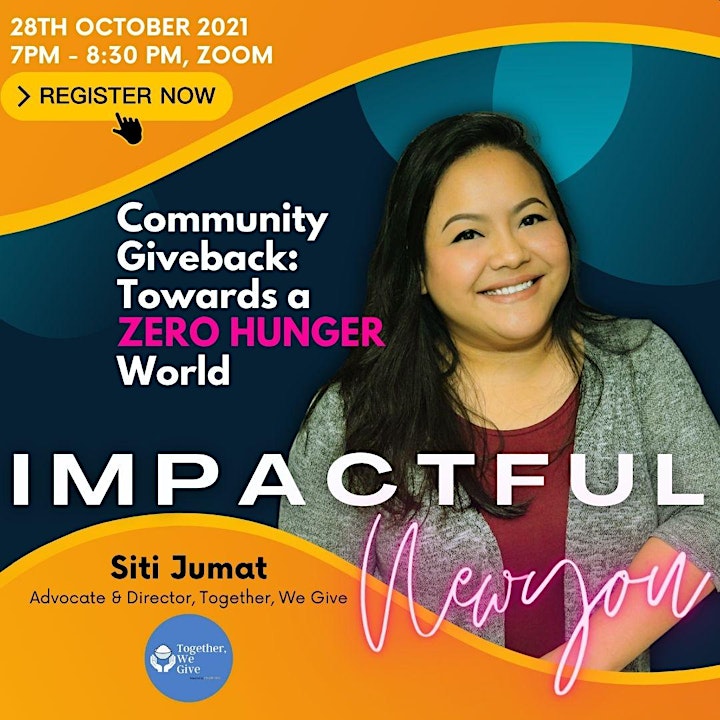 About Siti Jumat
A mother of two and breast cancer survivor, Siti has more than 10 years' experience with social and volunteering work in Singapore, Southeast Asia, and the U.S. Not allowing her disease to deter her spirit, Siti advocates for women, children, and the vulnerable community through her work with Together, We Give.
Highly skilled in events, Siti has developed, organized, and managed fundraising events for Breast Cancer Research Fund, The American Cancer Society Relay for Life and Give Hope Cambodia volunteer expedition to Siem Reap.
At Together We Give, Siti manages the Community and Partner Engagement activities with our various stakeholders. Siti also helps to manage regular events and fundraising drives.
15min: "Community Giveback: Towards a Zero Hunger World"
The complexity of poverty in Singapore is not understood. It is easy to assume that hunger doesn't exist among the well-educated population of an affluent city-state, but unmet social needs are real and remain poorly understood.
Adopting United Nations Sustainable Development Goals 2030 in the fight against hunger, Siti will share more of her journey on what drives her commitment to greatly advance community efforts to defeat hunger and malnutrition in Singapore and beyond.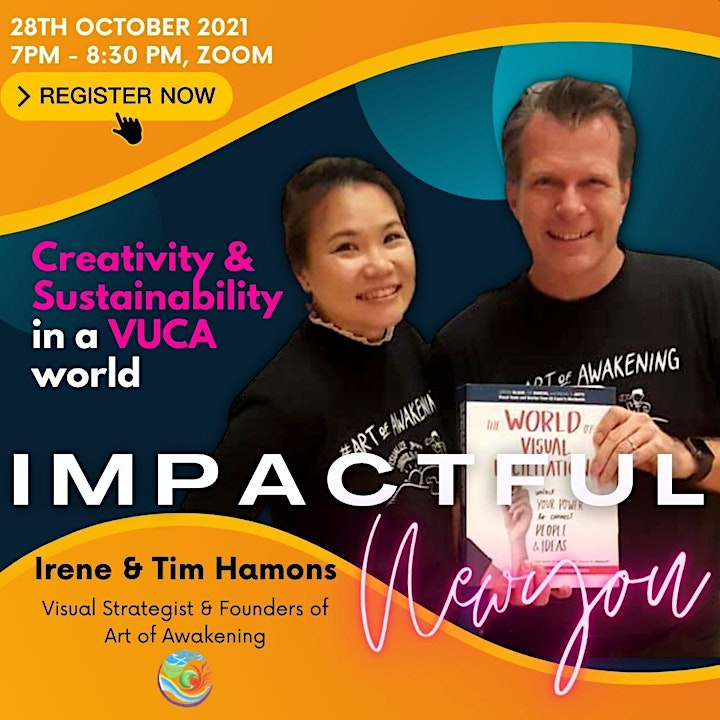 About Sunshine Irene & Tim Hamons
Irene is a successful entrepreneur of a thriving visual consulting company, an experienced lead facilitator, and an inspiring speaker that committed and passionate about supporting learners to apply new skills in work and life. She had invited as a guest speaker in enormous events such as Visit.Org, Daughters of Tomorrow, and DUKE-NUS. She is also an Associate member of Asia Professional Speaker Singapore and Mother Earth Toastmaster Club.
From her struggles in life, she turned into an Empowered Woman. These obstacles she encountered inspire her uplifting talks that individuals outreach to her, and she corporates them to find Confidence, gain Clarity and build Capacity with her coaching.
(You may visit sunshineirene.com to view invitations to these upcoming events.)
Timothy is a high-powered, innovative facilitator, creative trainer, and Founder of Art of Awakening Asia. With over 20 years of experience leading individuals towards better success, he has worked with over 50 leading companies to express their identity and values through written and graphic communications programs. Timothy has been using and teaching mind mapping for around 20 years and contributes to community development through his volunteer work with diverse organizations.
He mentored at-risk youth through a program called "Camp Vision" and thoughtfully supported families to develop a "creative family vision" plan with the People's Association. Currently, he is a board member of IFVP, completing an online course in visual facilitation conducted by "Alpha Chimp Studios" in the USA and nailing an online program with Dan Roam; based on his book series "Back of the Napkin" that tackles methodologies of visual thinking.
15min: "Creativity & Sustainability in a VUCA world"
In this Volatile, Uncertain, Complex and Ambiguous (VUCA) world today, how do we remain 'Positive' with the unknown and consistent change?
Irene & Tim will share their 4 Ways of navigating the VUCA world that in return, open new creative thinking and different ways of getting things done as well as building a sustainable business.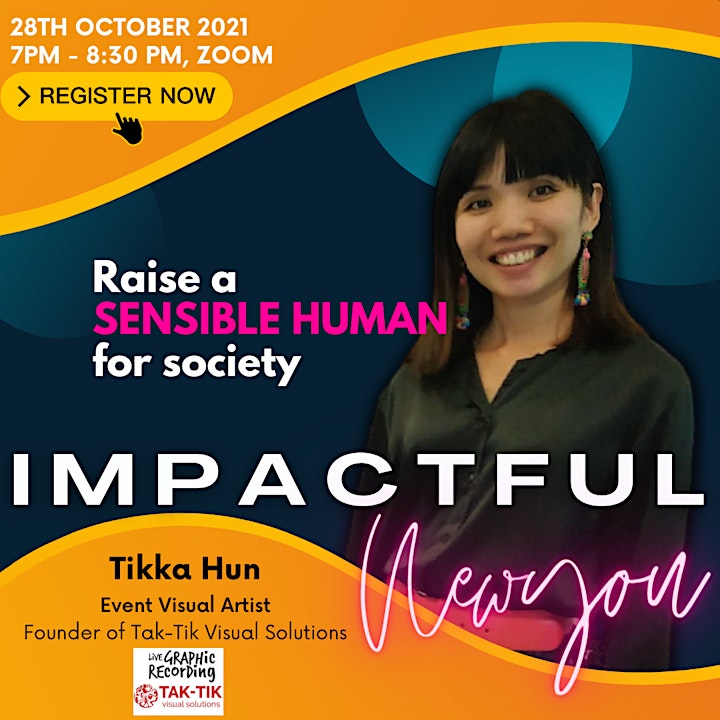 About Tikka Hun
Tikka is a strategy- visual consultant and graphic facilitator, trainer, and designer of Listening- Organising- Graphic (LOG)- a graphic facilitation workshop. She is also been the founder of Tak-Tik Visual Solutions since 2003. She worked as an award-winning art director at various advertising agencies in Europe for over a decade. She saw the magic of combining visual communication in graphic facilitation and started developing her authentic style. While Tikka has traveled to over 40 countries, she has worked and lived across Europe and Asia. She is a certified landscape designer from Ecole de paysagiste of Versailles.
Aside from her successful career, she is also an advocate in eco-feminism and uses her works to contribute to gender equality and environmental causes for NGOs in various social movements, a volunteer art teacher for refugee kids and orphanages home, and an activist for Greenpeace Malaysia. Above all, she is a single mother who aims to raise a sensible human for society.
In Support of Community Chest
All donations (less eventbrite fees) will be donated to Community Chest. As the fundraising and engagement arm of the National Council of Social Service (NCSS), Community Chest supports more than 100 social service agencies and over 200 critical programmes that empower the lives of:
Children with special needs and youth-at-risk
Adults with disabilities
Families in need of assistance
Seniors in need of support
Persons with mental health conditions
Your support will help them achieve their potential and integrate into society.
All donations are tax claimable. Thank you for your generiosity and support.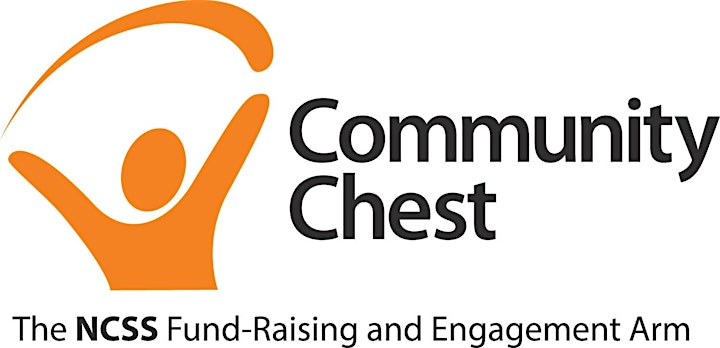 Our Previous Event
Organizer of IMPACTFUL NEW YOU