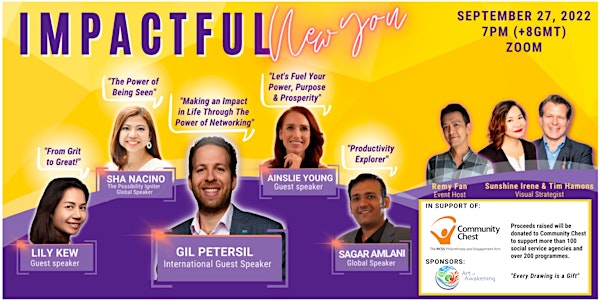 IMPACTFUL NEW YOU
How do we overcome challenges and move forward? Ready to meet the Impactful New You?
About this event
Impactful New You
INY mission is to support #womenempowerment, #mentalhealth, #mentalwellness, # nonbiasness, #diversity, #contribution and #growth
"Challenges are what make life interesting and overcoming them is what makes life meaningful." ~ Joshua J Marine.
What is life if there aren't challenges?
Let's take a journey with us, as we transform from Grit to Great, making an Impact in Life Through The Power of Networking, knowing the Power of Being Seen. Also in this INY season, discover how to build a productive mindset and let Your Pleasure Fuel Your Power, Purpose & Prosperity.
Our Agenda
7:00pm - "Welcome & Introduction" by Host Remy Fan
7:05pm - "From Grit to Great!" by Lily Kew
7:25pm - "Making an Impact in Life Through The Power of Networking" by Gil Petersil
7:45pm - "The Power of Being Seen" by Sha Nacino
8:00pm - "How to build a Productive Mindset" by Sagar Amlani
8:15pm - "Let Your Pleasure Fuel Your Power, Purpose & Prosperity" by Ainslie Young
8:30pm - Visual Showcase by Tim Hamons
8:40pm: "Thank you & Closing" by Sunshine Irene Hamons
8:45pm - END
SPECIAL INTERNATIONAL GUEST SPEAKER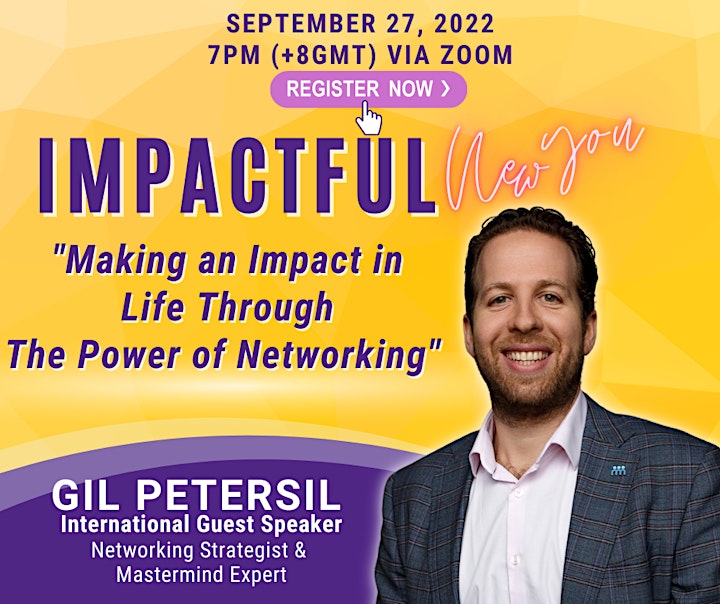 About Gil Petersil
Gil Petersil a leading global networking expert with over 20 years of business experience as a business coach for over 200 companies across diverse business industries. Gil has partnered with Tony Robins and has shared the stage with world-class speakers such as Brian Tracy, Michael Roach, Keith Ferrazzi, Allan Pease, David Allan, Jordan Belfort, also known as The Wolf of Wall Street.
Through his coaching and consulting programs, Gil helps companies to:
Create mentorship systems and develop collective genius in the company teaching & practicing mastermind and sharing techniques
Get new strategies of business acceleration with a help of group coaching
Increase team members motivation and improve internal relations through effective communication skills
Learn how to sell without selling by means of relations development and receiving recommendations
Move to a new level using strategic authentic partnerships
Learn how to scale business while growing your network
Find out how to align your business with your purpose and attain healthy work/life balance
Get leadership strategy and learn how to develop new relationships in a changing economy
24+ YEARS - of networking & business experience gained all over a world
7+ COUNTRIES - where he lived and developed businesses (Israel, Russia, Canada, Great Britain, USA, Singapore, Bali)1000+ mentored in diverse business industries1000+hosted, organized, spoke at20+PROJECTS - Co-founded
We as humans thrive for change, from the invention of new technologies to making communities all around the world. Creating an impact should always start with the people around you. You are an influencer yourself. In this session, Be ready as Gil will share with us on "Making an Impact in Life Through The Power of Networking".
Gil will unlock the secret of how you can make a beautiful change, just from the way you network & communicate with other people.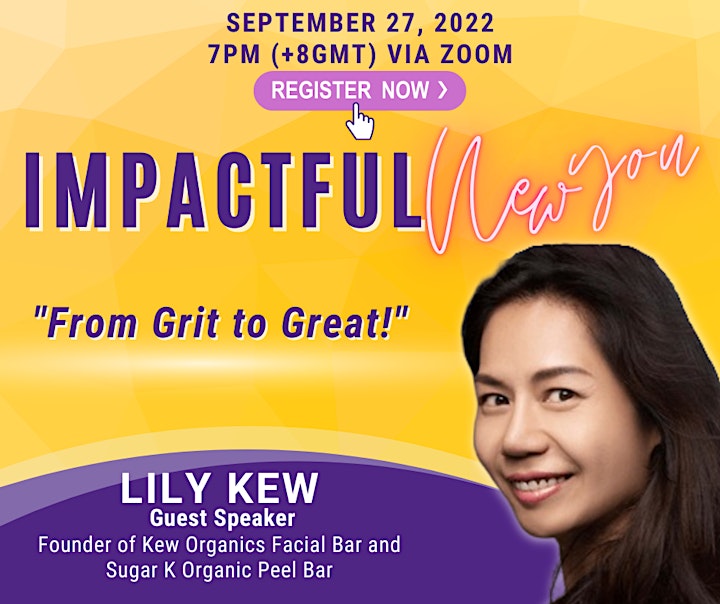 About LiLy Kew
Inspiring Mum-preneur, founder of Kew Organics, featured on Tatler Asia, 8 Days, and winner of Women Weekly Spa Award 2015, 2016, 2017, Women Entrepreneurs 2018 and SOE Awards 2019.
During her adolescent years, Lily was plagued with severe acne issues that badly affected her daily life and self-confidence. In search of a solution, she consulted with several beauticians and dermatologists and was prescribed harsh treatments and chemical-laden products, which did not solve her acne issues.
Lily's skin was thin, weak, sensitive and dehydrated on the surface while oily underneath and recurring breakouts. When Lily turned 29, she decided to take matters into her own hands. She left her job in the entertainment industry to pursue a diploma in beauty therapy. In 2004, Lily and her close relative created their own spa brand, Glow Aesthetics. After eight years, given differing visions, Lily was ousted from her own company. Two years later, in 2014, Lily opened the first Kew Organics Facial Bar in Everton Park.
Kew Organics was one of the 14 recipients of the Women Entrepreneur Awards in 2018 and award winner of the Spirt of Enterprise 2019. Lily is dedicated to transforming skin through a marriage of her natural skincare products with the use of high-tech machines that enhances the efficacy of her facial treatments. She is an advocate of clean beauty and has been on a mission to share her knowledge about organic skincare for optimum skin health.
15min: " From Grit to Great!"
Lily's family remains her top priority as she believes that a happy home is imperative to her success at work. She hopes to share this wisdom with young women who might be pressured to 'have it all'.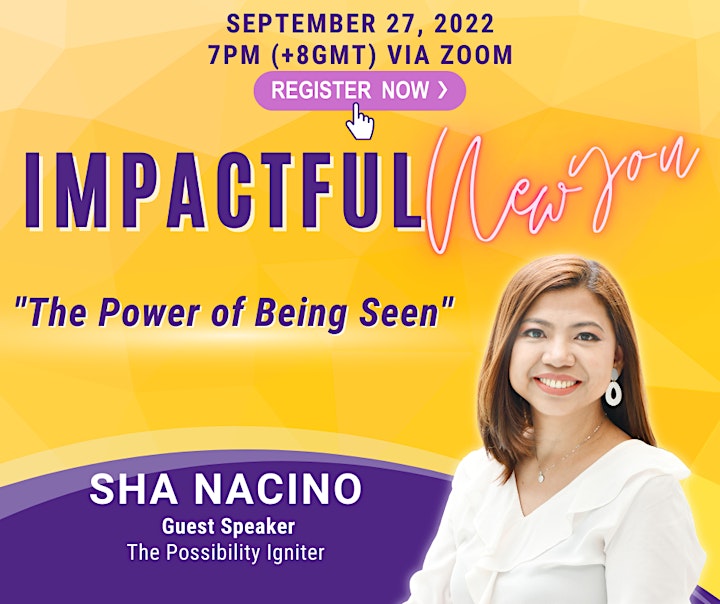 About Sha Nacino
Sha Nacino is a global keynote speaker, an author of 15 books, and the founder of the World Gratitude Summit. She is on a mission to help leaders and organizations unlock their organizations' hidden potential by building a culture where everyone is seen and appreciated.
She has been invited to speak to global brands and in countries like the Philippines, Singapore, Malaysia, Hong Kong, UAE, India, France, U.S. and the Maldives. In 2019, she was awarded as the Female Entrepreneur of the Year by the United Nations Global Entrepreneur Council.
She will share with us "The Power of Being Seen"
Regardless of your age, race, or economic status, we all have this basic need. We all want to be seen and appreciated.
When you feel seen and appreciated, you soar high and you unleash fearless possibilities.
Sha Nacino is on a mission to travel the world and help leaders and organizations unlock their company's hidden potential -- a culture where everyone is seen and appreciated.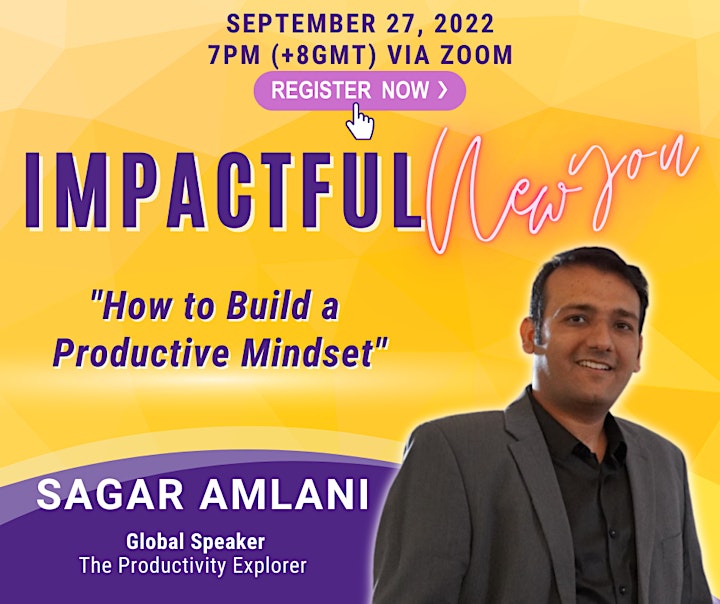 About Sagar Amlani
Sagar Amlani, The Productivity Explorer - a Global speaker, inspired over 18000 lives in India, UK, Russia, Australia, and Dubai, has 16+ years of professional experience and works on building the productivity mindset. He has authored two books, First one "At the Crossroads of Life" is endorsed by Dr Marshal Goldsmith and second one "The Key : 26 Proven ways to build a Productive Mindset" is Amazon India Bestseller. His story has been featured in several books and podcast worldwide.He has completed his Masters in Management from Middlesex University, London and Masters in Strategic Management from IIM K India.Sagar has served in the leadership position for about 10 years as a Vice President where he worked with Hyundai, Kia, Renault Nissan, Volkswagen, TVS, Royal Enfield and many more for various projects for automotive upholstery.
He is a founder of Zapro Consultants, working with family-owned businesses to build an Autonomous work culture. He strongly believed in process driven culture and an act as a catalyst to build the productive mindset. As a LinkedIn commended profile of 2019-2020 he has worked with over 50+ Leaders and CXO and over 7000+ professionals to build their thought leadership and establish their personal brand using his signature program EGC of LinkedIn.
What sets him apart is his initial life struggles in the slums of Mumbai, these struggles made him learn the value of time, money, and education early in life. Also, these were the same challenges, that became the foundation of Sagar's innate personality.
15min: "How to build a Productive Mindset"
His respect and gratitude towards his initial life challenges make him a unique person.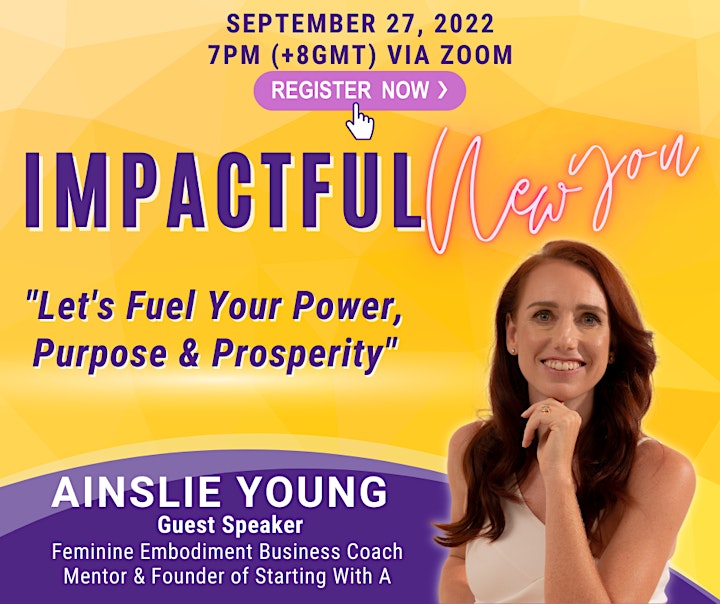 About Ainslie Young
Ainslie Young is a Feminine Embodiment & Business Mentor who is passionate about partnering with female entrepreneurs and showing them how to work smarter not harder, by combining feminine marketing strategies with their inner body wisdom so they too can create successful, pleasurable and sustainable businesses on their own terms.
Ainslie can be described as a heart-centered strategist thanks to her university qualifications in psychology and marketing, her life coaching and feminine embodiment certifications plus her extensive corporate experience in marketing coupled with her own entrepreneurial adventure across product and service based businesses. In addition to her high-end Private Mentoring and consulting, she also runs sold out workshops, retreats and intimate in-person business mastermind events in both Asia and Australia. She is obsessed with her 'cute as a button' daughter Xanthe, writing and consuming words, almond croissants and swimming in the ocean.
15min: "Let Your Pleasure Fuel Your Power, Purpose & Prosperity."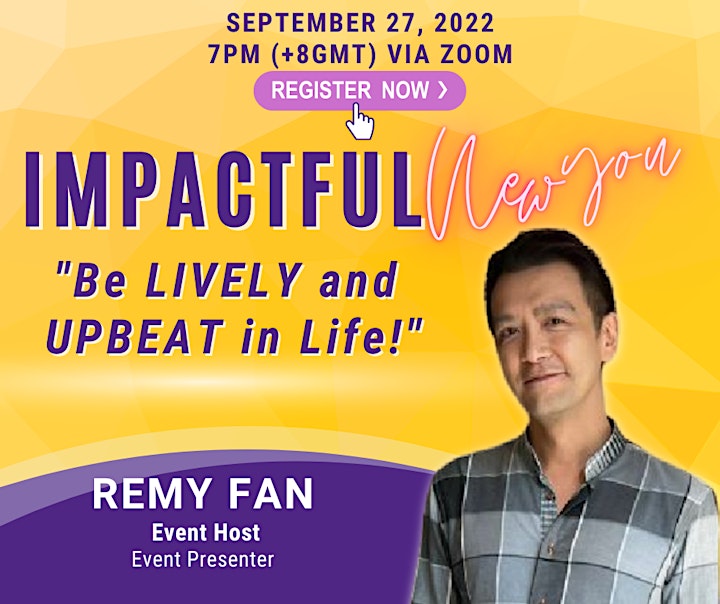 Remy Fan
Remy is the Resident Host of the "Impactful New You" series. A lively conversationalist and an attentive listener, Remy brings out the best of each invited speakers each time, all the time.
He started his career in Public Speaking since 1996, and is an advocator of Growth Mindset, Mindfulness, Nunchi amongst other meaningful topics.
Also a music aficionado, Remy has written songs and perform with international artistes including JJ Lin (SG), Rex Viperon (TH), Kohld Haveneson (US), Daniel Vrangsinn (NO) and Dave Hill (US).
Remy's latest contribution to the music scene is "We Are The Mighty Eagles", the official anthem for Geylang International Football Club.
Listen to "We Are The Mighty Eagles": https://evilsingingpandas.bandcamp.com/album/we-are-the-mighty-eagles-official-edm-remix
For more of Remy:
https://www.youtube.com/channel/UCXr0J32Od9YoTkdr4GnWjwQ
To connect with Remy:
In Support of Community Chest
Proceeds raised (less eventbrite fees) will be donated to Community Chest to support more than 100 social service agencies and over 200 programmes that empower the lives of:
· Children with special needs and youth-at-risk
· Adults with disabilities
· Families in need of assistance
· Seniors in need of support
· Persons with mental health conditions
Your support will help them achieve their potential and integrate into society.
Donations are tax claimable. Thank you for your generosity and support.