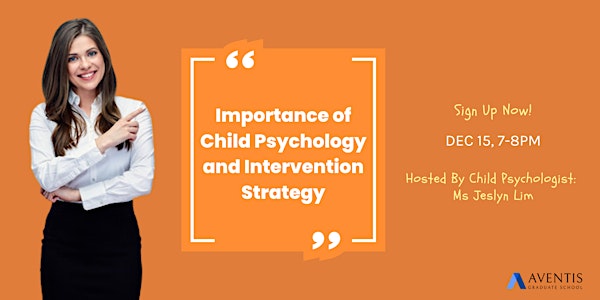 Importance of Child Psychology and Intervention Strategy
What is Child Psychology ?
About this event
Child psychology, also called child development, the study of the psychological processes of children. Join Child Psychologist, Ms Jeslyn Lim to learn more about one for our demanding graduate diploma courses.
Early Intervention: The early years in a child's life from toddler to children under 10 years old represent the most critical period of their development. Studies in neuroscience have shown brain growth rate to be at its highest in these early years.
Explore the mental wellbeing issues affecting children and develop all-around crucial knowledge as well as sought-after skills surrounding the mental health of children.
More about Speaker:
Certified Developmental Psychologist, Ms Jeslyn Lim BA Applied Psychology and Organisational Psychology, MEd. Developmental Psychology, Advanced Certification in 5-PATH Hypnotherapy, Certified 7-PATH Self-Hypnosis Teacher, Registered Practitioner & Supervisor (APACS)
Finding Your True North
In this one-hour preview, you will learn about the importance of child psychology and intervention strategy you can embark on in the CARE, Social Service, Education.