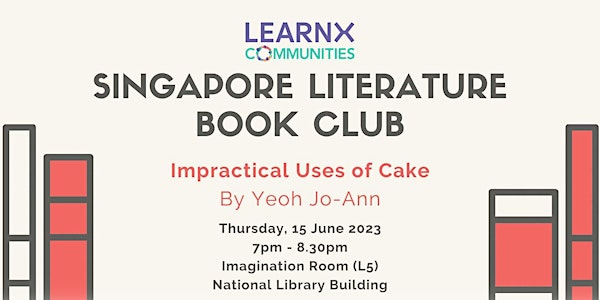 Impractical Uses of Cake by Yeoh Jo-Ann | Singapore Literature Book Club
Meet author Yeoh Jo-Ann at the Singapore Literature Book Club as we discuss her prize-winning novel Impractical Uses of Cake!
By GoLibrary | National Library Board, Singapore
Date and time
Thu, 15 Jun 2023 19:00 - 20:30 +08
Location
National Library - Possibility Room 100 Victoria Street Singapore, 188064 Singapore
About this event
1 hour 30 minutes

Mobile eTicket
Important Notice
This programme/event is open to members of the National Library Board, Singapore. Please ensure you have your myLibrary username on hand before proceeding with the registration. If you do not have a myLibrary username, you can create one here: https://account.nlb.gov.sg/.
About the Programme
Join us at Singapore Literature Book Club as we discuss Impractical Uses of Cake with its author Yeoh Jo-Ann. As this will be an interactive session, please come prepared to discuss the book and share your thoughts!  
About the Book
Sukhin is a thirty-five-year-old teacher who lives alone. His life consists of reading, working and visiting his parents' to rearrange his piles of "collectibles". He has only one friend, another teacher who has managed to force Sukhin into a friendship by sheer doggedness.
While on an errand one afternoon in Chinatown, he encounters a homeless person who recognises him. This chance reunion turns Sukhin's well-planned life upside down, and the pair learns about love and sacrifice over their shared fondness for cake.
About the Speaker: 
Yeoh Jo-Ann grew up in Malaysia and lives in Singapore.  As a teenager, she dreamt of being a cat or a rock star, but instead spent most of her adult life working in publishing, somehow ending up as the features editor of a women's magazine before giving it up for a career in digital marketing. Her first novel, Impractical Uses of Cake, won the Epigram Books Fiction Prize in Singapore in 2018 and has been translated into German (Kroner, 2022). Her short stories have been included in Singaporean anthologies such as Best Singaporean Short Stories: Volume Three, and in 2020, her short story Dog Tiger Horse won the Boston Review's annual Aura Estrada Short Story Contest. She is currently working on her third novel and hopes to finish it before she turns into some sort of cabbage.
About Singapore Literature Book Club 
From NLB's Singapore collection comes a book club with a unique local flavour. Discuss books by both well-known and emerging Singaporean authors touching on topics close to home. Get acquainted with local literature and discover national literary treasures right here at the libraries. 
To find out more about NLB's literary art events, join our mailing list here!
About LearnX Communities
The Singapore Literature Book Club is one of NLB's many LearnX Communities that connect like-minded people to create a modern kampong of communal learning. These communities cover a wide range of topics and can be found in libraries all over the island.  
Interested? Head over to https://go.gov.sg/what-is-a-learnx-community to join an existing community or start one of your own!  
About the organiser
The National Library Board (NLB) manages a network of 28 libraries, the National Library and the National Archives of Singapore. NLB promotes reading, learning and information literacy by providing a trusted, accessible and globally-connected library and information service through the National Library and a comprehensive network of libraries.