About this Event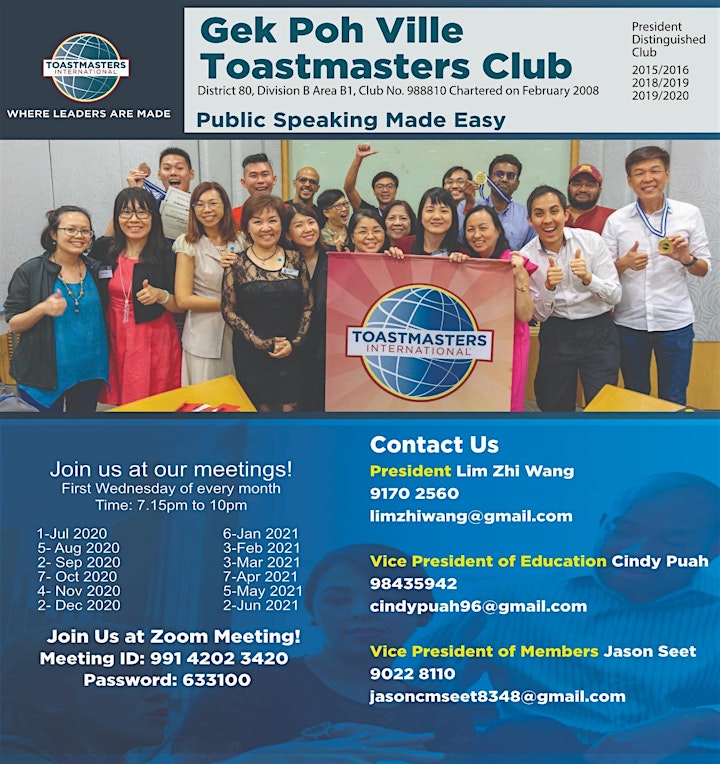 If you want to improve your public speaking, come join us online on every first Wednesday of the month.
Zoom Meeting ID: 991 4202 3420 Password: 633100
About this Event
Gek Poh Ville Toastmasters club started to help busy executives learn and practise public speaking in a safe and supportive environment.
Toastmasters International believes that learning public speaking is not just attending an one off workshop rather it is setting the stage right for you to learn and practise your speeches in front of an audience. With a structured learning course called Pathways, to help you charter your way to becoming a better speaker!
With the recent COVID-19 situation, our club meetings have moved online to continue learning and practising our speeches.
If conditions allow in future, we will have our physical meeting at Gek Poh Ville Community Club located in 1, Jurong West Street 74.
Use that 30 seconds of insane courage to join us now and try it for yourself!