Description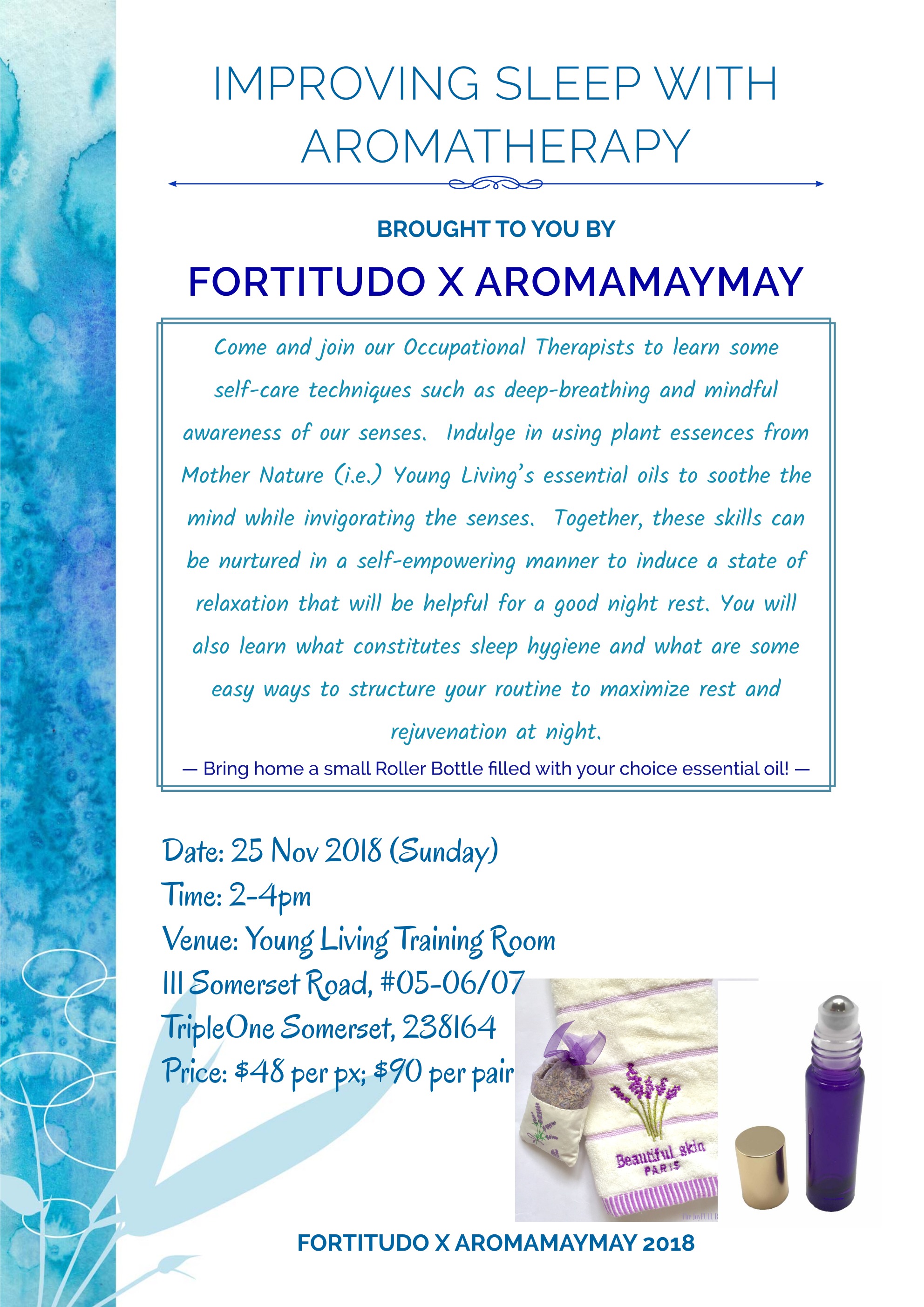 Come and join our Occupational Therapists to learn some self-care techniques such as deep-breathing and mindful awareness of our senses.
Indulge in using plant essences from Mother Nature (i.e.) Young Living's essential oils to soothe the mind while invigorating the senses.
Together, these skills can be nurtured in a self-empowering manner to induce a state of relaxation that will be helpful for a good night rest. You will also learn what constitutes sleep hygiene and what are some easy ways to structure your routine to maximize rest and rejuvenation at night.
About Aromatherapy:
- Aromatherapy is self-empowering. Anyone can use it by themselves with some safety guidelines
- Essences from plants have scents that are comforting and soothing. It is also a multi-sensory experience as it can be diffused or applied to the skin. Upon application to the skin, some oils have a soothing warming or cooling effect.
- Scent can be personalized and used to suit the person. They can choose what to use and how to use it in different ways.
- Aromatherapy can be incorporated into one's routine by diffusing, topical application to the skin, or including the essential oils into their personal care products such as their night moisturizer or hair serum.
- Essential oils have also been used over the years to ease physical discomforts.
- Smelling an essential oil can invoke feelings of calmness due to its theorized connection to the emotional/limbic brain. Scent can also invoke flashbulb memories and one can be brought back to a moment in time.
- One can also practise the skill of mindfulness when they stop and pause to breathe in a scent deeply. They can pay attention to the present moment and attend to the current sensorial experiences.

Trainer bio
The speaker is Janice Wong, a senior Occupational Therapist who worked in Institute of Mental Health for 4 years and specialized in mood disorders in her 2nd year. She started an Outpatient Day Therapy OT program to assist in transitional care from inpatient to outpatient. She has a degree of Bachelor of Science with Honours in Occupational Therapy (1st Class) from Queen Margaret University, United Kingdom. She has completed courses on Interpersonal and Social Rhythms Therapy, Motivational Interviewing, Mindfulness-based Stress Reduction techniques and Integrated Psychological Therapy. Her interest in mood disorders has led to invitations to present at IMH World Bipolar Day Forum- Hope and Normalcy in Singapore in 2016 and at the 4th International Institute for Model of Human Occupation in United States in 2015. Apart from mental wellness, she has a keen interest in the use of natural remedies to optimize overall health and wellness and has conducted small group discussions out of working hours on Essential Oils, Emotional Wellness, Stress Management and Sensory Meditation. Her awards include: Singapore's National Healthcare Group-Health Science Scholarship in Occupational Therapy (2009) and Singapore Association of Occupational Therapists Award for Clinical Education (2012).
A collaboration with AromaMayMay
AromaMayMay is a group of health enthusiasts who believe in living a healthy lifestyle & natural remedies. They are a diverse group consisting of members from all walks of life – scientists, chemists, therapists, blogger, entrepreneurs & working moms. Most of them are from life science & chemistry background and are enthralled with the wonderful healing effects of plants from Mother Nature.