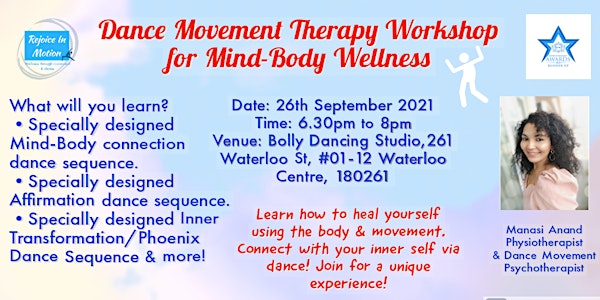 In-person Dance Movement Therapy Workshop (Singapore)
Connect with your inner self via dance & movement. Rediscover your self and learn to connect the mind & body via dance movement therapy!
When and where
Location
Bolly Dancing Studio 261 Waterloo St, #01-12 Waterloo Centre, Bugis, Singapore 180261 Singapore, 180261 Singapore
About this event
Join our mind-body wellness via Dance Movement Therapy Workshop! Explore more about yourself & the mind-body connection via movement.
We have few new offerings this time!
Have you heard of the mind-body connection before? Did you know that the dialogue between mind and body is a two-way street? Our body is an integral part of how we think. Our body, how we move it, and how we interact with our physical surroundings shapes how we think, feel, and behave.
So how do we improve the mind-body connection?
Via movement!
In this workshop, you will learn few exercises and dance movement therapy techniques which will help you enhance the mind-body connection.
The American Dance Therapy Association defines dance/movement therapy as the psycho-therapeutic use of movement to further the emotional, cognitive, physical and social integration of the individual.
This is a holistic workshop and will focus on your physical, mental & emotional health and will help you enhance your overall health.
It will be a fun as well as effective workshop!
What will you learn?
Our latest offerings:
1. Specially designed Mind-Body connection dance sequence, to help you sync and connect your mind & body.
2. Specially developed Affirmation Dance sequence to help you put positive affirmations into practice and embody them.
3. Specially developed Inner-Transformation/Phoenix sequence & so much more!
You will get notes to refer to via PDF Format once you attend the session.
Date: 26th September 2021
Time: 6.30 pm to 8 pm
Duration : 1 hour 30 min (1.5 hrs)
Venue: Bolly Dancing Studio, 261 Waterloo St, #01-12 Waterloo Centre, Singapore 180261
We have limited seats only, since this is an in-person session. We will be following all guidelines and precautions.
**Please note: We Do Not offer refunds**
About the Facilitator:
Manasi Anand is a Physiotherapist (IN) , Certified Orthopedic Manual Therapist (AUS) & Certified Dance Movement Psychotherapist. (UK)
She is the founder of Rejoice In Motion & has been conducting Dance Movement Therapy Programs & sessions in Singapore & Online as well.
For her work in the area of Dance Movement Therapy, in Singapore & beyond, she has been awarded the 'Outstanding Therapist Award' (Runner up) by the Centre Of Excellence (UK) which is a huge international body and is recognized worldwide as one of the leading online training providers, with more than half a million community of learners having gained vital skills & qualifications.
Follow us on Instagram for all latest updates!
Link: https://www.instagram.com/rejoice_in_motion/?igshid=1qhx10a3jmun