In Search of Purpose #17 - An Evening with Philip Yeo: On Neither Civil Nor...
Description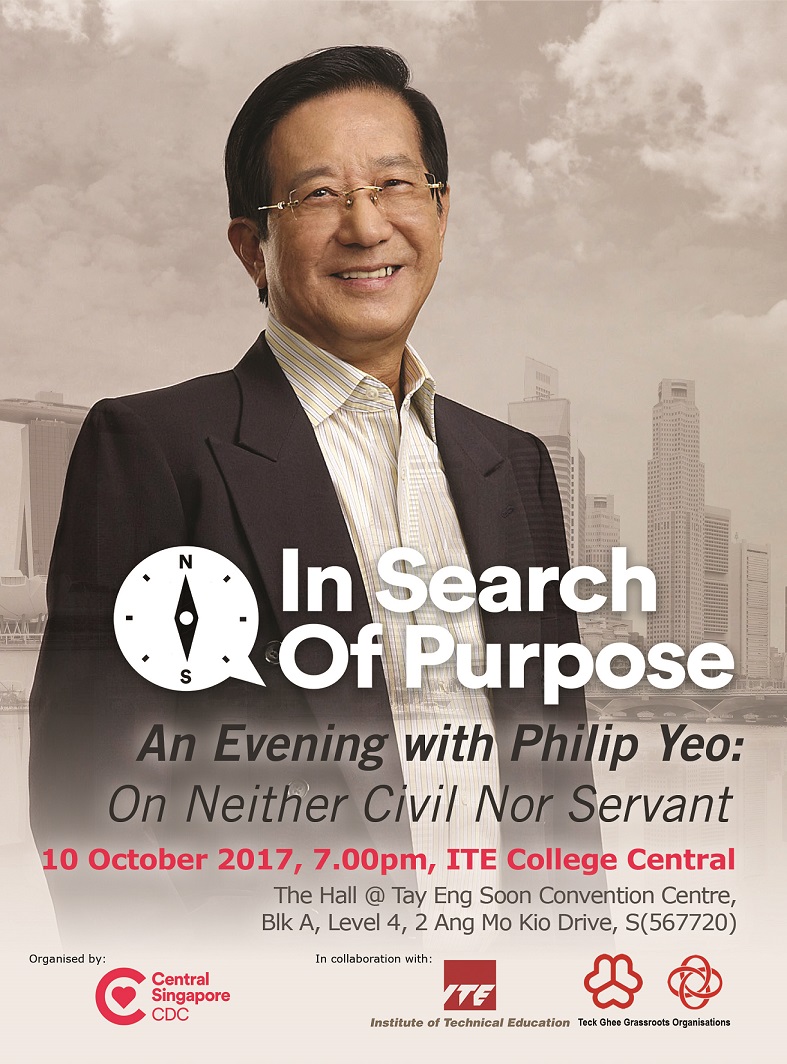 About the Speaker
While most Singaporeans at 24 have just entered the workforce or are in their final years of university, Philip Yeo was already in charge of the entire Logistics Division of the newly formed Singapore Armed Forces.
Philip served as the Chairman of the Economic Development Board for 21 years, and is responsible for bringing in billions of dollars in foreign investments and jobs. He is credited with the creation of the Jurong Island petrochemical hub, a remarkable feat considering how he managed to convince petrochemical giants to invest on land that did not yet exist. No stranger to unorthodox methods, he once spent an entire meeting discussing Pokémon with the CEO of a tech-giant and held an entire presentation in Hokkien to Taiwanese businessmen.
Philip also ventured into the realm of biomedical sciences, serving as the Chairman of A*STAR (Agency for Science, Technology, and Research), and spearheading the creation of Fusionopolis and Biopolis, placing Singapore at the forefront of biomedical research and development. A self-proclaimed "talent thief", Philip founded the A*STAR scholarship, awarded only to the brightest of minds whom he believes can and will contribute to the future of the nation, a cause that he is perennially occupied with.
Philip currently serves as the Chairman of SPRING Singapore, an agency under the Ministry of Trade and Industry, responsible for helping Singapore enterprises grow.
Calling himself "neither civil nor servant", Philip is both the bureaucracy's nightmare and blessing. Never one to bother about due process nor approvals, he only concerned himself with getting things done in the fastest and most efficient manner possible, earning him a reputation as one of Singapore's most accomplished government officials.
Join us on Friday, 20 October, 7.00pm at ITE College Central for an evening of inspiration with one of Singapore's most colourful bureaucrats.
About the In Search of Purpose Talk Series
In Jan 2015, Central Singapore Community Development Council (CDC) launched the In Search of Purpose Talk Series (ISOP), a TED-style inspirational talk series that seeks to help adults and youth discover their bigger role in society. Speakers, either local or overseas, are invited to share their personal stories and experiences about various topics that we hope will encourage the audience members to give back and be part of a more caring community in Singapore. The bimonthly talk is hosted by Ms Denise Phua, Mayor of Central Singapore District.
Speakers featured in previous ISOP talks include:
Mr Lim Siong Guan, Group President of GIC
Ms Ann Medlock and Mr John Graham, founders of Giraffe Heroes Project
Mr Benny Se Teo, CEO and founder of Eighteen Chefs
Mr Kenny Low, founder of City College and O School
Ms Eunice Olsen, founder of WomenTalkTV
Dr Tan Lai Yong, Lecturer and Director for Outreach and Community Engagement at NUS College of Alice & Peter Tan
Mr Louis Ng, Executive Director and founder of Animal Concerns Research and Education Society (ACRES)
Ms Chia Yong Yong and Ms Leslie Chia, Special Needs advocates
Dr Goh Wei Leong, Chairman and co-founder of HealthServe
Ms Kuik Shiao-Yin, Director and co-founder of The Thought Collective
Ms Belinda Lee, Goodwill Ambassador for World Vision Singapore
Mr Bob Lee, renowned photographer
Mr Jack Sim, founder of the World Toilet Organisation
Mr Adrian Tan and Ms Tan Shook Wah, founder of Ad Planet and the Dare to Dream Scholarship respectively
Mr Liak Teng Lit, COO of Perennial Real Estate Holdings and former Chairman of the Public Hygiene Council
Mr Ravi Manas, founder of Children of Mother Earth
Our previous ISOP sessions are available on our Youtube page here.
If you have any enquiries regarding this talk, drop Qamar an email at Qamar_Firdaus@pa.gov.sg.
If you have any speaker or a particular topic that you will love to hear in our future talks, drop us an email at PA_CentralSingapore@pa.gov.sg.


#InSearchofPurpose #ISOP #CentralSGCDC